Atomic Beam Tap Light is a circular LED with an adhesive on the back that will stick to almost any surface. Does it really work? Here is my Atomic Beam Tap Light review.
Sponsored Links
About Atomic Beam Tap Light
Atomic Beam Tap Light is a stick up LED in a round water-resistant casing. The back can be peeled off to reveal an adhesive surface that will stick to almost any surface. The official product website is buytaplight.com, which was registered in February 2017. The screenshot below shows how the product website looked in February 2018.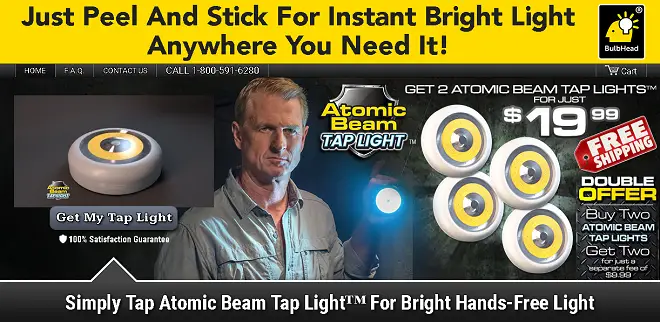 Claims & Features
Supplies LED light (simply tap to turn on and off)
Hands-free usage
Peel adhesive backing and stick to almost anything
Remains cool to the touch
Water-resistant
Cost
If you purchase online, Atomic Beam Taplight is sold in a set of two for $19.99. There is an optional double offer (4 lights) for $29.98. Shipping is free on both offers. In stores, you can find Atomic Beam Taplight in a single pack for about $10.
Atomic Beam Tap Light Review
You've probably seen Hunter Ellis pitching one of many Atomic Beam products over the past year or two. This brand began with a single "tactical" flashlight and has grown to expand quite a few products such as Atomic Beam Headlight and even an Atomic Lighter. I've also seen a few older products revived, redesigned, and re-marketed under the Atomic Beam umbrella, such as Atomic Beam Light Angel. The original Light Angel was pitched by Anthony Sullivan years ago.
With Atomic Beam Taplight, we have a rather simple device that is designed to provide a convenient light source in any location. To use Atomic Beam Taplight, you simply install three AAA batteries (not included) and it's ready to go. There is an adhesive on the back that you can use to mount it on most surfaces, although I am reluctant to do that unless I'm sure that I don't want to move it. Even though these sticky mounts are said to be reusable, I've found that they are less effective after you've removed them from their initial mounting position.
Sponsored Links
Turning the Taplight on or off is as simple as pressing the circular light itself, which is accompanied by a "click" sound. Pressing it again will turn the light off. I've found the light to be quite bright and the unit is efficient regarding battery life. I don't know that it will replace a lamp or a standard light bulb, but it's sufficient to provide additional light where needed. There are 20 pinhole openings around the circular disk from which light emanates. These pinholes could give the impression that there are 20 LEDs, but I don't believe that's the case. In fact, the instructions seem to hint there is a single LED included within.
Overall, I think Atomic Beam Taplight works as advertised, although it may be more expensive than other options. There really isn't much to it, but it's not bad for what it is. I found mine at Walmart here in Las Vegas for $10, and I will be posting my video review for it soon, which I'll embed here.
Alternatives
A cursory search of Amazon will yield numerous stick-and-click lights similar to the Atomic Beam Taplight. Many of the competing tap lights are motion activated, which is not a feature of Atomic Beam Taplight. There are many which are very similar but less expensive, such as this $9 five-pack which sports a respectable 3.6-star rating. It may pay to shop around.
Your Atomic Beam Tap Light Reviews
Have you used Atomic Beam Tap Light or something like it? Let me know what you think in the comments below.