Instacool is an economical and user-friendly air conditioner that can also be used as a fan or humidifier. Does it really work? Here is my preliminary Instacool review.
Sponsored Links
About Instacool
Instacool is a portable air conditioner, fan, and humidifier that is capable of lowering the temperature in a room by 15 degrees Celsius. The official product website is buyinstacool.com.au. The screenshot below shows how the product website looked in February 2018.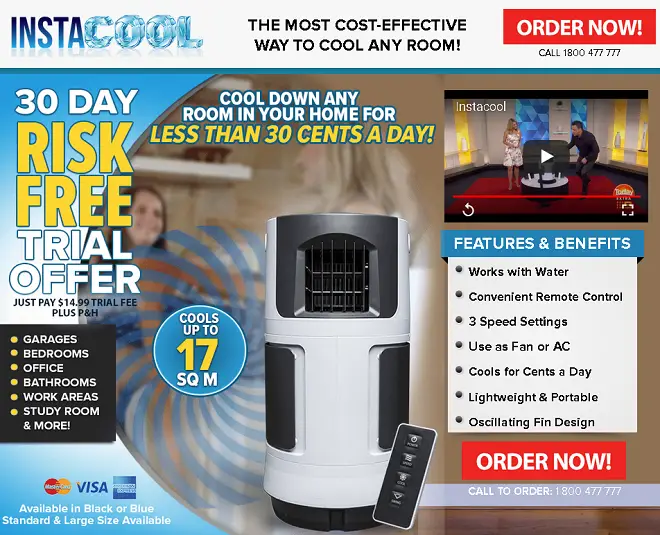 Claims & Features
Operates on 8 liters of water
Includes remote control
3 different speed settings
Can be used as a fan, humidifier, or an air conditioner
Standard size cools up 12 square meters while the large unit can cool up to 17 square meters
Compact and lightweight
Oscillating louvers direct air to the left and right
Cost
There is an offer to try Instacool for 30 days which costs $14.99 plus P&H. It is difficult to ascertain the actual price, although it has been suggested that it may cost $345. I am attempting to verify this. It comes in two sizes: standard or large. Available color models include black or blue. Each unit comes with a remote control.
Instacool Preliminary Review
If the idea of a small space cooler sounds appealing, the makers of Instacool may have just the item for you. This small unit uses 8 liters of water and helps keep you cool on hot days. To use Instacool, you simply fill up the reservoir with water and press the button to engage the cooling device. It can work strictly as a fan or an evaporative cooler.
Perhaps the biggest con with Instacool is that it is an evaporative cooling device. That is a non-issue in areas of low to moderate humidity. In areas of high humidity, however, evaporative cooling doesn't really work and in fact you could end up making your room feel more humid. Additionally, a device like this will need to be cleaned consistently or it could develop mold, mildew, or fungus which would then be pumped into the air. This is also a common problem with humidifiers.
Sponsored Links
It appears that Instacool is only sold in Australia, and it will probably be a good fit for those in the more arid regions. I would definitely not recommend this for those living in humid climates. Additionally, evaporative cooling units are quite easy to find at local retailers, which is probably a better solution, especially if you decide to return it.
As noted above, this information is preliminary until I secure a unit myself, which may not be until I visit Australia later this year. Until then, I encourage consumers to comment below regarding any experiences they have had with Instacool, or provide any relevant information on the product.
Television Commercial
Your Instacool Reviews
Have you used Instacool or something like it? Let me know your thoughts in the comments below.