Bendies are flexible cooking utensils with detachable handles. Do they really work as advertised? Here is my Bendies review.
Sponsored Links
About Bendies
Bendies are kitchen utensils that consist of a pliable silicone handle and a detachable head. The official product website is getbendies.com, which was registered in February 2017. The screenshot below shows how the product website looked in October 2017.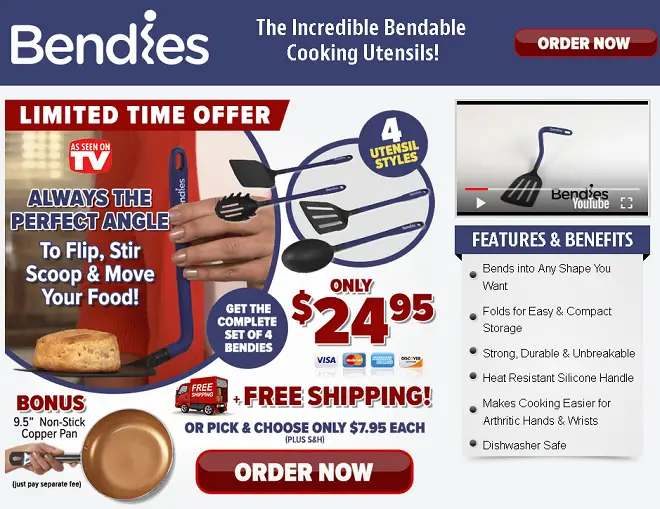 Claims & Features
Handles can be molded into almost any shape
Detach heads and fold to store
Made from sturdy material
Silicone handle resists heat
Ideal for someone with arthritis or Carpal Tunnel Syndrome (make cooking less difficult)
Safe for dishwasher
Cost
A 4 piece Bendies kit costs $24.95. Shipping is free. There is an optional offer to add a 9.5″ copper pan for an additional $9.95 which would raise the total to $34.90.  In addition, there are multiple options to add supplementary items for an additional cost of $7.95 + $2.95 shipping. These supplementary item include a Bendies Pasta Server, Bendies Serving Spoon, Bendies Spatula, and a Bendies Slotted Spatula.
Bendies Review
Bendies are flexible kitchen utensils that can be folded, bent, and even detached from their handles. As someone who spends an inordinate amount of time reading about, searching for, and using As Seen on TV products, I will say that Bendies took me by surprise because I have not seen anything quite like them before. Sure, I've seen flexible baby spoons, or spatulas that may be pliable, but nothing really like Bendies, in which you can twist and turn the handles into almost any shape.
Sponsored Links
Although Bendies are quite unique, my question is how many consumers would need or want such an item. Different isn't always better.
Quite a few As Seen on TV products over the years have used the word "Better" such as Better Strainer or Better Brella, as a means to tell consumers that they have improved upon an age old design. It wouldn't have surprised me if Bendies had been called Better Utensils, as that seems to be the intent: to improve upon the centuries-old design of standard kitchen utensils. In my opinion, that could be a pro or a con.
There is no doubt that Bendies offers an upgrade over standard utensils. You can bend the handle at a right angle, for example, to lift an item out of a pot without having to fumble with an angled spoon. Perhaps even more useful is that you can bend them in half – and even detach the handles – for compact storage.
While I applaud the design of Bendies, I worry that there will not be enough consumer demand. I'm also not sure if people will embrace something so different from what they have used their entire lives. That said, I do believe those who give Bendies a shot will probably find them to be superior to standard utensils. If you are like me, whose utensil use is relegated to an occasional spatula or a spoon for stirring, I don't know if Bendies would offer enough to make it a worthy purchase. If, however, you are someone who spends a lot of time in the kitchen and has wished there was something better in the utensil department, this is probably going to be a perfect fit for you.
Bendies are not sold in stores as of this writing, which means you are at the mercy of shipping times. I'm not sure if it's still being test marketed, which would add even more time to your shipping wait. I'll update this space when I get more information.
Alternatives
As I mentioned earlier, there really isn't anything like Bendies that I've seen (comment if I'm wrong!). You may, however, be interested in some of the best selling utensils on the market. This plastic set sells for $25 and holds a 4.3 star rating, while this $19 six-piece wood set is also very highly rated.
Television Commercial
Your Bendies Reviews
Have you used Bendies or something like it? Leave a comment below and a star rating above to let us know your thoughts.