Black Off Review: Does it Work? (Video)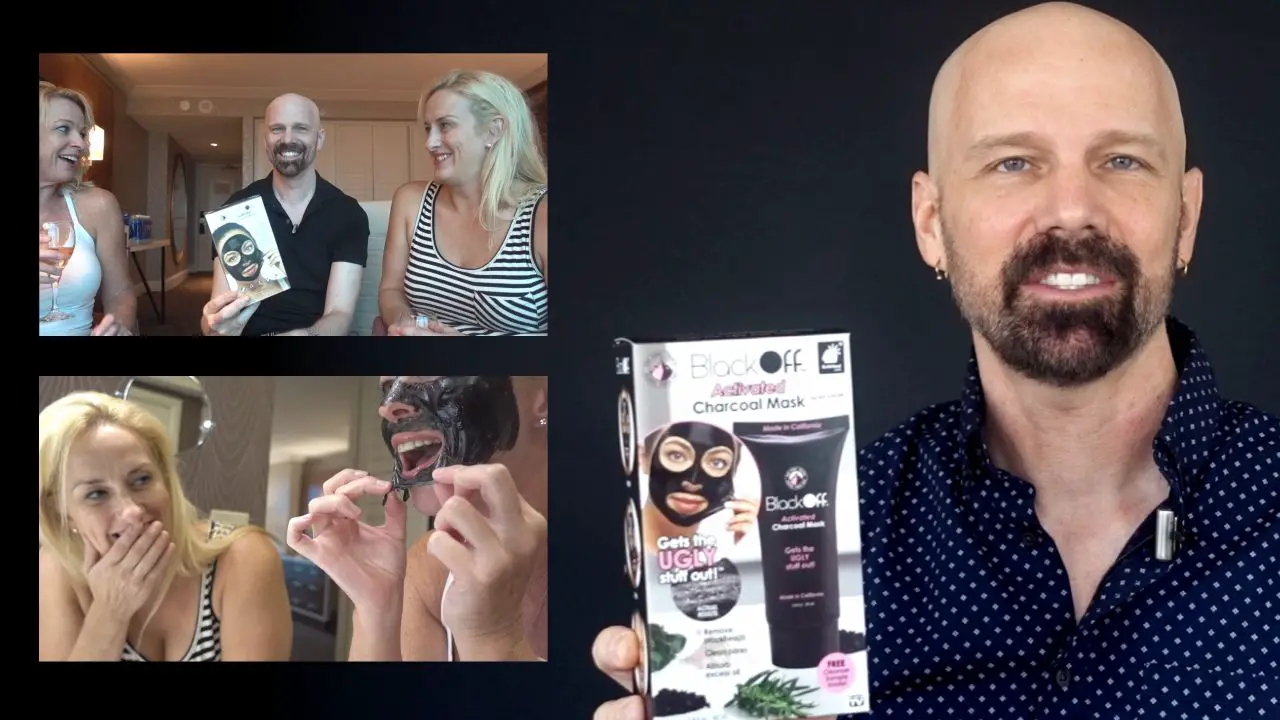 Black Off is a facial peel that cleanses pores, clears away blackheads, and absorbs excess oils.  Does it work? Read our Black Off review.
Sponsored Links
About Black Off
Black Off is a facial exfoliate that is rubbed on the face and then peeled off after drying in order to purge pores, lift away blackheads, and absorb leftover oils. The product website is buyblackoffmask.com, which was first registered in March 2017. The screen shot below shows how the product website looked in March 2017.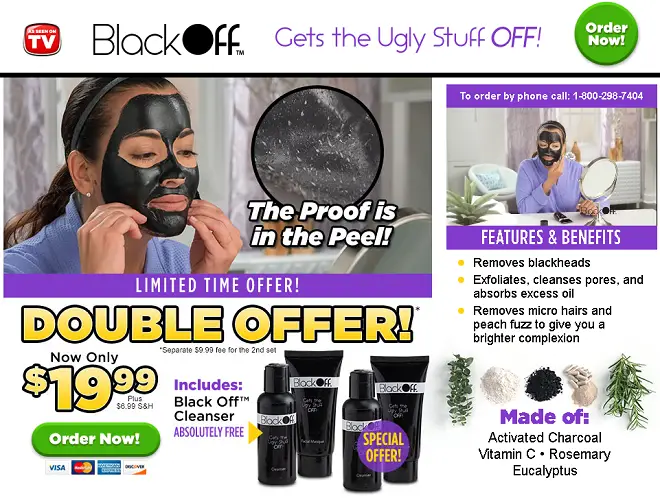 Claims & Features
Eliminates blackheads
Washes pores, exfoliates, & absorbs residual oils
Clears away micro facial hairs
Ingredients include activated charcoal, Bentonite clay, vitamin C, rosemary, & eucalyptus extract
Cost
Black Off costs $19.99 + $6.99 P&H for a total of $26.98. There is an optional special offer where a second unit can be added for $9.99 which brings the total to $36.97. A free tube of Black Off skin cleanser comes with both offers. I found Black Off at a local Bed Bath & Beyond for $19.99 in August 2017.
Black Off Review
In 2016, several YouTubers posted videos how to make a DIY facial mask using such things as charcoal obtained by opening supplements, and Elmer's Glue. These viral videos no doubt prompted the As Seen on TV industry to create their own version of this mask, which is where Black Off originated. I had my YouTube friends known as the 2-Cent Chicks help me test out this product for a collaboration video, and below is a summary of our findings.
Black Off is best described as an "activated charcoal mask" that is applied, dried, and peeled off. It comes in a 2.8 ounce tube, and we estimate that there are probably about 5 applications worth of liquid in the tube. The consistency is that of hair gel, and it takes a couple of coats to get the proper thickness. The instructions note to avoid eyebrows and other hair – a warning I can assure you should be heeded. After it was applied, we waited about 30 minutes until most of it had dried, and then used a hair dryer to finish the drying process. Having used other drying masks in the past, my friends felt that 30 minutes seemed unusually long, which is why we pulled out the hair dryer. A few times while it was drying, black liquid drops dripped from Cathy's chin onto her chest. Thankfully it didn't land on her shirt, and I don't know if it would have been permanently stained or not. You may want to put an old towel around your neck to avoid this.
Sponsored Links
Removing the mask was painful, similar to that of a Biore strip, but on your entire face. You will feel tiny hairs being pulled out as you remove the mask, and Cathy ended up losing a few hairs by her temples during the process. Thankfully she didn't get it on her eyebrows because those may have been pulled out, too!
In the end, Black Off does work about as advertised, but it can be messy, takes a while to dry, and can be painful to remove. Cathy said her skin felt soft and smooth, but she said other methods such as a high quality scrub could probably achieve the same results with less pain.
Alternatives
I'm not sure that this is a superior method to Biore strips or masks. In fact, Biore has also jumped on the charcoal bandwagon and offers its own charcoal mask, which has a respectable rating and only costs about $6 for 4 single-use packs. I'm partial to Biore pore strips like these, which are less messy and easier to avoid hair and eyebrows.
Video Review
See our full video review below.
Your Black Off Reviews
What do you think of Black Off? Drop a comment below and let me know what you think!