Pasta N More is a microwave pasta cooker that performs five different functions. Does it work as advertised? Here is our Pasta N More review.
Sponsored Links
About Pasta N More
As of this 2022 update, you can still purchase Pasta N More on Amazon for about $17.
Pasta N' More is a microwavable container that measures, cooks, drains, serves, and stores pasta. The original website was pastanmore.com, with a registration date of April 2017. The screen capture below was taken of the product website in September 2017. As of 2022, that website no longer works.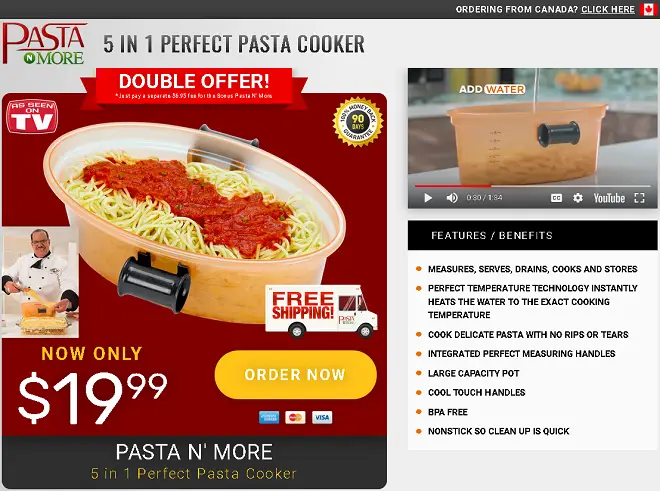 Claims & Features
Measures, strains, prepares, and stores pasta
Quickly heats water to the ideal temperature for cooking pasta
Will not rip or tear pasta
Built-in pasta measuring handles
Large capacity microwavable pot
Handles stay cool to the touch
Free of BPA
Nonstick surface is simple to clean
Pasta N More Review
Pasta snobs may balk at the idea of cooking pasta in the microwave, but that's exactly what the makers of Pasta N More want you to do with this As Seen on TV product. Pasta N More is a pasta cooker that allows you to cook, strain, serve, and store all from the same container.
The unit is a large oblong plastic container. There are fill lines on the side (numbered 1-8) which help you decide how much water to include, and the handle also allows you to measure spaghetti noodles. There are two lids, one for straining and one for storing. A steaming rack also allows you to create non-pasta dishes such as broccoli or even meatloaf. The commercial doesn't mention this, but there's also an extender ring which allows you to steam two different veggies at once.
Although Pasta N More just looks like a big plastic container (which it is) with a straining lid and steaming rack, its simplicity doesn't take away from the fact that it works. For those who dislike standing over the stove waiting for a pot to boil, Pasta N More offers a more streamlined experience. I have not seen it boil over, although you may still want to check on it every five minutes just to be sure. Every microwave is different, so you'll want to adjust cooking times to suit your specific oven. Once you can dial in the proper time, cooking pasta is a breeze.
Sponsored Links
In my video review below, I steamed broccoli (7 minutes), shrimp (5 minutes), and baked potatoes (20 minutes) and they all turned out nicely. The baked potato wasn't quite as dry as those I've simply placed in the microwave alone. For pasta, it took 18 minutes, which wasn't any faster than the Gotham Steel Pasta Pot used on the stove, but it didn't boil over and pasta was cooked to perfection.
Keep in mind that Pasta N More is slightly wider than a box of spaghetti, so if you have a small microwave, it could be too large for the rotating plate to work. You may also need to wash it a couple of times to get any plastic smell out. With those preliminaries aside, however, I think most consumers will find that Pasta N More works about as advertised.
If Pasta N More seems familiar, you are not mistaken, as this item has been marketed on and off for years. In fact, below I've embedded commercials from 2017 and 2010 to show how little this item has changed over the years.
Because Pasta N More has been around for years, you can find numerous consumer reviews for it online, and I suggest perusing some of those reviews to get a feel for what others are saying about it. As of September 2022, Pasta N More holds a respectable 4.3-star rating on Amazon among over 1000 reviews.
Although I don't think the "pasta" part of Pasta N More is better than preparing pasta on a stove, the "N More" part which allows you to quickly steam food in the microwave may be its most compelling feature.
Alternatives
Because this is an older As seen on TV product with a rather popular rating, there have been competing products with virtually the same design. Compare it to this popular microwave pasta cooker, which sports a similar design and holds a solid 4.3 rating.
Television Commercial
Here is the 2017 commercial for Pasta N More.

You can see how similar it was when marketed back in 2010.

Video Review
Below is my full review of Pasta N More.
Your Pasta N More Reviews
What are your thoughts about Pasta N More? Drop a comment below and a star rating above to let us know what you think about it.
Updated September 2022