Build Bonanza Review: Building Block Tape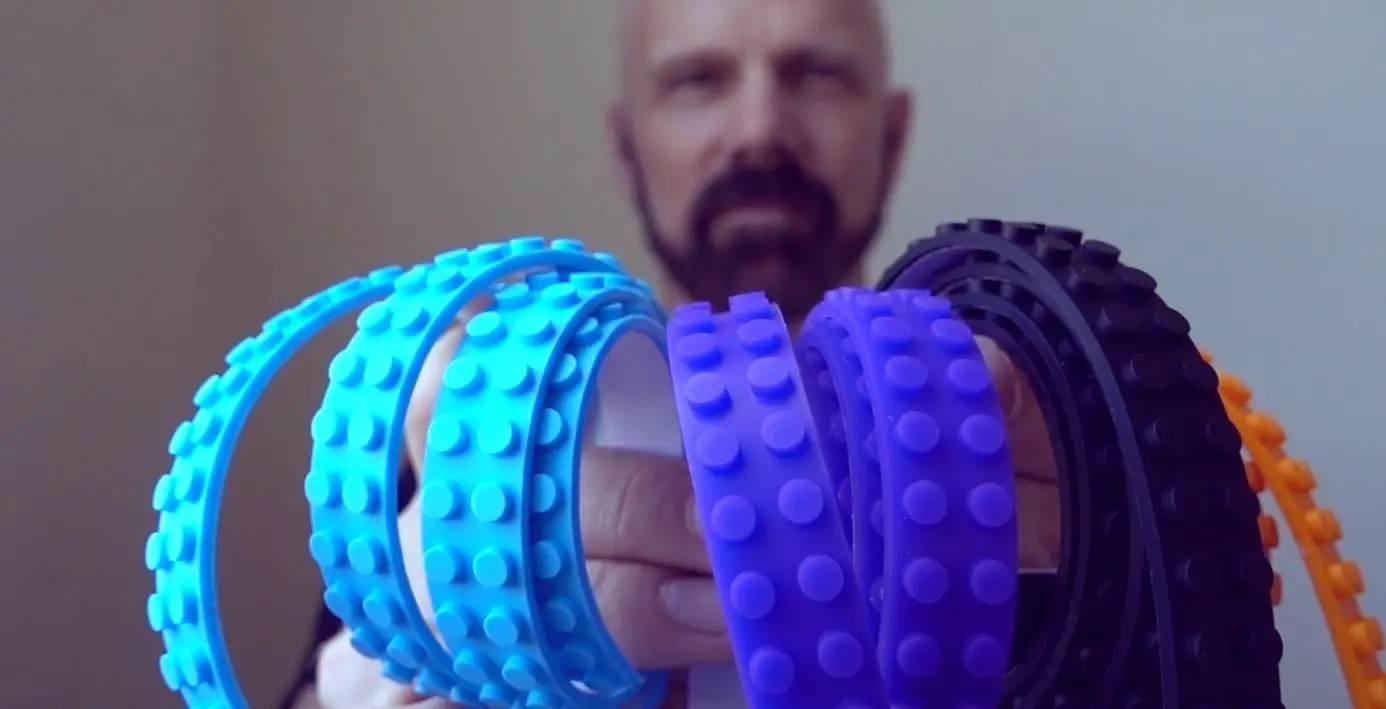 Build Bonanza is building block tape with a studded top layer and an adhesive bottom layer. Does it work? Read our Build Bonanza review.
Sponsored Links
About Build Bonanza
Build Bonanza is a roll of sticky building block tape that can be used to build imaginative structures on almost any surface. The product website is buildbonanza.com, which was first registered in March 2017. The screen shot below shows how the product website looked in April 2017.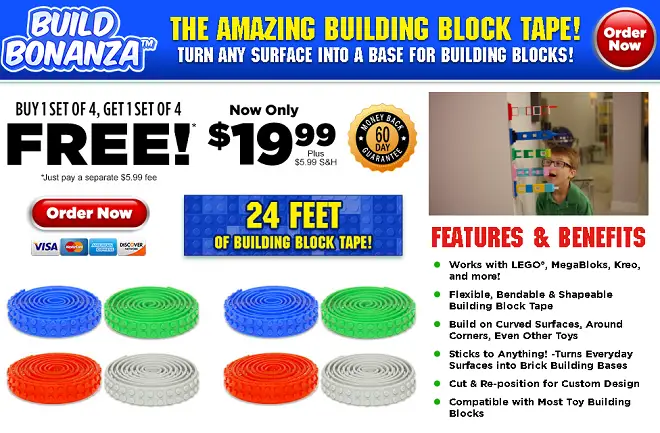 Claims & Features
Pliable building block tape
Compatible with most toy building blocks (LEGO, Megabloks, Kreo, etc.)
Build on multiple surfaces
Sticks to almost anything
Customize builds by cutting and re-positioning
Cost
A 4 roll set of Build Bonanza costs $19.99 + $5.99 shipping for a total of $25.98. There is an optional double offer for an additional 4 roll set of tape for a separate $5.99 shipping fee.  Choosing the double offer brings the total to $31.97. Each roll is roughly 3 feet in length. The tape comes in four different colors: blue, green, red, and gray.
As of this writing, this offer is not available in stores.
Build Bonanza Review
If you or your child loves to play with building blocks like Lego or Megabloks, Build Bonanza may be a product for you.
Anyone who has played with building blocks has likely done so using a hard flat surface, but Build Bonanza allows you to place blocks almost anywhere.
Build Bonanza is comprised of a two-sided strip with a Lego-compatible side and a reusable adhesive backing on the other side. This lets you attach it to almost any hard, smooth surface. Thus, rather than building your creation on a table, it can be done on the side of a refrigerator, a wall, or on a door. You can even trim the sections down and apply them to other toys. It won't work on most fabrics, nor can you use it on very soft surfaces.
Sponsored Links
Keep in mind that while you can attach it almost anywhere, your building blocks still want a flat surface, so hard, flat, smooth surfaces are still best. That limitation aside, this item opens up endless areas where building blocks were not previously able to traverse.
My only concern is how long the sticky backing will hold up over time. I've used a number of reusable sticky products in my years of reviewing products, and eventually the stickiness degraded on all of them. Hair, dust, and dirt all hasten this process. When I tested this with Build Bonanza, however, it held up quite well. As you can see in the video below, I ran a strip along my door mat, where it picked up hair and dirt. After washing it, the sticky backing performed quite well.
Build Bonanza first appeared in March 2017 and I saw some of these in a local As Seen on TV store in May 2017, which seems faster than usual for the typical As Seen on TV product.
Whether Build Bonanza takes off or not, I'm sure you will be hearing about Lego-compatible tape soon, as other products fitting this description have received some high-profile publicity lately. With that in mind, I wouldn't be surprised if other As Seen on TV marketers also jump on the bandwagon with their own versions.
It will be interesting to watch this category of products throughout 2017.
Alternatives
If the concept of Build Bonanza sounds new, you may find it surprising that there are other building block tapes on the market. A product called Nimuno Loops appears to be the first of its kind, and has received some press in 2017, although it is currently not shipping yet.
Another brand called Gadgetz Loops can be easily found on Amazon for about $11 for a 3.26 foot roll. A ran across yet another item called LegoTape which also sports a very similar design.
Video Review
Watch my full video review of Build Bonanza below.
Your Build Bonanza Reviews
What do you think of Build Bonanza? Tell us what you think by leaving a comment below and a star rating above.
Updated May 2017.