Charge Cam is a discreet high-definition camera disguised as a USB charger. Does it really work? Read my Charge Cam review.
Sponsored Links
About Charge Cam
Charge Cam is an HD surveillance camera hidden within a small USB charging cube that plugs into a standard electric outlet. The official product website is trychargecam.com, which was registered in October 2017. The screenshot below shows how the product website looked in November 2017.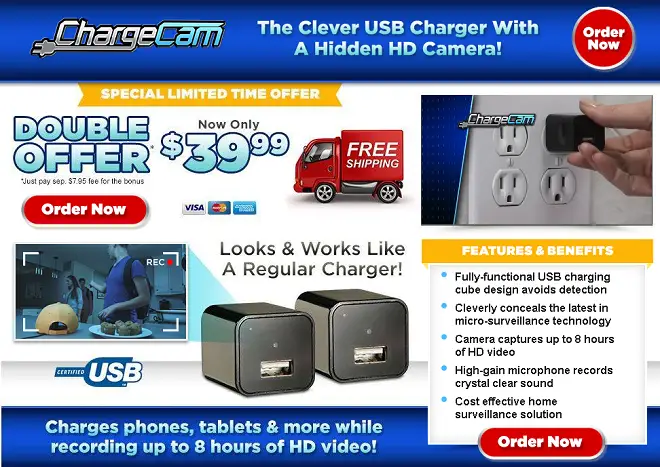 Claims & Features
Small motion-activated camera that looks like a USB charger
Also operates like an ordinary USB charging cube
Records audio with high-gain microphone
Stores up to 8 hours of HD video and audio
Economical home surveillance system
Cost
Charge Cam costs $39.99. There is an optional double offer for a separate fee of $7.95 which would raise the total to $47.94. Shipping is free on both offers. At the time of this writing, Charge Cam is not available in stores.
Charge Cam Review
Charge Cam is an unassuming USB charger that doubles as a spy camera. It is an affordable and discreet way to monitor areas of your home or office while you are not there. To use Charge Cam, you simply plug it into any wall outlet and it will begin working right away. The device will begin recording with any detected movement up to 100 feet away, which should be sufficient for most homes. Sound and audio will both be recorded, and it can be viewed on any computer by simply plugging the devices into a USB port. No special software is needed and no batteries are required (as it's powered by the outlet). The 8-hour storage capacity should be sufficient for most consumers.
Sponsored Links
These USB "spy" devices are surprisingly effective. The design and function are basic but should work for most people about as advertised. It looks and functions as a standard USB charger, perhaps slightly larger than average, but by no means obvious. The hardest part of using Charge Cam isn't in the device itself, but finding an outlet with a clear view of the area you want to monitor. Fortunately, the field of view is wide enough that you should be able to capture most of the action in a room from a single vantage point. In my case, most of my wall outlets are concealed or have obstructed views near furniture, so finding a good outlet is a challenge to me.
Overall, I like the design and function of Charge Cam. I feel that consumers who see the advertising for this product will not be disappointed. There are lots of potential uses for this besides just watching the inside of your home. For example, I can imagine taking this on vacation with me to monitor my hotel room's cleaning staff while I'm away. I'm not sure if it would be ideal in all of the situations demonstrated in the commercial, like the thief stealing a package from the front door. In my case, I have no outlet near my front door, and I think a USB charging block outside may look a bit unusual.
The $40 price tag for Charge Cam is competitive with other similar devices I've seen, discussed below.
The website registration date of November 2017 tells me that Charge Cam is likely being test marketed, which means the offer, name, features, and availability could all change. I'll continue to monitor this product and update this space if anything changes. In fact, there was a product marketed earlier in 2017 called Block Cop, which disappeared as quickly as it arrived. I don't know if Charge Cam is a re-branded Block Cop, or if they are competing items by different companies.
You may want to check out my video below about As Seen on TV test marketing before placing an order for one of these newer items.
Alternatives
There is certainly no shortage of spy cameras, in all shapes, sizes, and price ranges, and there are quite a few wall charger cameras to choose from. This $40 USB spy camera has the most consumer reviews, offers the same design and features as Block Cop, and currently holds a respectable 4.2-star rating among consumers.
Your Charge Cam Reviews
Have you used Charge Cam or something like it? Leave a comment below and a star rating above to let us know your thoughts.