InVinceable is a multi-use spray cleaner that rapidly and efficiently removes stains. Does it really work? Here is my InVinceable review.
Sponsored Links
About InVinceable
InVinceable is a multipurpose stain remover that creates millions of oxygen bubbles that penetrate and extract stains. The official product website is invinceable.com, which was registered in January of 2009. The screenshot below shows how the product website looked in September 2018.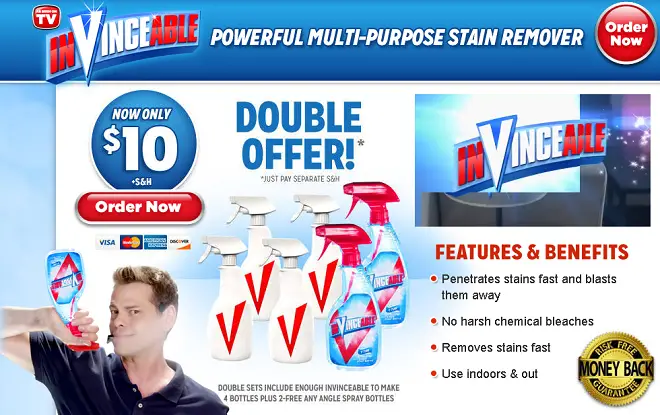 Claims & Features
Permeates stains
Does not contain chemical bleach
Quickly clears away the stain
Can be used indoors or outdoors
Cost
When ordering this product, there is a mandatory double offer that includes a 4-bottle supply of InVinceable in the form of a dissolved powder and two any angle spray bottles. The total cost is $23.90  ($10 + $6.95 shipping + $6.95 for the double offer). I found InVinceable at a local As Seen on TV store for $13, although you may be able to get it on Amazon for as low as $7.
InVinceable Review
InVinceable is an As Seen on TV stain remover, named after its pitchman, Vince Offer. The commercial for this product shows rather dramatic examples, including stains magically disappearing after only three seconds. Even though this is an older As Seen on TV product, it has been highly requested on my YouTube channel, so I decided to pick it up and give it a shot.
The first thing I noticed upon opening the packaging is that I could not find the ingredients. According to the website's FAQ, the primary ingredient is sodium percarbonate, which is in a number of household cleaners such as OxiClean. You can use InVinceable in three ways: For stain removal, general cleaning, and laundry. Because of the amount you receive (4 packets), I didn't try it with laundry because I can buy a rather large box of OxiClean that I would expect to perform similarly.
To use InVinceable, you pour one (or half) of the four packets into the spray bottle along with warm water up to the fill line. You then select spray or stream, and begin working on your stains. The commercial shows dramatic improvement with InVinceable being sprayed onto stains that somehow disappear like magic, without any scrubbing.
Sponsored Links
I tried out several of the advertising tests, along with a few other tests around my home. I could not duplicate the trick that Vince Offer uses in the commercial where he puts beet juice, iodine, and ketchup on his shirt, only to be easily rubbed away after a few sprays of InVinceable. I also could not duplicate the demonstrations where stains disappeared without scrubbing. Stains on my outdoor table came off nicely, although my shower tile barely saw any improvement – despite a dramatic three-second improvement shown in the television ad. Perhaps the best use I found for InVinceable was cleaning dirt and scuff marks off of my walls.
The included bottle includes a clever design that allows you to use the bottle at any angle, even upside down. This is achieved by a weighted piece at the bottom of the intake tube, which will move with gravity – and the water in the bottle. Unfortunately, there is also a pressure vent that allowed the solution to leak all over my hand whenever I tipped it upside down, somewhat defeating the usefulness.
The "pros" of InVinceable are that it works pretty well as a general cleaning agent in some instances, the unique spray bottle, and the inclusion of as many as 8 uses (if you use only half of a packet each time). The biggest con is that the solution is only good for 8 hours, meaning you can't make it and store it for later use. Results also seemed to vary wildly, depending on how and where I used it.
Be sure to watch my full review of InVinceable below,
Alternatives
If you're looking for laundry detergent, this box of Biz is cited on Amazon as a highly-rated alternative to InVinceable. It's also quite affordable at only $8. As far as spray cleaning goes, you may want to take a look at Whip-It Multi-Purpose Stain Remover, which seems to hold high consumer confidence.
Television Commercial
Your InVinceable Reviews
Have you used  InVinceable or something like it? Let me know what you think in the comments below!