Climb Cart is a 6-wheel folding cart that can "climb" stairs with ease. Does it work? Read my Climb Cart review.
Sponsored Links
About Climb Cart
Note: As of this 2022 update, Climb Cart is no longer sold. This cart on Amazon is very similar if you are still in the market for such an item. The review below was written in 2016 and updated in 2017. I've made a few small updates, but kept most of it as is.
Climb Cart was advertised as a climbing cart that reduces the effort required to carry items up stairs. The official product website was getclimbcart.com, which was registered in September 2016. You can see a screenshot below of the official website taken in October 2016. As of 2022, that website is parked.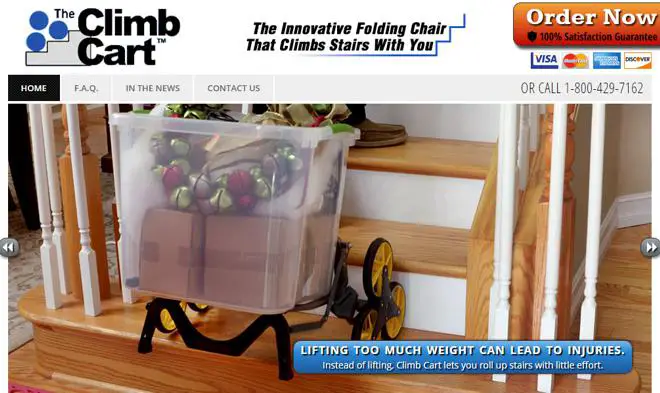 Claims & Features
6 wheel design can "climb" stairs
Portable, sturdy, and lightweight
Folds flat for compact storage
Holds up to 75 pounds
Cost
I found Climb Cart at a local Bed Bath and Beyond in May 2017 for $40.
Climb Cart Review
Climb Cart is among a new breed of "climbing" carts which sport a 6-wheel design that allows it to traverse stairs or small obstacles with ease. The cart features three wheels on each side, which rotate grab and rotate whenever a stair is encountered. This allows you to pull the cart up stairs with less effort than traditional carts.
In short, I do like the design of Climb Cart, and other products like it, which are discussed below. The rotating six-wheel design does make it significantly easier to move objects up stairs than with a dolly or standard cart. It can also be folded into a compact size so that you can take it with you in the car, or stowed in a small space.
Climb Cart can't take the place of a heavy duty dolly, as it has a weight limit of 75 pounds (original advertisements stated the limit was 100 pounds). For small jobs around the house, groceries, and laundry, Climb Cart should be more than sufficient. It has been my experience that climbing carts work better going up stairs than going down stairs. When going down, you may still find yourself bending over to hold the handle. If you have a heavy load, you'll still have to use some strength to pull the cart up, or to help it ease down. In that respect, the advertising seems a bit idealized, but I still think most people will find it useful.
Perhaps the area of the most concern is with the handle when moving a heavy load. I found that it tended to bend when I had 60 pounds on the unit, and it even felt like it might break. Be sure to see my video review Part 2 below for my weight test.
Climb Cart is now available in stores, as of May 2017. I suggest purchasing locally to sidestep shipping delays, although if you do want to order online, BulbHead has made shipping free for this item.
I think Climb Cart will garner mostly positive reviews due to its effective design and competitive price. It is best suited for lighter moving jobs, but it performs those quite well.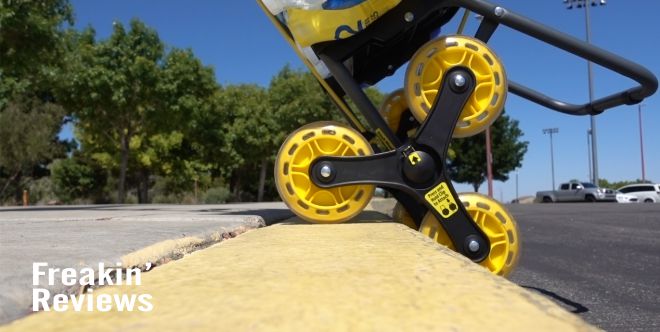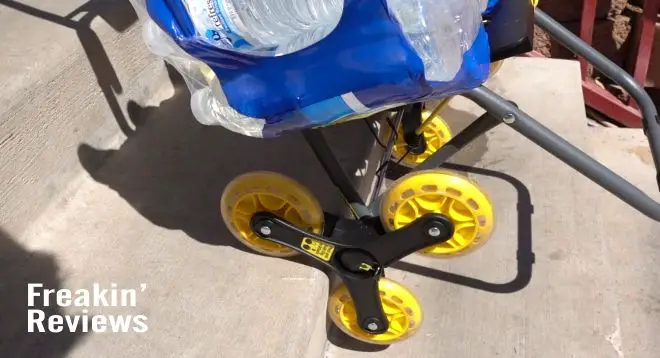 Alternatives
Several climbing carts similar to Climb Cart have come and gone through the years. As of 2022, this is the model I would say is the closest.
Television Commercial
Your Climb Cart Reviews
Have you used Climb Cart? Let me know what you think in the comments below.
Updated October 2022