Comfort Boost Bra is a bra that braces, boosts, and betters posture. Does it work? Read our Comfort Boost Bra review.
Sponsored Links:
About Comfort Boost Bra
Comfort Boost Bra is a structural bra that augments the bosom and posture. The product website is comfortboostbra.com, which was first registered in January 2017. The screen capture below shows the official product website in February 2017.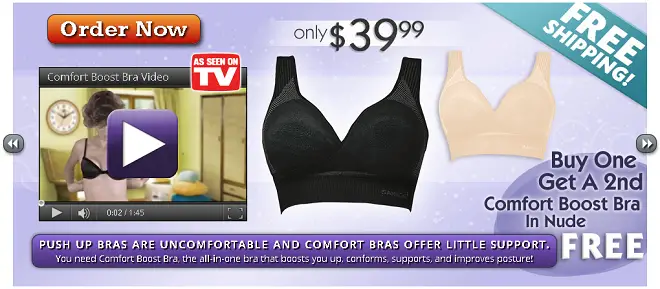 Claims & Features
Gives support and boost
Enhances posture
Fashioned of comfortable fabric
Suitable for cup sizes A through E
Machine washable
Cost
You can purchase Comfort Boost Bra for $39.99 with free shipping.
Sponsored Links:
Comfort Boost Bra Review
Comfort Boost Bra (also stylized as simply "Comfort Boost") is a bra that provides lift and support, while also helping to maintain a better posture. It is said to provide the comfort of a sports bra while also providing support and lift.
The first question you probably have about this product is what makes it stand out from so many other competitors in this category. The makers do have an answer for that question, and that is in its all-in-one design that is made of two independent sections, allowing each breast to receive individualized support. You also have the option to customize your support with removable padding. It is indeed an interesting configuration that could actually help make this a standout among other support bras.
Our initial impression is that Comfort Boost Bra is a fine addition this category, and most women who purchase it will probably find it to be comfortable with ample support.
Keep in mind that Comfort Boost Bra is a very new product as demonstrated by its recent (January 2017) website registration date. This means that consumer input is minimal, and the product could simply be in the middle of a small test marketing campaign. We'll update this space as more information becomes available. You may want to exercise patience in the shipping process, as new As Seen on TV products are notoriously slow to ship.
At $40 for two bras (black and nude) and no shipping, the cost is toward the lower end of the price range for this type of product. Comfort Boost Bra is marketed by Telebrands, one of the heavyweights in the As Seen on TV industry.
Can its unique design make Comfort Boost Bra stand out among the sea of competitors? Only time will tell.
Alternatives
There are virtually endless support bras on the market which advertise as comfortable while providing support. This Lionisa Women's Posture Corrector, for example, offers many of the same benefits, costs about $30-$45, and holds mostly positive reviews.
Your Comfort Boost Bra Reviews
Tell us what you think about Comfort Boost Bra by leaving a comment below and a star rating above.