Comfortisse is advertised as the most comfortable bra available, offering support and eliminating bulges. Here is our Comfortisse bra review plus additional key information.
Sponsored Links
Comfortisse Bra Review
The one thing we realized in our evaluation of Comfortisse is that there is no clear-cut consensus regarding satisfaction of the product. Those who liked it claimed it was comfortable and provided shape and lift. Those who didn't like it said that it provided no support and did not fit properly. While our testers all agreed that the material felt thin, this was a positive to those who liked it and a negative to those who did not.
The primary difference between those who liked it and those who didn't was that of cup size. Women with a larger cup size tended to dislike Comfortisse, while those with smaller cups tended to like it.
If you want to order it, take a quick look at Scambook's evaluation. And if you're determined to get one, pick it up at a local store to avoid shipping and billing headaches.
Tagline: "The most comfortable bra you'll ever wear!"
Sponsored Links
Official Website
www.comfortisse.com
Creation Date: 10-aug-2011
Contact Info
Claims/Features
Perfect fit every time with no pinching or chafing
Flattering lift without uncomfortable underwires to poke and scratch
No back fat or underarm bulge
Seamless Italian loom construction with 4-way stretch for optimal support and fit gives you smooth lines from every angle
Available in stores
Cost
$29.95 plus $9.95 S&P (per set of 3)
Bonus for separate s&H of $9.95.
Grand total is 49.85
Screenshot
This is a screenshot of the official website, taken in March 2014.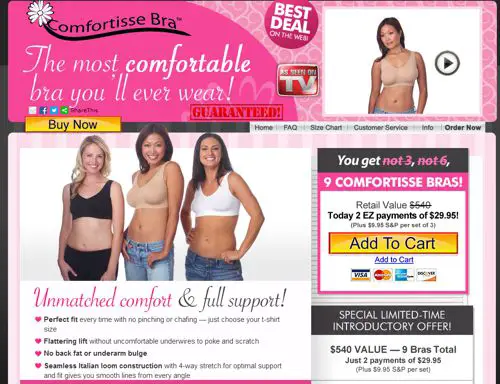 Television Commercial
This is a TV advertisement for Comfortisse bra:
Comfortisse Reader Reviews
Have you tried Comfortisse? Please give us your review in the comments below and give it a star rating above.