Jiffy Fries is a product which allows you to slice and cook french fries in your microwave. Here is our Jiffy Fries review plus key product information.
Sponsored Links
Jiffy Fries Review
Jiffy Fries promises to bridge the gap between "freezer fries" and those which take an effort to get right. This product serves as a chopper and cooker, allowing you to slice and cook the fries all from the same device. But does it work?
If you keep your expectations in check, you may find the product acceptable. We found the force required to slice the fries greater than that depicted in the television commercial, especially with the "small fry" cutter. While the fries produced by Jiffy Fries can't really compete with homemade or restaurant quality fries, they can – depending on cook times – be a better solution than standard microwave fries.
You may want to play with the times and even the power settings until you come up with a proper formula for your microwave oven. Perhaps the biggest benefit of Jiffy Fries is that it is faster and more convenient than most other options, rendering it a must have for the french fry couch potato types.
Tagline: "Jiffy Fries fry cooker is the fast, fresh, easy way to make perfect fries everyday!"
Jiffy Fries "About" Paragraph
"Simply load in a potato, push down to safely slice the perfect size fries and pop it in the microwave! In just minutes you've got hot, delicious, perfectly crisp fries!"
Official Website
www.jiffyfries.com
Creation Date: 29-apr-2012
Contact
Web: www.customerstatus.com
Phone: 855-721-3318.
Hours: 8am to 10pm Eastern Standard Time Monday – Friday and 9am to 5pm Eastern Standard Time Saturday.
Sponsored Links
Claims/Features
Restaurant quality fries at home!
Works with any size or type of potato
Try it with sweet potatoes!
Dishwasher safe
Crisp without messy frying
Perfect fries in minutes!
Every meal is more fun with fries.
Includes cutters, seasonings, and recipe guide.
Cost
$10.00 plus $7.95 P&H = $17.95
Screenshot
Below is a screenshot of the official website, taken in March 2014: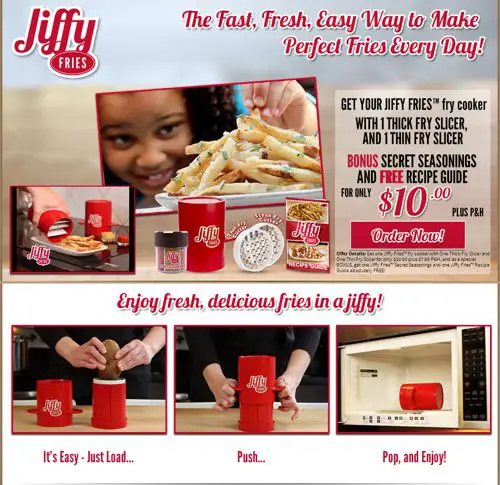 Television Commercial
Below is a television commercial for Jiffy Fries.
Jiffy Fries Reviews
Have you tried Jiffy Fries? Please give us your review in the comments below and give it a star rating above.