Copper Chef Wok is a non-stick wok with a capacity of 6 quarts. Does it work? Read our Copper Chef Wok review.
Sponsored Links
About Copper Chef Wok
Copper Chef Wok is a jumbo nonstick wok with a 360 degree cooking surface. The product website is copperchefwok.com, which was first registered in February 2016. The screen capture below shows the official product website in February 2017.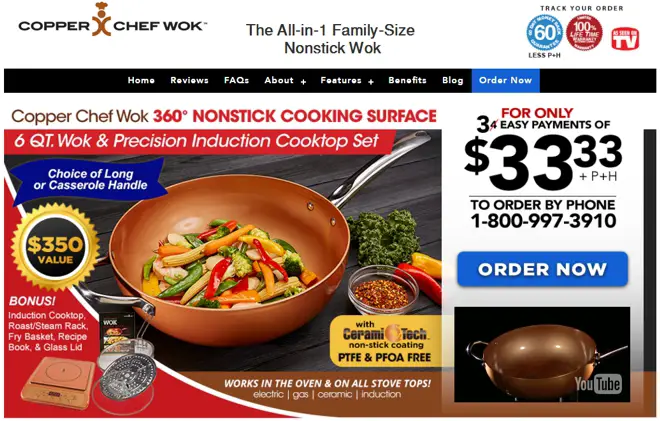 Claims & Features
360° cooking surface
6 quart capacity
Coated with non-stick Cerami-Tech material
Free of PTFE and PFOA
Riveted Long or Casserole-Style handles
Can wash in dishwasher
Withstands heat up to 850°
Cost
Copper Wok Chef costs $99.99 + $19.99 P&H for a total of $119.98. It can be paid for in total or in three payments. There is also an offer to add a Wok Extender Ring for an additional price of $19.95 per unit. Adding a single Wok Extender Ring would bring your total to $139.93.
Copper Chef Wok Review
Copper Chef Wok (sometimes referred to in the advertising as "Copper Wok") is a nonstick wok that is one of the latest items to appear under the Copper Chef brand name.
To get an idea how well Copper Chef Wok may or may not work, you should probably browse some of the consumer reviews for the more established Copper Chef items, as they all share the same nonstick coating. This "Cerami-Tech" coating is at the heart of the Copper Chef advertising pitch.
The reviews for the other Copper Chef products generally reflect my own experience with Copper Chef pans: They work great at first. The impressive demonstrations you see of eggs or pancakes sliding out of the wok will probably be duplicated at home – at least until you've used it for a while. With continued use, consumers seem to split regarding the effectiveness of these Cerami-Tech coated items. I have found – and some reviewers online have stated the same thing – that the coating eventually degrades and can end up being more troublesome than "regular" pans.
Sponsored Links
How much it degrades (if at all) seems to depend on a number of factors, such as whether it was seasoned first, how hot you usually run your burners, and utensils you typically use along with your cookware. The variables are nearly endless, and seem to affect consumer satisfaction with the entire Copper Chef line.
The 6-quart capacity is a nice touch. A high percentage of As Seen on TV cookware products end up being far smaller than they appear in the advertising, but Copper Chef Wok has an ample capacity that should be sufficient for most users, even those preparing large meals.
A stainless steel induction plate is included to help disperse the heat more evenly. This isn't unique to Copper Chef Wok, as it a standard feature among many pots and pans.
I realize the advertising for Copper Chef Wok looks impressive, just as it looks impressive for the entire Copper Chef line. These products are generally well-received at first, but I'm not sure the Cerami-Tech coating will impress everyone long term. That concern, along with the $120 price tag, makes me take pause about how good of an investment this product may be.
I would say that my favorite Copper Chef product to date is Copper Crisper (review). That item also has a nonstick coating, but most of its surface doesn't actually touch food, which is perhaps why it hasn't degraded as quickly as the Copper Chef pans I've tried.
Based on the February 2016 website registration date, it is apparent that Copper Chef Wok is a very new product as of this writing. I'm not sure if it is being test marketed, or if it is poised to roll out in a massive marketing campaign. I have not seen any television spots airing yet, although the production of the commercial below hints that we may see a television campaign in the near future.
Copper Chef Wok – and virtually all of the Copper Chef products – are pitched by Eric Theiss, described as a "Restaurant Owner, QVC On-Air Chef, and Cookbook Publisher." In addition to his stint as Copper Chef pitchman, he has also been involved with other brands such as Paula Deen and Rachael Ray.
Alternatives
There is certainly no shortage of nonstick woks on the market. It may be difficult to justify the $120 price tag of Copper Chef Wok over something like this $23 cast iron Amazon Best Seller with a couple of hundred (mostly positive) reviews. This nonstick Wok by TeChef has an even higher rating among more consumers, and only costs $33.
Television Commercial
Your Copper Chef Wok Reviews
Tell us what you think about Copper Chef Wok by leaving a comment below and a star rating above.