Today I'm taking a look at the new Pro Series pan from the Granitestone brand to see how it works and how it compares to the original.
Sponsored Links
Where to Purchase
As of this writing, the best place to buy the Granitestone Pro Series is direct from the website (link). I managed to obtain the coupon code "JAMESWHITE" from the company to share with my readers, which will take 20% off your order. I have not seen this on Amazon yet but will update this space when I do.
About GraniteStone Pro Series
GraniteStone Pro Series is a new (in 2020) addition to the growing line of cookware under the GraniteStone brand umbrella. It is currently two sizes available: 10″ and 11.5″, both of which feature the same (or similar) nonstick surface that impressed me with the original. Those two sizes are sold as a set, and you cannot currently buy only one Pro Series pan. The Pro Series is not the same as the original GraniteStone/GraniteRock or the Diamond version.
Claims & Features
Non-stick mineral coating
High gauge aluminum
Induction compatible
Oven safe up to 555-degrees F
GraniteStone Pro Series Review
Although I don't profess to be a culinary expert, I have reviewed my share of pans over the past few years, and probably the most common question I get asked is, "What is your favorite pan?" Since 2018 that answer has been, "The Granite Rock pan." Today I'm taking a look at the newest version in that line, which was renamed GraniteStone not long after my review of the original incarnation.
I'll refer you to my original review of the Granite Rock pan if you are interested in that particular pan. Suffice it to say that I was impressed with the performance of its nonstick surface when I originally reviewed it, and I have been equally impressed that it has managed to stay in like-new condition ever since. When I found out that a new offering called the Pro Series had just been released, I knew I had to give it a shot.
Although I had no complaints with the original pan, I was curious to discover than numerous improvements had been made in this collection. The pan is much heavier and sturdier than the original, and it is considerably thicker. An aluminum plate has been added to the bottom which allows the pan to be used with induction cookware. That was not something that mattered to me with the original, but several viewers and readers had inquired about that, so I'm sure this will be a welcomed addition to those consumers. Finally, the handle has been re-tooled. The original handle was flat and thin, while the new handle is considerably thicker and more rounded. This allows it to disperse heat better and remain cooler.
The packaging is quite clear that seasoning must be performed prior to the first use. This merely requires a little oil and a short time in the oven. After that, the pan is ready to go.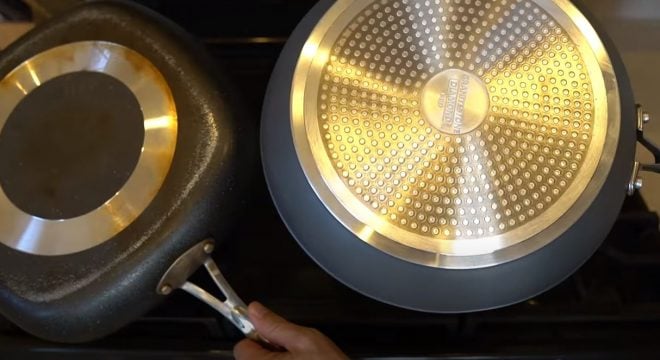 I performed several tests on this pan in order to see how well it compares to the original, and how it works in real-world cooking tests. I first tried a regular fried egg with no oil or butter and, as with many nonstick pans I've tried in the past, it did not stick at all. I wanted to give the surface a more challenging test, so I duplicated my burnt marshmallow test that I did with the original. This entailed burning marshmallows in the pan and then turning it upside down. The marshmallows fell out, but some of the burnt material remained behind. After letting that cool, the remaining burnt marshmallow easily scraped out with a plastic spatula.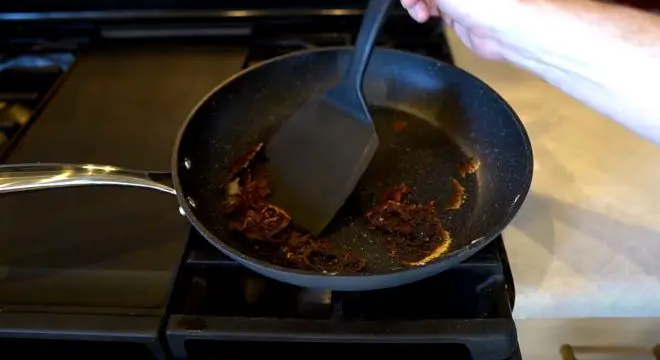 Perhaps the most impressive test of the nonstick surface entailed melting caramel in the pan and then letting it set for 24 hours. I wondered if perhaps this was too difficult of a test for the nonstick surface. At first I didn't think the melted/hardened caramel would come off, but after a few scrapes with a plastic spatula, both pieces popped right off.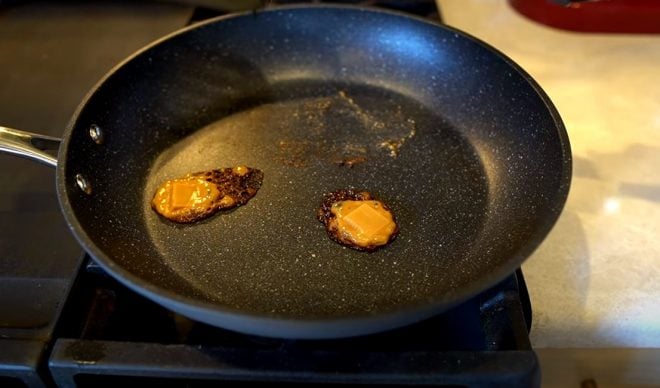 I use the pan for a couple of weeks before writing this review, and some of the items I cooked in it included chicken, sauces, bacon, and shrimp. During none of my tests did the nonstick surface fail to perform. Perhaps more impressive has been the cleanup. In most instances I was able to almost completely clean off the pan with just running water. A light wipe of a sponge is all I needed to clean it off, regardless of what was caked onto the surface.

Sponsored Links
Overall, I think the GraniteStone Pro Series is a fine addition to the brand's line of cookware. I don't know if the surface is
better
than the original, but it is certainly as good. When you combine that with a better handle, more durable material, and induction capability, this pan should definitely be on your short list of pans to consider. As of this writing, it is only available as a two-pan set, which costs about the same per pan as the original, so I feel like the cost is quite reasonable.
Have you used the original Granite Rock or any of the new GraniteStone pans? Tell me what you think in the comments below.