Crystal Smooth is a pad that removes hair.
Sponsored Links
About Crystal Smooth
Crystal Smooth is a crystal which removes hair as it's rubbed against the skin.
The product website is buycrystalsmooth.com, which was registered in August 2015. The screen capture below shows the official website in September 2015.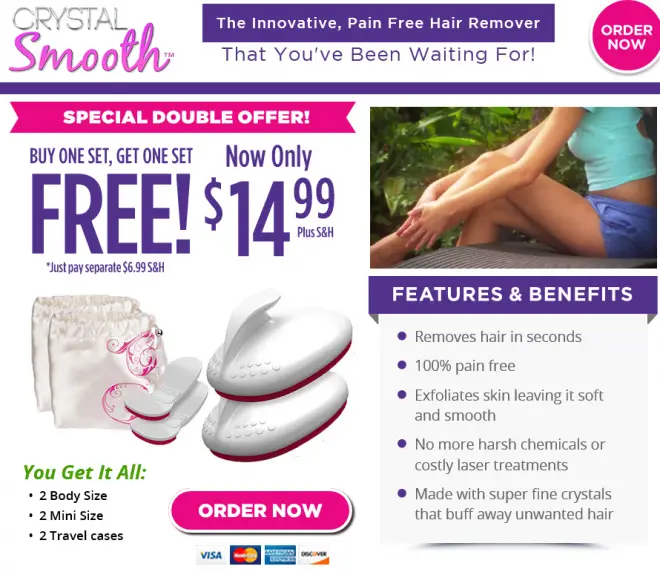 Sponsored Links
What They Claim
Removes hair in seconds
100% pain free
Exfoliates skin
No harsh chemicals or laser treatments
Made with fine crystals
All natural
Crystal Smooth Cost
$14.99 + $6.99 S&H; can opt out of bonus set (which is a separate $6.99 S&H)
Reviews
As Seen on TV hair removal products have been a mainstay of late night advertising for years. Unlike typical shaving products, Crystal Smooth is rubbed over the desired area and hair is removed while skin is exfoliated.
If the concept of Crystal Smooth looks familiar, you have probably seen a similar product called Smooth Away, which we have reviewed here.
Like Smooth Away, Crystal Smooth is similar to very fine sandpaper, which does in fact remove hair and dead skin when lightly rubbed over the target area. When used correctly, pads such as this can work well to remove hair. It would be easy, however, to rub too hard or too long, which could lead to irritation.
Priced competitively, Crystal Smooth will likely receive mostly positive reviews for the majority of users. When it becomes available in stores, it will likely cost around $15 and will be an even better deal.
Your Crystal Smooth Reviews
Let us know what you think of Crystal Smooth by leaving a comment below and a star rating above.