Booty Max is an exercise device which targets your glutes, thighs, quads, and calves. Does it work? Read our Booty Max review.
Sponsored Links
About Booty Max
Booty Max is device with multi-directional resistance to help target your lower body. The official product website is buybootymax.com, with a registration date of September 2016. Below is a screen shot of the official website taken in November 2016.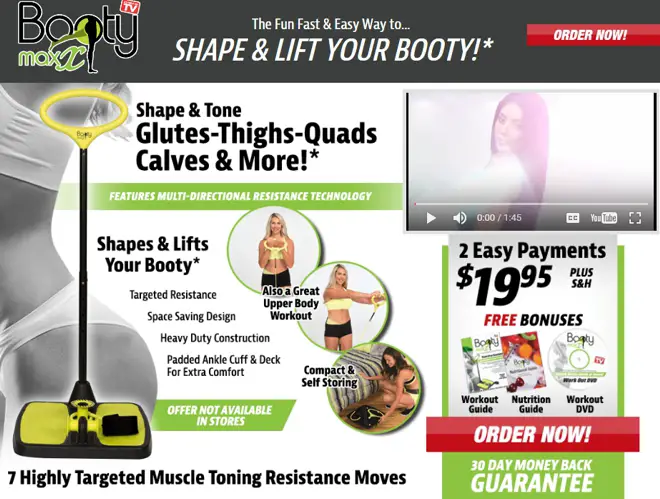 Claims & Features
Targeted resistance
Space saving design
Padded ankle cuff
7 workouts to target lower body muscle groups
Detachable handle for upper body exercises
Cost
You can get Booty Max for two payments of $19.95 + $13.99 shipping, for a total cost of $53.89. A deluxe unit is also available for an additional $20.
As of late 2016, Booty Max is rolling out to stores for about $50.
Booty Max Review
A note about the name. The logo appears to have two x's, thus with a spelling of "Booty Maxx" although it seems to be written without the second "x in other places. It's a bit unclear if this is supposed to be spelled "Max" or "Maxx."
Note #2: In May 2017, a product called "Wonder Buns" was advertised on television. Besides the name, it was virtually the same commercial and product shown in the Booty Max ad embedded below. It would appear that the makers are testing a re-branded product under that name.
At first glance, Booty Max looks like the offspring of a scooter, a scale, and a dry mop. It is, of course, none of those things, but simply an exercise device aimed at targeting your lower body, namely your glutes.
Sponsored Links
To use Booty Max, you simply stand on the "deck," strap on the padded ankle wrap, and move your leg in one of seven possible motions in order to target muscles in your lower body. To help stabilize yourself, you can hold onto the included handle. There is only one exercise band, so you'll need to exercise one leg at a time.
Possible exercises that can be achieved with Booty Max include calf raises, squats, hamstring curls, and kickbacks. A nice touch is that the handle can also be detached and used for upper body exercises such as bicep curls. Yet another clever design feature is that the unit can be broken down for compact storage, and all of the parts snap into the base.
The commercial focuses attention on "MDR" technology, or Multi-Directional Resistance Technology. This is a fancy way of describing two pulleys over which the resistance band travels in order to provide multiple angles of resistance. Although it sounds like a bit of marketing hype, it is a design feature which actually does improve the versatility of the product.
The primary question, of course, is whether or not Booty Max can shape and lift your booty, but unfortunately there is no simple answer. Genetics, body fat percentage, and amount of resistance used for training will all play a role in such a goal. For some users, this device alone could make a difference. Others may need to increase the amount of resistance in order to achieve results, while some may need to focus on body fat percentage in addition to working out the muscles in that area. I'm not convinced that the resistance provided is enough to offer everyone a comprehensive lower body exercise enough to duplicate the results shown in the advertising.
If you have used resistance bands in the past, Booty Max could be a next logical step that can allow you to target multiple muscle groups. And, as with virtually any piece of exercise equipment, Booty Max is only as good as the effort you put into it.
Overall, Booty Max sports several compelling design features that make this worth a look. Whether or not its $50 price tag can make it a better deal than cheaper resistance bands remains to be seen. Can it stand apart from the untold number of fitness devices on the market? Only time will tell.
Alternatives
There are numerous devices which are designed to help you target your glutes. An inexpensive best seller on Amazon is the Fit Simplify Resistance Loop, which costs about $11 and has an astonishing 4.8 star rating among over 1,000 consumer reviews.
Video Review
Watch a hands-on video review of Booty Max below.
Television Commercial
Your Booty Max Reviews
Have you used Booty Max? Give us your thoughts by leaving a comment below and a star rating above.
Updated May 2017.