DashMaps is a transparent GPS display which uses your smartphone to provide step-by-step driving directions. Does it really work? Here is my DashMaps review.
Sponsored Links
About DashMaps
DashMaps projects clear GPS directions from your smartphone to a transparent heads-up display that attaches to the dashboard. The official product website is buydashmaps.com, which was registered in August 2017. The screenshot below shows how the product website looked in December 2017.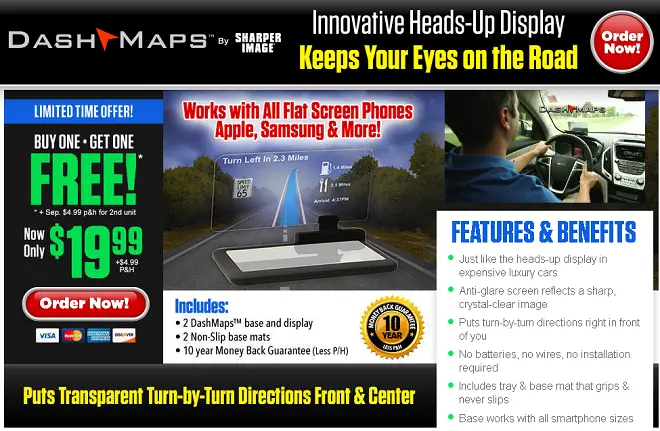 Claims & Features
Similar to a heads-up display in a luxury car
Screen is anti-glare for well-defined picture
Provides step-by-step directions
Does not require installation (no wires or batteries)
Comes with tray and nonslip base mat
Base is compatible with all sizes of smartphone
Cost
When purchasing DashMaps, there is a mandatory double offer. The cost is $19.99 + $4.99 P&H + $4.99 double offer for a total of $29.97. Each order includes two bases, two displays, two nonslip base mats,  and a 10-year money back guarantee (minus P&H). At the time of this writing, DashMaps is not available in stores.
DashMaps Review
If you thought you needed a new car to take advantage of the new "heads-up displays" (or HUDs) that reflect information onto your windshield, the makers of DashMaps may have an alternative for you. This simple device holds your smartphone while reflecting the screen onto a transparent reflector. This works like expensive HUDs, without the need to install one in your vehicle.
Sponsored Links
To use DashMaps, you simply place the rubberized base on your dash, which will hold your smartphone and reflect the image of your GPS app onto the flip-up transparent screen. You can then drive as normal while keeping an eye on the GPS map directly in front of you. Keep in mind that there is not a GPS app included, so you'll have to use the app on your phone or download one. I recommend looking for a HUD GPS app (there are many free options out there) which is designed for use with a device like this. I suggest this because a reflected image of the GPS directions will appear reversed, while HUD apps can adjust the screen to appear correct when reflected.
The rubberized material used in DashMaps will prevent the device and your phone from slipping as you drive around corners or adjust your speed. The reflective material used for the screen may not be as clear as the high-end HUD devices built into modern cars, but it should give you enough of an image to be useful. I like that you can take this with you, rather than having to use tape or other mounting materials on your dash. That means you could use this for a rental car on a business trip, for example.
The simplicity of DashMaps is its greatest strength and potentially its biggest weakness. In other words, it is extremely simple to use because it is merely a rubberized holder and flip-up reflective screen. As you can see from reviews of like products, however, not all consumers are won over by these lower-end HUD devices. Complaints range from the reversed image to screens that reflect sunlight during daytime hours. I expect consumers reviews for DashMaps to mirror (pun intended) that of similar items, which would put it around the 3.5-star range. If you have realistic expectations, you may find DashMaps to suit your needs. If you're expecting this to compete with higher-end HUD systems, you will probably be disappointed.
The August 2017 website registration date tells me that DashMaps may be a test marketed item, which often can take take longer to ship than usual. You may be interested in my short video below which discusses some of the reasons that test marketed As Seen on TV products take long to arrive, if at all.
Alternatives
You may be surprised to learn that there are already numerous HUD GPS dash reflectors on the market, ranging in price from about $15-$25. This $26 model has a modest 3.5-star rating and is available via Amazon Prime, while this $25 option is currently listed as a #1 New Release on Amazon, and also sports a modest rating of 3.4 stars.
Recommended Videos
Below are a couple of related videos from my YouTube channel: HD Mirror Cam and Handi Holder, both of which are As Seen on TV auto accessories.
Your DashMaps Reviews
Have you used DashMaps or something like it? Leave a comment below and a star rating above to let us know your thoughts.