Rodent Sheriff is advertised as a natural way to repel pests. Read our Rodent Sheriff review.
Sponsored Links
About Rodent Sheriff
Rodent Sheriff is a spray product which supposedly creates a barrier to keep pests out of your home. The product website is rodentsheriff.com, which was registered in February 2015. The screen capture below shows the official website in February 2016.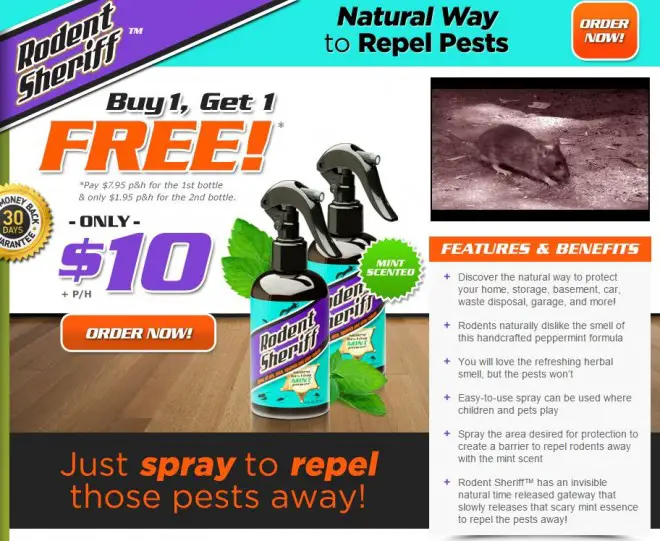 What They Claim
Repels pests with peppermint formula
Can be used where children and pets play
Creates a barrier to keep out rodents
Time released
Rodent Sheriff Cost
One bottle of Rodent Sheriff costs $10 + $7.95 shipping. You can add a second bottle for another $1.95. There is a 30 day money back guarantee, but P&H is not refundable. You can now find Rodent Sheriff in stores for about $10.
Sponsored Links
Reviews
Rodent Sheriff is a spray which contains a peppermint oil solution that is said to be a natural way to keep rodents out of your home. The solution is said to be safe around children and pets, but repulsive enough to rodents to keep them out of your house. Mice, roaches, raccoons, and other pests are said to run away from the smell. Each 8 ounce bottle of Rodent Sheriff contains about 1,000 sprays.
The idea of repelling rodents with peppermint oil is not unique to Rodent Sheriff. It has been a natural home solution for many years. Even pest control giant Orkin has a page about using peppermint as a rat deterrent. One problem with this solution is that the amount required to be an effective repellent is typically repugnant to the people inside the home. "Once the odor becomes acceptable to the person, it no longer repels the rodents," they write.
We reached out to the makers of Rodent Sheriff to confirm the ingredents. Their reply stated: "Rodent Sheriff contains 2.7% Peppermint Oil, 0.1% Sodium Lauryl Sulfate and 97.2% Inert Ingredients (Water, and Propylene Carbonate Sodium Benzoate)."
If you are one who believes that peppermint is an effective way to repel pests, Rodent Sheriff will certainly fit the bill. Its cost is not out of line with the competition, although ordering from a new As Seen on TV product sometimes comes with an extended wait of several weeks. Now that it is available in stores, you might want to look for it locally to avoid shipping costs and delays.
There are also a number of peppermint oil sprays which can be found on Amazon, many with reviews with 4+ ratings. You may want to peruse those before making your final decision.
Your Rodent Sheriff Reviews
Have you used Rodent Sheriff? Give us your review by leaving a comment below and a star rating above.