Dream by Genie Review: Wireless Bra That Lifts and Smooths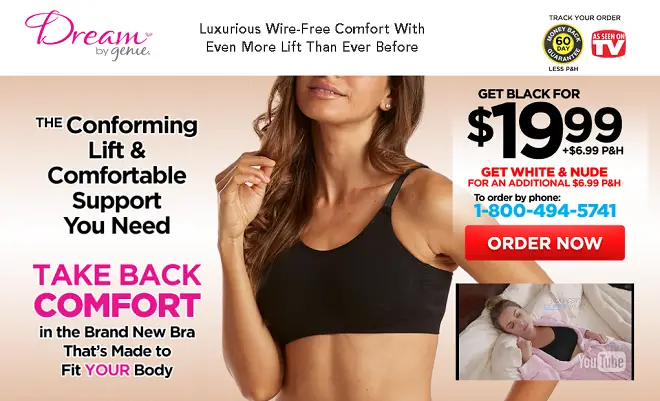 Dream by Genie is a comfortable wireless bra that lifts and smooths without wires. Does it work? Read my preliminary Dream by Genie review.
Sponsored Links
About Dream by Genie
Dream By Genie is a wireless bra that comfortably smooths and lifts. The product website is dreambygenie.com, which was first registered in March 2017. The screenshots below show how the product website looked in April 2017 and February 2018.
Claims & Features
Strap adjustments
"Pillow soft" straps
Removable pads for bra and shoulders
No hooks or wires
Convertible straps for traditional or cross-back options
Ideal for plus sizes
Silicone-free
Cost
In 2017 you could buy a single Dream by Genie bra, but as of this 2018 writing, you can only buy it in sets of three. The single offer for three bras is $59.85, while the double offer for six bras is $69.84 ($59.85 for the first set and $9.99 "fee" for the second set). The bra is available in the following sizes: S, M, L, XL, 1X, 2X, or 3X.
Dream by Genie Review
Dream by Genie is a bra that provides lift and support, without the discomfort of wires. It also offers "Insta-Cool Technology" consisting of breathable fabric that keeps your skin cool and dry.
The first question you probably have about this product is what makes it stand out from so many other competitors in this category. It would appear that the answer to that question would be the bra's omission of wires, "all-over" smoothing, and seamless design providing the comfort of a sports bra, but the lift and support of a traditional bra.
Sponsored Links
Although this product has been around for about a year (likely only being test marketed on and off), it seems to be recently engaged in an advertising campaign as of the beginning of 2018. My initial thought is that this will be a solid addition to the As Seen on TV bra category, and most women who purchase it will probably find it to be comfortable with ample support. Genie has produced a line of bras over the past several years that have been generally praised and typically match the advertising.
My only concern is that you can only buy this in sets of three, which means you have to invest $60 or more to give these a shot sight unseen. And, despite much of the advertising hype, this bra so closely resembles a sports bra that I wonder how many women will simply opt for a sports bra at a local retailer rather than buying this bra and waiting for it to be shipped.
As stated above, it appears that after a slow start in 2017, Dream by Genie is finally being marketed on a much higher scale in 2018. I don't know if it is still being test marketed or if it is now in full production. Either way, the lack of consumer reviews online leads me to believe that few customers have received this item yet. I'll update this space as more information becomes available. You may want to exercise patience in the shipping process, however, as new As Seen on TV products are notoriously slow to ship.
At $60 for three bras ($20 each) or $70 for six ($11.67 each), the cost is toward the middle of the price range for this type of product when compared to buying a single bra of a similar design. Dream by Genie is marketed by Tristar Products, Inc., one of the heavyweights in the As Seen on TV industry.
Can its unique design make Dream by Genie stand out among the sea of competitors? Only time will tell.
Alternatives
If the cost is prohibitive, you may be interested in this inexpensive three-pack of Cabales seamless wireless sports bras with removable pads. That $17 package holds a solid 4.1-star rating among over 2,000 consumer reviews. You might also want to take a look at the original Genie Bra, which was heavily advertised several years ago and is still available for about $24 for a set of two.
Television Commercial
Your Dream by Genie Reviews
What do you think of Dream by Genie? Let me know what you think in the comments below.
Tags: