Copper Fit Gloves are a pair of open-finger compression gloves that are infused with copper. Do they work? Here is my preliminary Copper Fit Gloves review.
Sponsored Links
About Copper Fit Gloves
Copper Fit Gloves are form-fitting compression gloves that are designed to support the muscles and joints of the hand while easing pain and swelling. The official product website is copperfitgloves.com, which was registered in November 2017. The screenshot below shows how the product website looked in February 2018. The website getcopperfitgloves.com has also been used in advertising.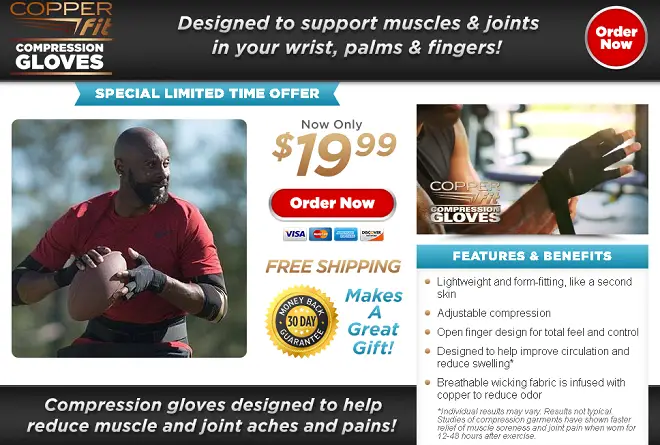 Claims & Features
Form-fitting and lightweight
Level of compression can be adjusted
Open finger gloves
Promotes blood flow and decreases inflammation
Breathable fabric is imbued with copper for odor reduction
Cost
A pair of Copper Fit Gloves costs $19.99. Shipping is free. There are two available sizes: Small/Medium (2 ¾"- 3 ¼") or Large/XL (3 ¼"- 3 ¾"). At the time of this writing, Copper Fit Gloves are not available in stores.
Copper Fit Gloves Review
Copper Fit is a line of athletic garments that are often pitched by celebrities. You may have seen past Copper Fit advertisements featuring Ashley Judd or Brett Favre, and now we have Copper Fit Gloves with NFL legend Jerry Rice joining Favre to extol its virtues.
These open-finger compression gloves provide support to the hands for work and play, while the breathable fabric helps minimize moisture and odor. The advertising states that the compression is adjustable, but that is primarily around the wrist area with a Velcro strap that can be used to tighten it. Small rubberized grips also line the palm area to prevent slippage.
The advertising for Copper Fit Gloves hints that they can be used to increase performance and also lessen pain and stiffness. As someone who owns numerous Copper Fit products and has used support gloves for those reasons, I do know that such a garment can provide a moderate amount of relief. Keep in mind that wearing compression-wear won't address an underlying condition, but in some circumstances it can provide enough support to allow you to function.
Sponsored Links
I've seen compression gloves used not just for athletes, but for office workers suffering from carpal tunnel, arthritis, injuries, or those who use their hands for crafts such as needlepoint.
Every Copper Fit product I have owned has been made of high-quality materials and held up well over time. I still wear a Copper Fit elbow sleeve that is several years old and has outlasted other elbow sleeves I've tried. Thus, if you seek relief for pain, stiffness, and swelling in your hands, Copper Fit Gloves will probably fit the bill. I wouldn't expect miracles, but based on my many experiences with Copper Fit, I believe these will probably be one of the better compression gloves available in its price range.
I have not seen Copper Fit Gloves in stores, which means you currently have to order from the website. If you would prefer not to order online and pay shipping, you can probably just wait a few months until it can be found locally, assuming it makes it out of test marketing and into full production.
Alternatives
These Copper Compression gloves are probably the closest you'll find on Amazon to Copper Fit Gloves, and they are also the most highly visible, with over 2300 reviews amounting to a 4.1  star rating.
Your Copper Fit Gloves Reviews
Have you used Copper Fit Gloves or something like it? Let me know what you think in the comments below.