DuraWallet is advertised as a lighter, sturdier, and safer solution to carrying your cash and credit cards. Is it worth the hype? Here is our DuraWallet review along with key product information.
Sponsored Links:

DuraWallet has recently employed ubiquitous pitchman Marc Gill to convince consumers that this is the solution to shoddy, bulky wallets.
Does DuraWallet work? Reviews have been mixed, with some stating that it wasn't as durable as the advertising claims, yet others have reported that it is still more durable than a standard wallet. Although it may not be quite as strong as advertised, it is a durable wallet, and will not disappoint those with realistic expectations.
Be careful when ordering online!
You can only order a SET of DuraWallets, meaning your second "free" wallet is automatically included. If you want two wallets, be sure to select "1" from the drop-down box, as this will order one set of two. Many consumers have selected "2" with the belief that this was selecting two wallets, not two sets.
Official Website
buydurawallet.com
Registered September 4, 2012
Contact
Address: DuraWallet, Box 2020, North Wales, PA 19454
Phone: 800-340-3418
Email: [email protected]
Claims/Features
Tagline: "The wallet that's paper thin but incredibly strong!"
2 inside pockets easily hold 20 bills
2 credit card pockets hold up to 16 credit cards
Made of lightweight Tyvek, weighing 1/5 of an "ordinary" wallet
No seams or stitches
Eco-friendly
Won't tear
Stain and water resistant
Extremely thin
Special lining blocks RFID signals, keeping your info safe and secure
30-day money back guarantee
Comes in black and brown
Cost
$10.00 + 7.95 P&H for the black DuraWallet = $17.95
Get a second (brown) wallet for another $7.95 shipping, for a grand total of $25.90
Screenshot
This is a screenshot of the official website, captured in December 2013: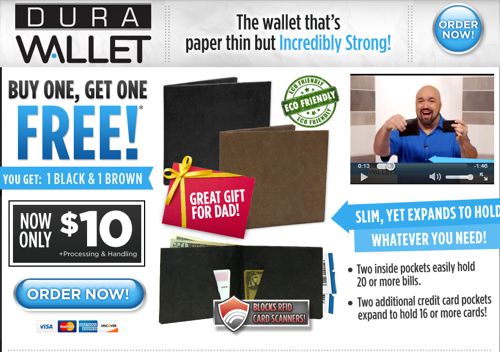 Television Commercial

This is the original DuraWallet commercial, before pitchman Marc Gill's recent spots.
DuraWallet Reviews
Have you tried DuraWallet? Please give us your review in the comments below and give it a star rating above.
Sponsored Links: