Zip Trim is a portable weed trimmer that uses standard zip ties as the cutting mechanism. Does it work as advertised? Here is our Zip Trim review.
Sponsored Links
About Zip Trim
Zip Trim is a cordless handheld weed clipper that comes with a lightweight extension pole and a protective debris shield. The official website is buyziptrim.com, with a registration date of November 2016. The screen capture below was taken of the product website in May 2017.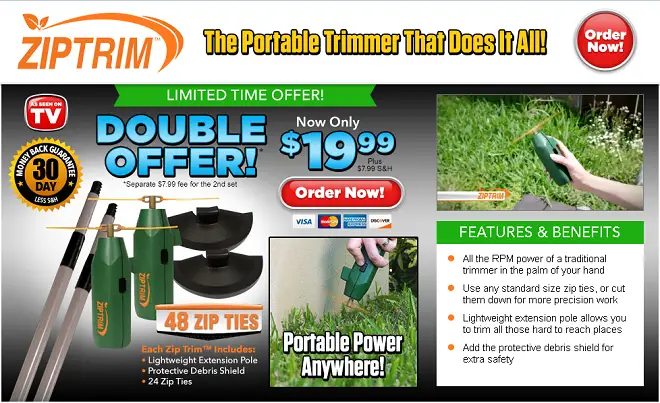 Claims & Features
Handheld trimmer with the RPMs of a traditional trimmer
Works with standard zip ties
Trim hard to reach places with the lightweight extension pole
Comes with a protective debris shield
Cost
Zip Trim costs $19.99 + $7.99 mandatory double offer + $7.99 shipping for a total of $35.97. It comes with a lightweight extension pole, protective debris shield, and 48 zip ties. At the time of this writing, this offer is not available in stores.
Zip Trim Review
Zip Trim is a compact, hand-held weed trimmer that uses a standard zip tie to cut debris. As I watched the commercial for Zip Trim for the first time, I was immediately filled with skepticism. You're going to trim weeds with only a hand-held device? Watch, they'll get you on wire refills. 
As the commercial continued, most of those initial skeptical thoughts were diminished. As it turns out, there is an extension handle included, so it's not only a hand-held trimmer. Additionally, you can use any zip ties, so they you don't have to worry about expensive refills. They even start you off with 48 zip ties when you order. Finally, there is a protective shield that will help protect you from flying debris.
Sponsored Links
So the good news is that Zip Trim is a pretty nifty invention, allowing you the conveniences of a full-sized trimmer in a compact unit. The ability to hand-trim delicate areas is quite useful, as is the convenience of being able to use any zip tie instead of trimmer wire.
Despite some of the coveted features of Zip Trim, I do have a few concerns as well. It has been my experience that As Seen on TV handles, from mops to brooms to trimmers, are notoriously flimsy. Their description of the extension pole as "lightweight" could be telling.
I wouldn't expect Zip Trim to compete with a full-sized trimmer, but if a large trimmer is overkill for your situation, this could be a good fit. I have friends in California with tiny back yards where a full-sized trimmer is unnecessary, and something like this may come in handy. It may also be ideal if you only have to trim a few small areas of a larger yard. For extensive trimming and edging, I fear that Zip Trim probably won't be able to compete with a regular weed whacker.
I'm not particularly fond of mandatory double offers, which is the case with Zip Trim. Thus, you are forced to purchase a second unit for another $7.99 P&H. That means you will be spending almost $16 in nonrefundable shipping/processing, even if you aren't satisfied and choose to return it. For that reason alone, I'd wait for it to arrive in stores, if it arrives at all.
That leads me to my final point. Zip Trim is new, based on the website's November 2016 registration date. My guess is that it is still being test marketed, so don't be surprised if shipping takes a while. Sometimes these test marketed products change name, design, and prices before going into full production. There is also the possibility that it never makes it out of the test marketing phase, so I'll keep an eye on this one and update this space if anything changes.
Alternatives
There is no shortage of handheld weed trimmers. There are also instructions how to use zip ties for regular weed eaters, if you are interested in trying that yourself.
Your Zip Trim Reviews
What are your thoughts about Zip Trim? Drop a comment below and a star rating above to let us know what you think about it.