EggZact Boiler is a kitchen device which allows you to cook and cool six eggs for easy peeling. Does it really work? Read our EggZact Boiler review.
Sponsored Links
About EggZact Boiler
EggZact Boiler allows you to boil, time, and cool six eggs at the same time. The official product website is buyeggzact.com, which was first registered in April 2016. Below is a screen capture of the official website from October 2016.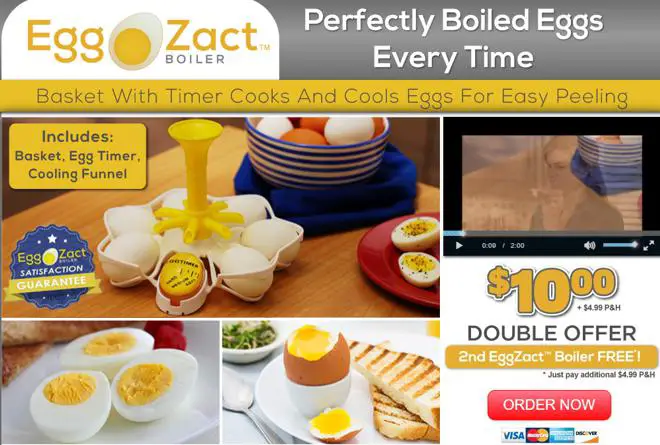 Claims & Features
All in one basket and egg timer
Holds 6 eggs
Perfectly cooked eggs every time
Cooks eggs soft, medium, or hard boiled
Stays cool to touch
Collapsible for easy storage
Cost
You can get EggZact Boiler for $10 + $4.99 P&H. A second unit is added to your order for another $4.99 and you can't opt out of this double offer. This brings your total to $19.98 for two units.
Sponsored Links
EggZact Boiler Review
EggZact Boiler is a device which allows you to boil and cool eggs without some of the nuisances of boiling eggs the old fashioned way. To use EggZact Boiler, you place six eggs in the provided holders. A seventh slot is taken up by an egg timer. Next, you'll place the entire device into boiling water, with the handle protruding out of the water.
The timer will tell you when the eggs are soft boiled, medium boiled, or hard boiled. When your eggs are cooked to your desired level, you simply grab the handle and place in the sink. Running water into the top of the handle will allow cool water to flow over the eggs, which results in an end product that is easier to peel.
The handle/funnel is perhaps the most important component of EggZact Boiler. It allows you to gently place and remove your eggs in boiling water, while also acting as a funnel to run cool water over the eggs. Because it is made of plastic, it will stay cool even when the rest of the unit is submerged in boiling water.
Perhaps surprisingly, EggZact Boiler will probably work for the majority of those who purchase it. While egg timers such as the one included in EggZact are by no means perfect, after getting used to using it, you should be able to produce boiled eggs which are cooked to your satisfaction.
And, while the materials from which EggZact Boiler are made may not be of the highest quality, it should be sufficient to get the job done.
With a little practice and realistic expectations, EggZact Boiler should work about as advertised.
Alternatives
If you don't mind submersing and retrieving eggs the old fashioned way, you can find color changing egg timers similar to that in EggZact Boiler for about $5.
We found a nearly identical product on Amazon for about $12, although there were no consumer reviews posted for it.
Television Commercial
Your EggZact Reviews
If you've used EggZact, let us know what you think by leaving a comment below and a star rating above.