Epi Smooth is an inexpensive epilator that removes unwanted hair easily and gently. Does it work? Read our Epi Smooth review.
Sponsored Links
About Epi Smooth
Epi Smooth can remove any hair type to keep you smooth for weeks. The official website is getepismooth.com, which was registered in November 2016. The screen shot below was taken of the product website in December 2016.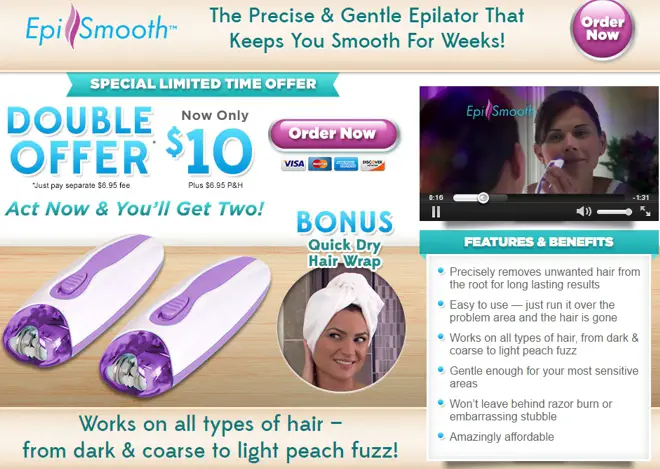 Claims & Features
Removes unwanted hair at the root
Easy to use
Works on all hair types and colors
Gentle enough to use on sensitive areas
No razor burn or stubble
Cost
Epi Smooth costs $10 + $6.95 P&H. A second unit is included for another $6.95 P&H, bringing your total to $23.90 for two (you can't buy just one).
As of this writing, we haven't seen Epi Smooth sold in stores.
Epi Smooth Review
Epi Smooth begins its television pitch by comparing itself the once-heavily-advertised NoNo Pro – without mentioning the latter by name, but noting its $250 price tag. With Epi Smooth, we are told that hair removal can now be affordable with a minimal $10 investment.
If you've never used an epilator, you may want to research the topic a bit, because this is not shaving, nor is it laser removal. Is is more akin to waxing, as the hairs are actually pulled from the skin, down to the root. While this may sound barbaric, it's a relatively common practice and achieves pretty good results.
Sponsored Links
Most epilators cost about $45 to $150, and feature a row of spinning tweezers, while Epi Smooth only features a single row. This, I found, made hair removal with the device significantly slower than some of its more expensive counterparts.
There is only one speed with Epi Smooth, and it can only be used with dry skin. Most epilators have at least two speeds, and many can be used in the shower.
The fact that hair is removed from the root means that it will take longer to grow back to a visible state, similar to results you'd expect from waxing.
There is usually some pain involved with epilators, although everyone has a different pain threshold. The skin in any particular area could be red after an application, which is why many users of these types of devices prefer to do treatments at night before bed. I didn't find that it caused much pain, probably because it didn't actually remove a great deal of hair.
Overall, Epi Smooth is probably best described as a beginner epilator that will probably take you much longer to use than those offering a larger head. The price of Epi Smooth is on the very lowest end of the scale for devices like this, which may compensate for some of its drawbacks.
Alternatives
A search of epilators will yield a dizzying number of choices. There aren't many in the same price range as Epi Smooth, although you may find a few, such as the Emjoi Tweeze eRase e6 is a $10 epilator with mostly positive reviews.
A popular, yet somewhat more expensive, option is the Braun Silk-epil3, which runs about $34 and has a solid 4 star rating.
If you want to go all out, the Braun Silk-épil 9 is an impressive device, and among the very best in its class.
Check out my full Epi Smooth review below.
Your Epi Smooth Reviews
If you've used Epi Smooth, give us your thoughts by leaving a comment below and a star rating above.
Updated April 2017.