Flavor Zero is an innovative cup that transforms ordinary water into a scented and flavored drink. Does it work as advertised? Here is our Flavor Zero review.
Sponsored Links
About Flavor Zero
Flavor Zero is a cup infused with scents and flavors that converts ordinary water into a zero calorie drink that is sugar-free. The official website is flavorzero.com, with a registration date of March 2017. The screen capture below was taken of the product website in June 2017.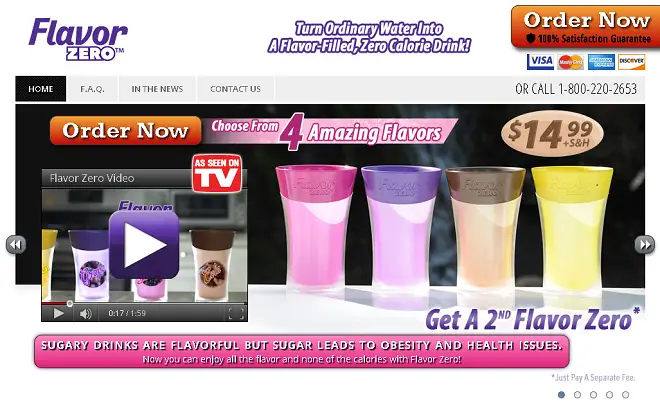 Claims & Features
Cup transforms ordinary water into a zero calorie flavored drink
Sugar free
FDA approved scents & flavors
Use sparkling water to make a drink similar to soda
No artificial sweeteners
Cost
A Flavor Zero cup costs $14.99 + $7.99 shipping for a total of $22.98. There is an optional double offer which provides the second cup for a separate fee of $7.99 which raises the total to $30.97. There are 4 different flavored cups available: lemon, grape, berry, & cola. At the time of this writing, Flavor Zero is not available in stores.
Sponsored Links
Flavor Zero Review
The idea behind Flavor Zero is quite simple: A scented, flavored cup that tricks your brain into thinking that plain water has a flavor, determined by the "flavor" of the cup. You can choose among four different flavors, and then simply fill the cup with water and enjoy. When you fill Flavor Zero with water and take a drink, the scent on the cup supposedly "tricks" your brain into thinking you are drinking flavored water. But is it really as simple as that?
Flavor Zero is very similar to a product called The Right Cup, which was posted over a year on Indiegogo. It would appear that Flavor Zero is the As Seen on TV version of that product, although completely unrelated to it. The problem with The Right Cup is that it is expensive, at $30 for one cup, and not widely available. Thus, it isn't surprising that the As Seen on TV industry would jump on the idea to see if there is any interest.
I've had the pleasure of checking out The Right Cup and it is just a plastic cup with a fruit smell. Over time, the smell and taste dissipate, so all you're left with is a plastic cup. One difference between these two products is that The Right Cup only uses scent, while Flavor Zero is advertised to use "FDA approved scents and flavors."
From my experience with other products like this, I wouldn't expect the scent or flavor to last more than about six months, provided it is cared for diligently.
I'll be interested to see if there really is a difference between Flavor Zero and The Right Cup. At this point, Flavor Zero is so new that I don't know of anyone who has tried it, although a number of YouTubers have reviews posted of The Right Cup, presumably sent to them (for free) by the company.
That said, Flavor Zero appears to be a test marketed product. That means it is not available in stores, and may have only been produced in a very small number while they determine if there is any consumer interest. I've even seen test marketed products that have been advertised after only a single prototype was produced. It has been my experience that test marketed items tend to change names, prices, or design. Sometimes they go right to store shelves, while other times they simply disappear. I'll continue to monitor Flavor Zero and let you know if anything changes.
Alternatives
You may want to look at a fruit infuser water bottle that lives up to the promise of Flavor Zero, without the gimmick. This model by LA Organics is very highly rated and only costs $10.
Your Flavor Zero Reviews
What are your thoughts about Flavor Zero? Drop a comment below and a star rating above to let us know what you think about it.