As someone who spends an inordinate amount of time buying and reviewing products on Amazon, Wish, and in stores, I compiled this list of some of the dumber products I've encountered that surprisingly work. Be sure to check out the full video below.
Sponsored Links
1. The Grill Sergeant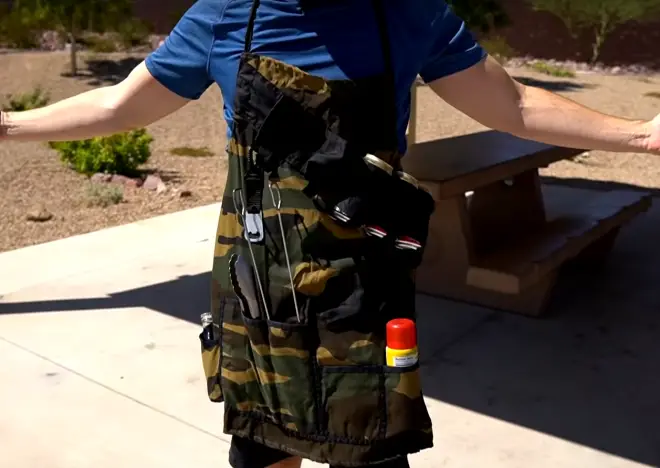 Although grilling itself is gender-neutral, in male circles, grilling is a rite of passage, a privilege to grill for your family, and a symbol of leisure and comfort of adulthood. Or maybe a just weekend treat after a week of hard work.  I've encountered more than one Alpha Male who was too proud to don a standard apron while grilling, however, and instead opted for old clothing retrieved from  the back of a closet. Well, now you alphas can grill in style, with a wealth of additional features not found in your typical apron, such as six can holders, bottle opener, and numerous pockets. All of this in a battle-ready camo pattern.
You can pick up your own Grill Sergeant here.
2. Bottle-Opener Flip Flops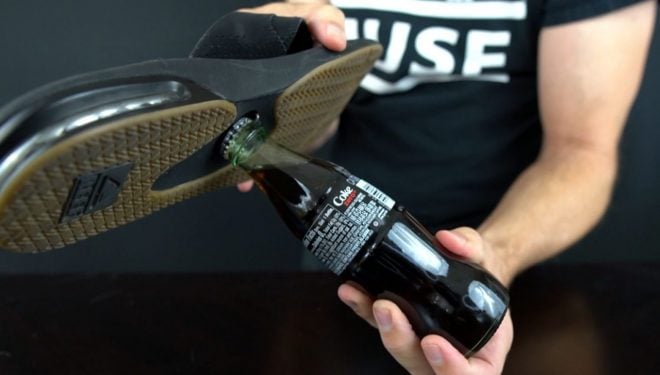 When I posted a video on social media of myself using a flip flop to open a bottle of Coke Zero, the overwhelming response was somewhere between "nope" and a vomiting emoji. I do realize that where you step and where you drink should be miles apart, but for those adventurous types – especially those who panic at the thought of being without a bottle opener – a solution is at hand. Or should I say at foot? Yes, these Reef flip flops come complete with a working bottle opener for those occasions that you just can't find any other means to crack open your cold brew. The sandals themselves are quite comfortable and well made, and the bottle opener does work quite efficiently.
Even though I'm not sure I'd want to use this regularly, it is great to pull out in front of people to see their reaction.
Get your own Reef sandals here.
3. Grass Flip Flops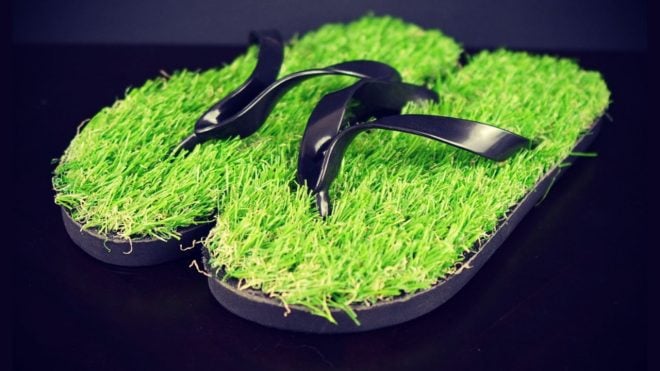 Like to walk barefoot in the grass? Hate the feeling of rubber against your feet while wearing sandals? If so, then you may be happy to find these bizarre "grass" flip flops that give you the feeling of walking on grass anywhere you go. One caveat is that these do not contain real grass, so it's more akin to walking on fake grass, but that's still better than doing it commando style on rubber sandals. I found that these actually felt pretty good on my feet, even though they were a bit cheaply made.
Although there are several options, these are the grass flip flops I purchased.
4. Freshtop Caps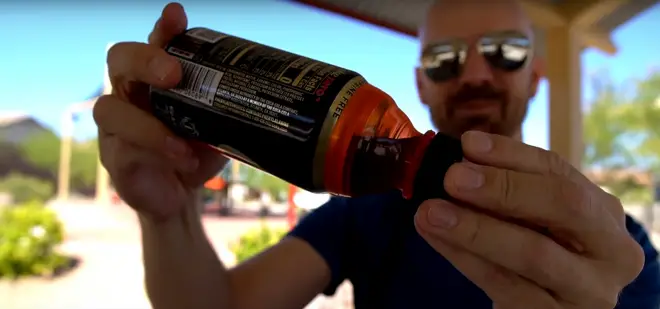 Do you love the sensation of drinking from a bottle, but all you ever have are cans? The As Seen on TV industry may have just the thing for you! Freshtop Caps are one among several brands selling these snap-on caps that convert your can into a bottle-like container. I found that they worked pretty well, although the caps I tested were not completely leak proof. My friend Cathy with the 2-Cent Chicks, who also reviewed these, said that she did not experience leaking caps. Regardless, it is a nice way to prevent spills and to enable you to seal up your can that would otherwise be wide open for all of the dangers floating around in the air.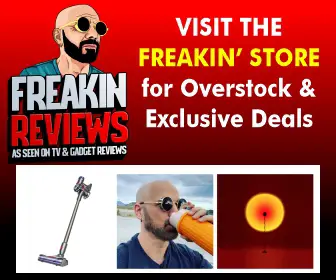 By the way, I once had a friend who told me that his brother worked in a warehouse that shipped cases of soda cans around the country. He also noted that his brother routinely walked along those cases in his dirty work shoes. Whether or not that's true, it was enough of a visual to remind me to wipe off my cans before drinking out of them. That is especially the case with Freshtop Caps, because your beverage will flood the top of the can before the liquid goes into your mouth.
Several options are available such as this inexpensive set.
5. Hot Dog Cutter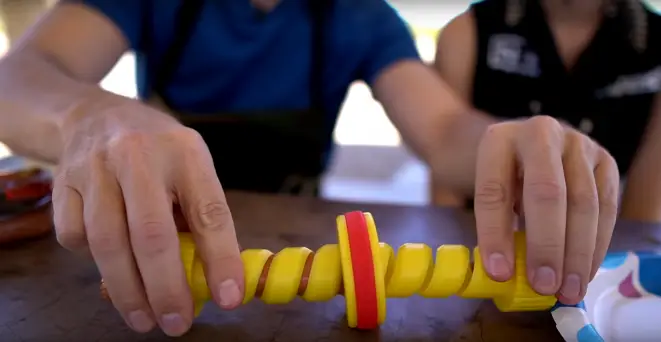 Sure, anyone can toss a few hot dogs on the grill, but if you want your grilled dogs to go to the next level, you've gotta score them. And why painstakingly do that with a knife when you can get a separate gadget to do all the work for you? Hot dog scoring devices will create slits along the surface of the dog which creates crispy edges and allows a perfect landing strip for the condiment of your choice.
Take a look at Curl-A-Dog, which runs a moderate 6 bucks, or other options like the one pictured above.
6. Condiment Gun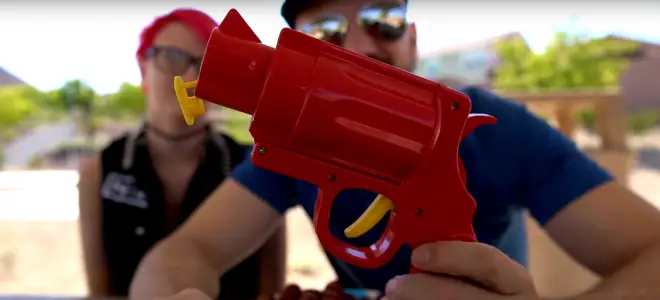 Once you've scored your hot dog with the device above, you can use this clever condiment gun to apply ketchup or mustard to your dog – or to any food of your choice. You simply fill the two cartridges with condiments of your choice, and pull the trigger to apply. No, you absolutely do not need this item, but you will certainly turn heads and get the conversation going when you whip this out at the picnic table. And kids will line up to apply condiments with this dispenser.
Check out the Condiment Blaster on Amazon.
7. Lazy Readers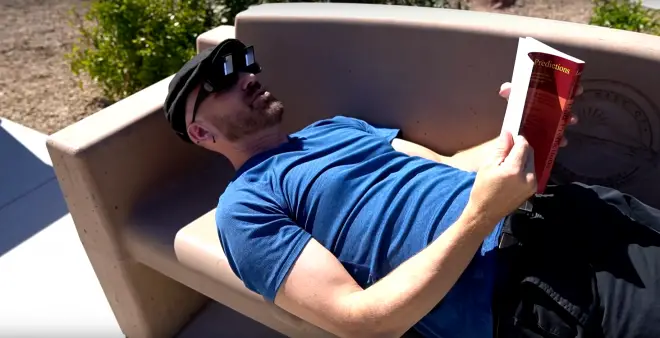 The name says it all. If you are too lazy to prop yourself up to read or watch TV, these glasses are for you! Actually, there are some people who may actually find a need for them (such as those with medical conditions who can't sit up), but anyone can find a use for these unusual glasses. They include angled mirrors that allow you to look toward your feet without even tilting your head.
The newest addition to my extensive collection of glasses. These will be in a video soon. #gadgets #ridiculousness pic.twitter.com/TEv1LJqpCT

— Freakin' Reviews (@freakinreviews) September 19, 2019
I tried it while walking and texting (not recommended, though it did work), and laying on a park bench with a book (which did work). The uses are limited only by your imagination. It's also a pretty good novelty gift for birthdays or holidays for the person who has everything.
You can get Lazy Readers for about $13 on Amazon, as of this writing.
Watch the video
Still not sure? I use all of the items discussed here in the video below.