Flex-Ohh is a stretchable "super compound" for kids that never dries out. Does it work? Read my Flex-Ohh review.
Sponsored Links
About Flex-Ohh
Flex-Ohh is a moldable compound for kids which supposedly never hardens, cracks, or dries out. The official product website is getflexohh.com, which was first registered in May 2016. Below is a screen capture of the official website from October 2016.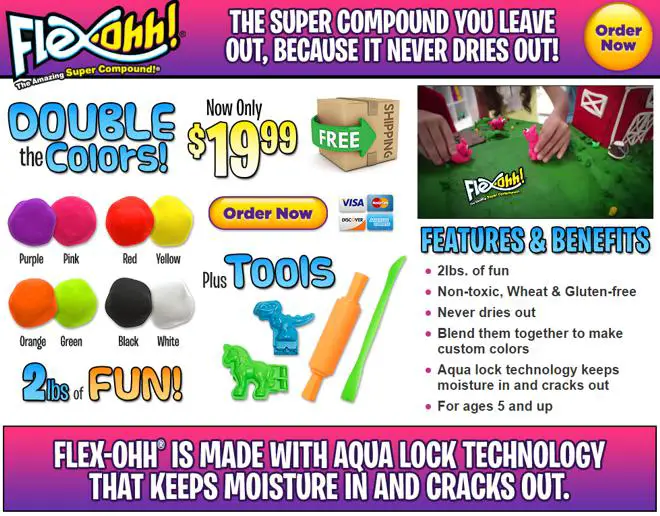 Claims & Features
Non-toxic, wheat and gluten free
Never dries out
Mix them to create your own colors
Ages 5+
8 colors: Purple, pink, red, yellow, orange, green, black, and white
Cost
You can get 2 pounds of Flex Ohh for $19.99 with free shipping. You can buy Flex-Ohh in stores (I found it at Walgreens) for about $15. The version sold in stores has no tools or molds.
Flex-Ohh Review
Flex-Ohh is a molding compound for kids that doesn't dry out. It can be molded and shaped – and left out to be reused again. It currently comes in sticks of 8 different colors.
Sponsored Links
There is a decent selection of colors, although I found that the "red" looks more like a dark orange. The one glaring omission is a lack of a blue color.
In my overnight test, I left Flex-Ohh out inside the home and even a stick outdoors (despite a note on the box stating that it is best used indoors). After 24 hours, both of my test colors were still soft and could be molded as normal.
The texture is a bit more rubbery than other "doh" compounds, and there seems to be less of a smell. I found the residue to be minimal, perhaps a very slight greasy feeling on the fingers.
If you're accustomed to other molding clays which provide a little container in which to store the compound, you may be disappointed. Flex-Ohh doesn't give you anything in which to store it when not in use. You could use the plastic packaging, but that is not really a perfect alternative.
Although Flex-Ohh is more expensive than some molding clays, this could be offset by the fact that it won't dry out under normal conditions.
Overall, I think Flex-Ohh is a worthy entrant in the category of molding clay for kids. If your kids like Play-Doh, they'll like Flex-Ohh.
Alternatives
One of the more popular alternatives to "dough" products is probably Playfoam, which can also be used over and over without drying.
If you're a DIY type, you can also make your own dough with simple household items.
Reusable modeling clay is probably another viable and inexpensive alternative.
Video Review
Below is my video review of Flex-Ohh, including some tests to see if it really doesn't dry out.
Television Commercial
Your Flex-Ohh Reviews
If you've used Flex-Ohh, let us know what you think by leaving a comment below and a star rating above.