Flexzilla Review: Kink-Free Hose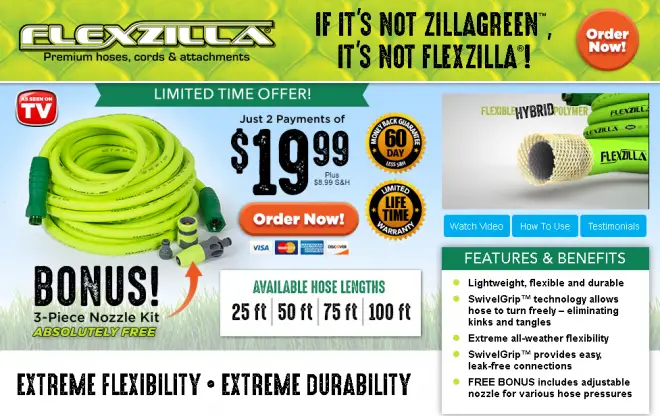 Flexzilla is a tough, bendable, and lightweight garden hose made of a hybrid polymer. Does it work as advertised? Here is our Flexzilla review.
Sponsored Links
About Flexzilla
Flexzilla is a durable garden hose made of a flexible hybrid polymer that prevents kinks and tangles. The official website is buyflexzilla.com, with a registration date of October 2016. The screen capture below was taken of the product website in May 2017.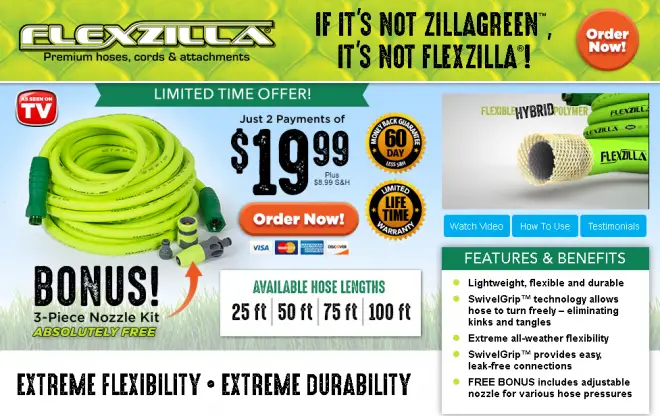 Claims & Features
Lightweight, pliable, & sturdy
Will not kink or tangle
Withstands diverse weather conditions
Connections will not leak
Includes adjustable nozzle
Cost
Below is the price breakdown for the different lengths of Flexzilla:
25 foot costs $39.98 + $8.99 shipping for a total of $48.97
50 foot costs $59.98 + $10.99 shipping for a total of $70.97
75 foot costs $79.98 + $12.99 shipping for a total of $92.97
100 foot costs $99.98 + $14.99 shipping for a total of $114.97
There is the option to pay the entire cost or split it into two monthly payments.
As of this writing, these offers are not available in stores, but you can find Flexzilla on Amazon.
Flexzilla Review
The As Seen on TV universe has an unusually high population of garden hoses. In recent years, retractable hoses were all the rage – until consumers found that they didn't work very long before bursting.
Sponsored Links
In 2017 a new breed of metal garden hoses have also hit the market. With Flexzilla, however, we have something of a maverick in this category. It isn't retractable and it isn't metal. It is, however, lightweight, durable, and kink-free. This 5/8″ hose can be obtained in various lengths up to 100 feet, and can handle a max PSI of 150 at 70 degrees Fahrenheit. A 50-foot Flexzilla hose weighs about 9 pounds.
Handling Flexzilla is not like you would expect with a regular garden hose. It tends to "flop" around in a manner different than a rubber hose. It does take a little getting used to, but most people who use it over time end up preferring it over traditional hoses.
The fittings are anodized aluminum-alloy which should hold up to everyday use, although they can be damaged under extreme conditions.
Perhaps the biggest obstacles most consumer have with Flexzilla is that of price. A typical 50-foot "As Seen on TV" hose costs about $40, which is $20 less than Flexzilla. I understand that you are paying for quality, but frugal consumers may not always be swayed by such a feature, especially those who have been burned by other As Seen on TV hoses in the past.
On Amazon, Flexzilla sports a rating over 4 stars, with most consumers happy with their purchase. A few users found that a connector broke or that it didn't perform as expected, but they are a relatively small minority. Perhaps the most surprising complaint is that a few consumers have pointed out that it does kink. Indeed, it can tangle or kink, depending on how it is handled and stored, but probably less so than a regular hose. Using it on a standard hose reel may help reduce kinks even more.
Retractable hoses don't kink at all, but their durability remains questionable, so Flexzilla could be an excellent alternative if you've tried those in the past and don't want to chance it again.
Alternatives
A best seller in the "non-kink" category is the NeverKink, which costs about $41 for their 100-foot model. That item sports a 3.9 rating as of this writing.
If you aren't opposed to a retractable, the LawnPRO 50′ model is an Amazon Best Seller and costs $40, with a 4.3 rating. You may also be interested in my video review of Pocket Hose Brass Bullet, which doesn't kink, but is also another retractable hose.
Television Commercial
Below is a television commercial for Flexzilla.
Your Flexzilla Reviews
What are your thoughts about Flexzilla? Drop a comment below and a star rating above to let us know what you think about it.