FreePrints Reviews: Is it Really Free?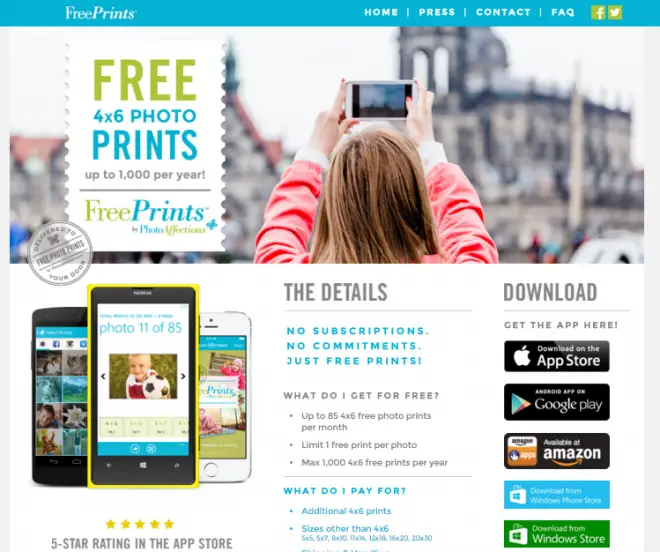 FreePrints is a free app which allows you to print and deliver photos taken on your smartphone or tablet. Read our FreePrints review.
Sponsored Links
About FreePrints
FreePrints is an app-based service that allows people to print physical copies of the photos from their phones. The product website is freeprints.tv, which was registered in September 2013. The screen capture below shows the official website in November 2015.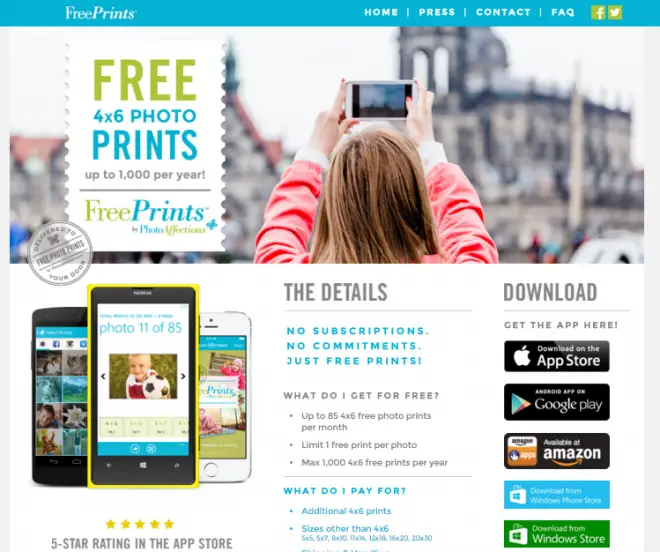 What They Claim
No subscriptions or commitment
Completely free
Up to 1,000 per year/85 4×6 per month
Available on all app stores
Ships within days
Simple and hassle-free
Printed on Kodak and Fujifilm paper
FreePrints Cost
Some services are free, others are paid for: Additional 4×6 prints of the same photo, sizes other than 4×6, and shipping and handling (anywhere from $1.99 – $9.99)
Sponsored Links
Reviews
FreePrints is an app which allows you to print photos from you smartphone. You merely upload your desired photos, and your prints will arrive in the mail shortly thereafter. You get up to 85 4×6 prints per month, and you can only print 1 copy of each photo. You only pay is shipping, which ranges from about $2 to $10.
FreePrints has a very high consumer satisfaction rating, with most customers more than pleased with the outcome. There are those customers who are not happy about paying for shipping, but those objections are in the clear minority.
There is no subscription or commitment.
The service is surprisingly slick and efficient. We found the prints to be of an acceptable quality, and delivery time to be on par with what was expected. If you are looking for a print service for your photos, FreePrints should be on your short list.
Television Commercial
Your Freeprints Reviews
Let us know what you think of Freeprints by leaving a comment below and a star rating above.