Flexon is a brand of flexible eyeglass frames.
Sponsored Links
About Flexon
Flexon is a fully-flexible glasses frame which can bend and return back to its original position.
The product website is flexon.com, which was registered in January 1996. The screen capture below shows the official website in November 2015.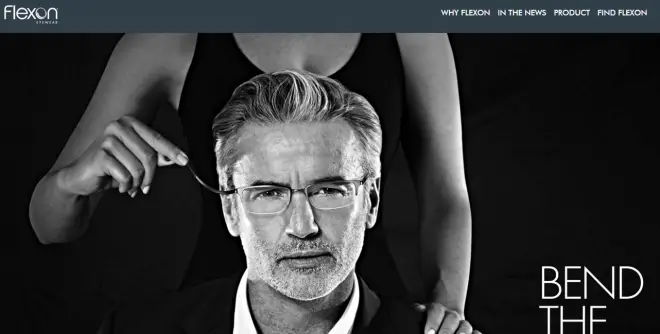 What They Claim
Bends and rebounds
Advanced memory metal
More durable than standard frames
Lightweight and comfortable
Polarized lenses
Flexon Cost
You can find prices for Flexon frames ranging from about $90-$220.
Sponsored Links
Reviews
Flexon is not a new product, although its 2015 marketing blitz may bring the brand a legion of new fans. Those who are familiar with Flexon will tell you that these frames perform exactly as the advertising displays. They are extremely pliable, while tough as nails.
Made of titanium and nickel, Flexon frames are lightweight and flexible, although not completely unbreakable. For normal use, most wearers will find they are durable and can take far more abuse than standard frames. No matter how much you bend these frames, they will return to their original shape.
There are a variety of frames available, with prices ranging from a little under $100 to over $200 in most cases. You may be able to find these locally, and you can certainly find them online.
You can peruse some of the offerings on Amazon to get a sense for what is available, and you'll also see that customer ratings are universally high.
Flexon frames are backed by a two year warranty. We've heard of some wearers using the same Flexon frames for over a decade.
Television Commercial
Your Flexon Reviews
Let us know what you think of Flexon by leaving a comment below and a star rating above.