Full Charge Wallet is a 2-in-1 aluminum cased wallet and cell phone charger. Does it work as advertised? Here is our Full Charge Wallet review.
Sponsored Links
About Full Charge Wallet
Full Charge Wallet combines a smart phone & tablet charger with a compact wallet that has a sturdy aluminum casing. The official website is fullchargewallet.com, with a registration date of April 2017. The screen capture below was taken of the product website in May 2017.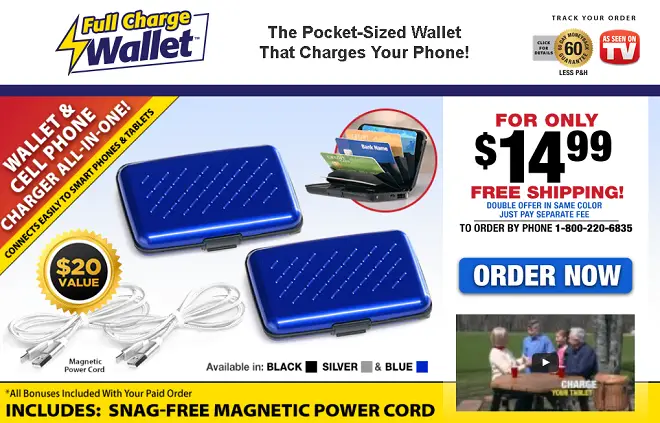 Claims & Features
Combines a wallet & cell phone charger
Quickly connect to smart phones & tablets
Organize cash & cards with accordion design
Aluminum casing that is water resistant
Blocks RFID technology
Slim & compact
Half the size of a normal wallet
Comes with a snag-free magnetic power cable
Cost
Full Charge Wallet costs $14.99. There is also an optional double offer which costs $21.98 for two wallets. Shipping on both offers is free. The wallet is available in black, silver, or blue. It comes with a snag-free magnetic power cord.
Full Charge Wallet Review
Have you seen advertisements for an aluminum wallet that also charges your phone? Maybe you've seen an ad for Full Charge Wallet. Or perhaps it was E-Charge Wallet… or Atomic Charge Wallet.
Sponsored Links
Alas, the As Seen on TV marketers are at it again, flooding the market with nearly identical competing products at the same time. Last year we had no less than three spin scrubbers by different marketers: Hurricane Spin Scrubber, Turbo Scrub, and Clorox Scrubtastic. We've also had Copper Chef, Gotham Steel, and Red Copper brands. Lately I've seen a host of steel garden hoses.
And now… the aluminum wallet chargers.
The advertising touts the virtues of these wallets, including Full Charge Wallet, including a tough aluminum case, RFID blocking technology, and a built-in battery that can charge your phone via USB.
RFID blocking is not really something most consumers need to worry about. It has been shown that the threat is overblown, and Popular Mechanics pointed out a few years ago, "No one we spoke with actually heard of RFID 'skimming' occurring outside a lab."
As far as the design of the wallet, it is similar to those generic aluminum wallets you can find almost anywhere for a few dollars, featuring an accordion interior to hold items. I'm not partial to those accordion holders, especially when it comes to storing money. I'm also not keen on an unforgiving aluminum wallet in my back pocket. My wife has used one in the past, however, and she liked having it in her purse to keep small cards and other items tucked safely away.
As far as a phone charger goes, I think Full Charge Wallet will perform at an acceptable rate. It's certainly not going to compete with a 20,000 mAH power bank, but it will give you some extra juice when your phone is about to die.
Overall, I'm not a fan of this type of hybrid product, especially because half of the features I don't particularly like. If, however, you don't mind an aluminum accordion wallet, and don't expect a high end battery pack, Full Charge Wallet maybe ideal for you.
Keep in mind this is a pretty new product, and it may only be test marketed. If the name, price, design, store availability, or offer changes, I'll update this space.
Alternatives
There are several other wallet chargers available on Amazon. This Nomad Wallet is a good example. If you only want an aluminum wallet that doesn't charge, you may want to pick up this Amazon Best Selling stainless steel wallet for $9.
Television Commercial
Your Full Charge Wallet Reviews
What are your thoughts about Full Charge Wallet? Drop a comment below and a star rating above to let us know what you think about it.