Full Crystal by Fuller Brush Co. is a hose attachment that allows you to clean windows and screens at the same time. Does it really work? Here is my Full Crystal review.
Sponsored Links
About Full Crystal
Full Crystal is a device you attach to an ordinary garden hose which sprays a special solution that cleans windows, screens, and outdoor surfaces. The official product website is buyfullcrystal.com, which was registered in October 2017. The screenshot below shows how the product website looked in July 2018.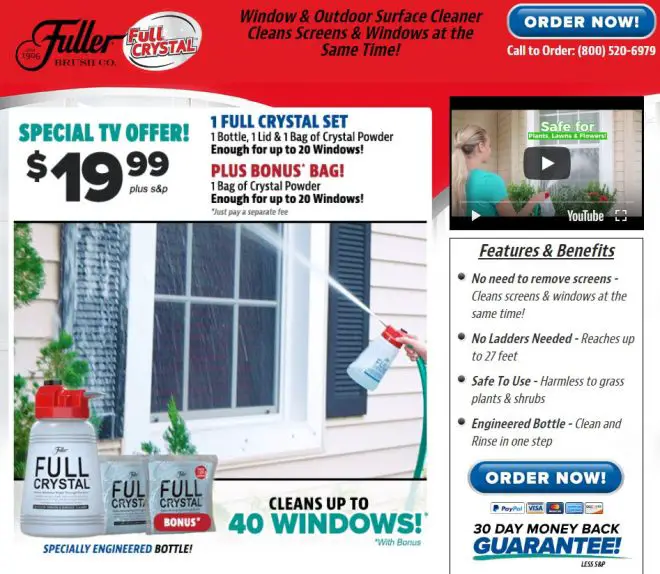 Claims & Features
Clean without removing screens
Reaches up to 27 feet, so no ladder necessary
Harmless to plants
Cleans and rinses in one step
Cost
On the official website, you can buy Full Crystal for $19.99 + $7.95 shipping and a $2 "web surcharge fee." A "bonus" pack can be added for another $4.99. I found Full Crystal at a local Fry's for $20, which included a single packet. I noticed two-pack of refills there for $10.
Full Crystal Review
Full Crystal is a hose attachment which allows you to spray a cleaning solution onto your windows up to 27 feet away, without the need for ladders and without having to remove screens first.
Sponsored Links
To use Full Crystal, you fill the container with warm water, add the included packet, and stir. Next, the canister is attached to an ordinary garden hose. There is a black lever on top of the device which allows you to turn the flow of water on or off, which I found to work quite well. A small nozzle is also included which is to be removed when spraying high windows. You can quickly move back and forth between clean water and the solution by simply placing your finger on or removing your finger from an air vent on top of the canister.
The instructions state to first rinse a window by spraying it with plain water from bottom to top, then applying the Full Crystal solution also from bottom to top. Finally, you simply rinse off the window from top to bottom.
It is stated that the best way to use Full Crystal is in the morning when the windows are in the shade and the temperature is between 50-85F. In the Las Vegas heat, I was a few degrees over 85, but did test it in the shade as instructed.
As you can see in the video below, I found that most of my windows turned out pretty well. One of them had streaks, presumably because I didn't thoroughly rinse the window during the cleaning process. I should point out that the instructions note to avoid over-rinsing or under-rinsing, but this is obviously going to be something that takes practice, as is getting your solution to last long enough to treat 20 windows (as advertised). Of course with only one packet in the box, you may not get much practice unless you buy additional packets.
The instructions state to keep out of reach of children and pets, but it wasn't clear if that includes residue after use, so I took no chances and cleaned my patio after use. Additionally, a warning states that this can be an eye or skin irritant, and I found my arm quite wet after using Full Crystal. I wasn't sure if that was just water or if it included the solution, so I made sure to take a shower after using it.
I'd give Full Crystal a 7 out of 10 because all of my windows did turn out better and only one had significant streaking. I also like how easy it is to switch back and forth between regular water and the solution. If you have second-floor windows that are difficult to clean, this could be a compelling solution.
Be sure to check out my Full Crystal review below.
Alternatives
There are other window cleaners that attach to a regular hose, such as the Rejuvenate Outdoor Window Spray, which holds generally positive reviews and costs roughly the same as Full Crystal.
Your Full Crystal Reviews
Have you used Full Crystal or something like it? Leave a comment below and a star rating above to let me know your thoughts.