Tac Zoom is a high definition telephoto lens that can be attached to any smartphone or tablet. Does it really work? Here is my Tac Zoom review.
Sponsored Links
About Tac Zoom
Tac Zoom is a high resolution magnifying lens that can be fastened to the camera of any tablet or cellphone. The official product website is taczoom.com, which was registered in August 2017. The screenshot below shows how the product website looked in June 2018.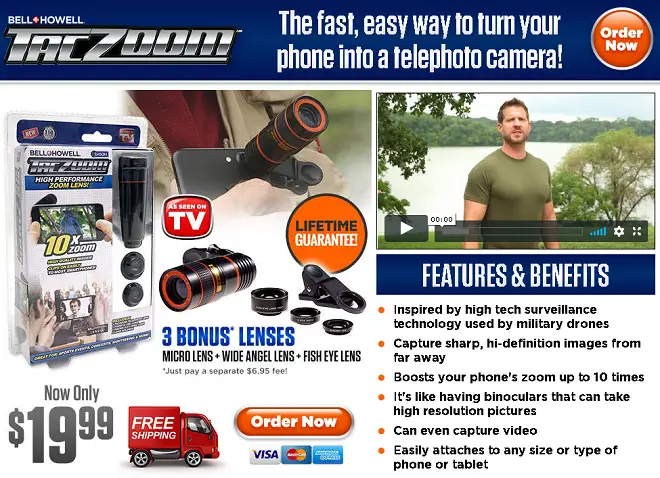 Claims & Features
Influenced by military surveillance technology
Takes clear high definition photos from a distance
10x magnification
Also includes fish eye, macro, and wide angle lenses
Similar to binoculars that can take photos
Also records video
Compatible with any phone or tablet
Cost
Tac Zoom costs $19.99. Shipping is free. Three bonus lenses can be added for a separate fee of $6.95 which would raise the total to $26.94. The bonus lenses include a micro lens, wide angle lens, and a fish eye lens. There is also an option to insure an order for an additional charge of $3.99. At the time of this writing, Tac Zoom is not available in stores.
Tac Zoom Review
Tac Zoom is a snap-on lens that clips onto your phone or tablet, allowing you to zoom up to 10x.  The kit also includes fish eye, wide angle, and macro lenses. It's easy to use by simply clipping it onto your device so that the lens covers your phone's camera. Tac Zoom is compatible with most smartphones and tablets, although dual-lens phones won't work with this item in portrait mode.
There are a number of lenses like this for sale and reviews tend to be mixed. While it does clip onto phones easily and provide the level of zoom as advertised. The more pieces of glass you put between your target and your lens can only lead to more image degradation, however, so I wouldn't expect spectacular results.
As you can see in the video below, I compared the Tac Zoom with an Amazon Best Seller along with the built-in iPhone (7 Plus) pinch zoom. My videographer friend and I agreed that the iPhone's zoom was as good (if not better) without the fuss of attaching a separate lens. Further, attaching the Tac Zoom to the phone sometimes requires fiddling around with it until it's in the right spot. Focusing requires you to hold the Tac Zoom and the phone so the clamp doesn't slide out of place.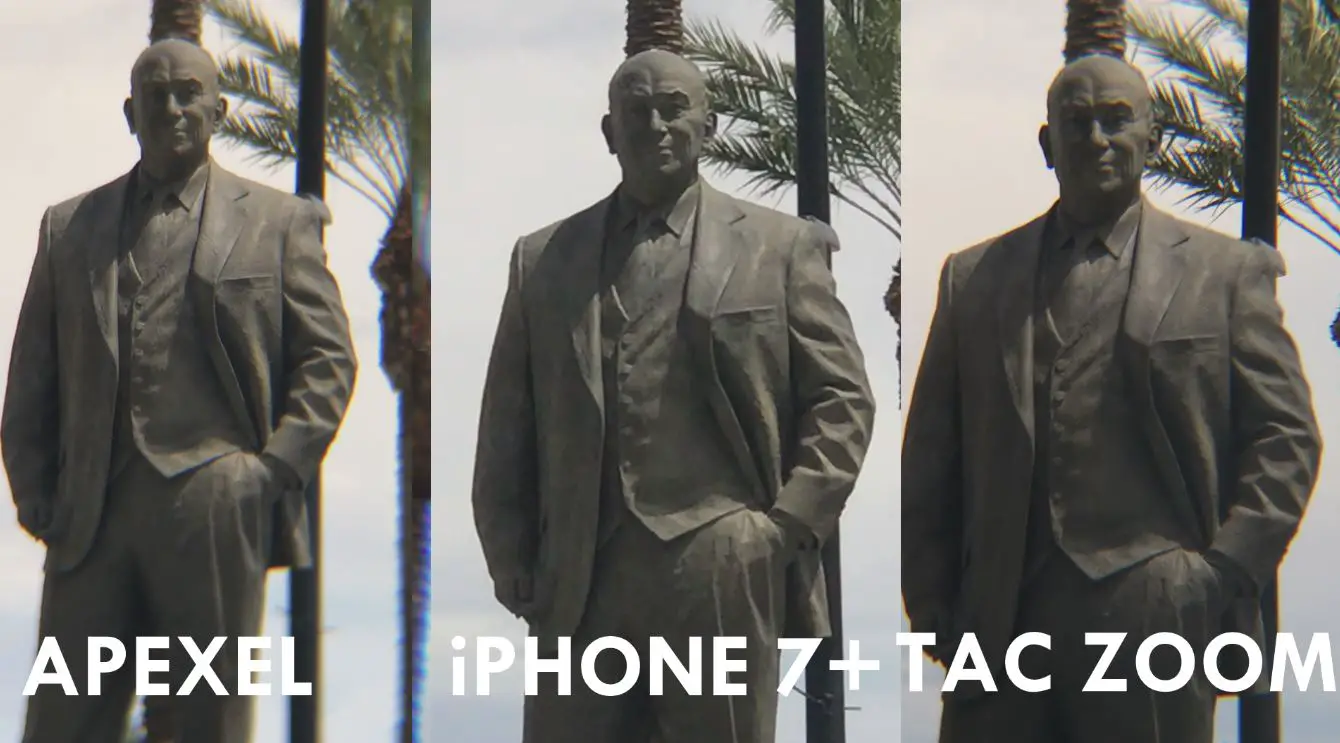 Keep in mind that Tac Zoom is a fixed zoom lens, so you can't adjust how much zoom you'll get.
Sponsored Links
I also tested out the other lenses, which include a macro lens for closeup shots, a wide angle lens, and a fisheye lens. The fisheye lens is a pretty neat gadget that makes your shot look a little like a GoPro. The macro lens could get closer than my default iPhone lens. The wide angle lens seemed to work fine but I didn't find much use for it. In fact, I felt like the three "other" lenses were probably more useful than the touted telephoto lens, which didn't seem to offer much advantage over the iPhone's built-in zoom capabilities.
Perhaps the biggest "con" of Tac Zoom is that it requires you to focus it, which can be difficult while outside in the bright light. In the video below, all of the shots I took looked in focus to me, but not all of them were once I got home. I would trust my phone's focus over this method.
Will it replace your DSLR or even a point and shoot? Probably not. It's significantly more convenient than carrying around a full camera, however, although you do have to take time to clip it onto the phone whenever you want to use it and hope it is in focus.
Tac Zoom is not the only lens of its kind, as these types of lenses are becoming increasingly common. You may want to peruse comments for the nearly identical lenses which are discussed below, and be sure to watch my video below where I compare Tac Zoom with a similar Amazon Best Seller.
Alternatives
For my video above, I used the best selling Apexel camera lens kit, which also costs about $20. This lens kit seems to have a slightly different design and higher ratings, at about the same cost.
Television Commercial
Your Tac Zoom Reviews
Have you used Tac Zoom or something like it? Tell me your thoughts in the comments below.