Fur Zapper is a small device which can be placed in the washer or dryer to collect pet hair from clothing. Does it really work? Here is my Fur Zapper review.
Sponsored Links
About Fur Zapper
Fur Zapper is a pet hair remover that is added to your washer and dryer. Lint and fur then accumulate on the unit instead of remaining on the clothes. The official product website is furzapper.com, which was registered in December 2016. The screenshot below shows how the product website looked in July 2018.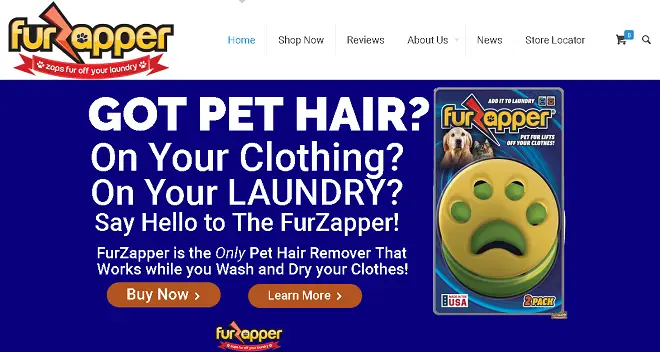 Claims & Features
Will not damage clothing
No toxic chemicals
Hypo-allergenic
Can be used over and over again
Manufactured in the United States
Cost
Fur Zapper costs around $10.99. The product website and Amazon (where I purchsed it) both have a double offer for $14.99. Fur Zapper can also be purchased at Walmart.
Sponsored Links
Fur Zapper Review
This interesting device came across my radar from user requests and then social media posts extolling its virtues. FurZapper is a soft rubbery disc with a pawprint cutout that is designed to lessen fur and lint in your laundry. To use FurZapper, you simply toss it in your washing machine with a load of clothes, then move it to the dryer along with the same load. Ideally, fur and lint will stick to this and not to your clothing. At first glance, FurZapper slightly resembles the Scrub Daddy sponge, as they are both yellow disks with a cutout shape. This item, however, is soft, smooth, and pliable.
I ran several tests with the FurZapper to try to see how it worked compared against a regular load of clothes without it. Having four pets in my house made it quite easy to accumulate a significant amount of pet hair on my test clothing. What I learned after several loads with and without FurZapper is that my washer and dryer seem to do a pretty good job of eliminating pet hair and lint from my clothing without the need for such a product. In other words, most of my tests resulted in nearly identical shirts without any fur. There was, however, one shirt in my first load that came out covered in pet hair and lint in my regular load, but mostly fur-free in my FurZapper load.
After all of my tests and continued use for the next six weeks, I was able to conclude that FurZapper definitely works, but is probably only necessary if your washer and dryer fail to remove lint. Because of this, I still throw the FurZapper in all of my loads in order to minimize any potential pet hair or lint that may hang around. I should also point out that reps from the company suggested using two FurZappers in the same load in order to maximize its effectiveness, which I regularly do now.
I didn't have much of a fur/lint problem before, but there was always an occasional item of clothing that would sometimes come out of the dryer with hair on it. After using FurZapper regularly for nearly two months, I do feel that it makes a difference.
Below is my full video review of FurZapper.
Alternatives
FurZapper works similarly to the Friends Forever Wool Dryer Balls that also help remove pet fur in the laundry. Those are also reusable and cost about $18 for six.
Television Commercial
Your Fur Zapper Reviews
Have you used Fur Zapper or something like it? Leave a comment below and a star rating above to let us know your thoughts.