Gotham Steel Better Boiler is an inventive cooking pot that prevents boil overs and splatter. Does it really work? Here is my Gotham Steel Better Boiler review.
Sponsored Links
About Gotham Steel Better Boiler
Gotham Steel Better Boiler is a 5-quart nonstick saucepan with a wide expanded rim that stops boil overs by instantly cooling boiling liquids.The official product website is trybetterboiler.com, which was registered in November 2017. The screenshot below shows how the product website looked in December 2017.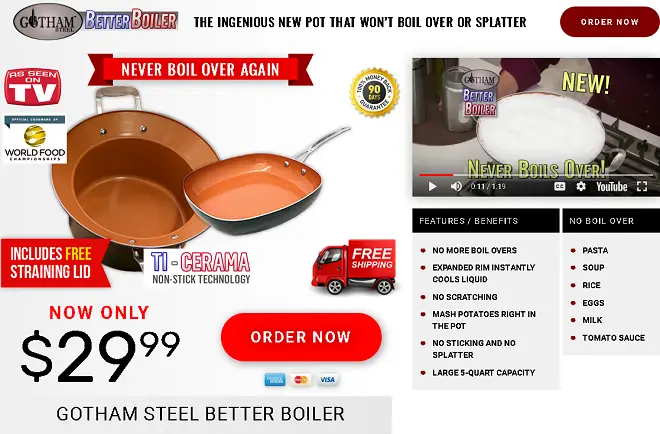 Claims & Features
Eliminates boil overs and splattering
Liquid is quickly cooled by expanded rim
Scratch-resistant titanium
Make mashed potatoes right inside the pot
Nonstick ceramic surface
5-quart capacity
Cost
The Gotham Steel Better Boiler costs $29.99. There is an optional offer to add a 9.5″ shallow square pan for a separate fee of $7.95 which would raise the total to $37.94. Shipping is free on both offers. Each unit comes with a transparent straining lid that locks into place. At the time of this writing, the Gotham Steel Better Boiler is not available in stores.
Gotham Steel Better Boiler Review
Gotham Steel is one of three heavily-advertised brands of nonstick cookware that have released a steady stream of products for about two years. All of the Gotham Steel products feature their "ti-cerama" nonstick surface which is often demonstrated in commercials as able to resist scratching even from metal utensils. Now with the Gotham Steel Better Boiler, we have a pot with a wide rim that automatically prevents boil overs.
Sponsored Links
The idea behind Gotham Steel Better Boiler is not new, although I have not seen it integrated into a single pot before. Usually, these anti-boil devices are pliable silicone covers that you place over a pot and it functions in the same way: to extend the rim so that boiling water cools as it moves away from the pot, which prevents it from boiling over. Take a look at this $10 boil over safeguard, which has positive consumer reviews. As you can see, when you place this safeguard over your pot, you are essentially mimicking the same function as the Gotham Steel Better Boiler.
The good news is that because this design is not new, there are enough consumer reviews for these types of devices to confirm that it generally works. Therefore, I have little doubt that the Gotham Steel Better Boiler will perform as advertised, at least regarding its ability to prevent boil overs.
In regards to the ti-cerama nonstick surface being able to handle a mixer or metal utensils, I would take such claims with a grain of salt. I own several Gotham Steel products, and I don't believe the surface of this pot can come out unscathed after a session with a mixer. Otherwise, the nonstick surface should hold up pretty well, assuming you aren't exposing it to very high heat without some sort of liquid in the pot.
If you want to see how a similar pot holds up, below is my review of the Gotham Steel Pasta Pot. Aside from the wide rim and lid, these pots are very similar.
Based on its November 2017 website registration date, I believe that Gotham Steel Better Boiler is being test marketed, which means it could ship slower than you might expect. Below is a short video explaining why test-marketed As Seen on TV products are often slow to arrive.
Gotham Steel Better Boiler Commercial
Below is the official commercial for Gotham Steel Better Boiler.
Your Gotham Steel Better Boiler Reviews
Have you used Gotham Steel Better Boiler or something like it? Leave a comment below and a star rating above to let us know your thoughts.