Flex Steel Hose is a metal hose advertised as durable and kink-free. Does it actually work? Read our Flex Steel Hose review.
Sponsored Links
About Flex Steel Hose
Flex Steel Hose is described as "virtually indestructible" due to its steel construction. The official product website is flexsteelhose.com, which was registered in December 2016. The screen shot below was taken of the product website in January 2017.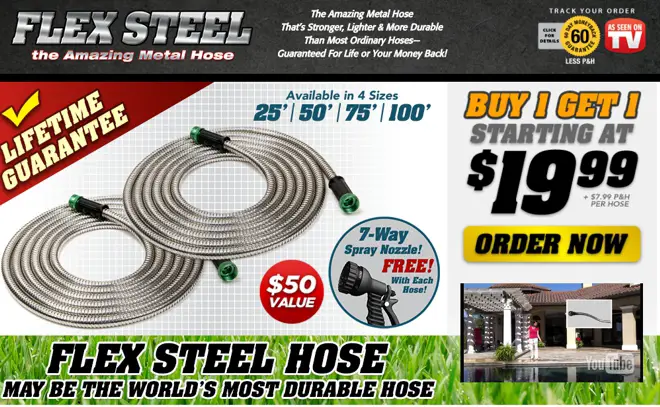 Claims & Features
Almost impossible to tear or puncture
Lightweight
Holds up in harsh weather
Kink-free
Can handle high pressure
Cost
You can get Flex Steel Hose at the following prices:
25 foot hose: $19.99 + $7.99 P&H
50 foot hose: $29.99 + $8.99 P&H
75 foot hose: $39.99 + $9.99 P&H
100 foot hose: $49.99 + $10.99 P&H
You can double any of the offers below to get a second hose for extra P&H costs per added hose.
Flex Steel Hose Review
Flex Steel Hose is a metal garden hose that is said to be far stronger than an ordinary hose. As Spring 2017 approaches, we're starting to see more lawn and garden products pitched on television. In recent years, flexible hoses were all the rage, despite that most of them were pounded with negative reviews.
Sponsored Links
Now we have a new breed of metal hoses, as multiple As Seen on TV metal hoses have hit the airwaves in 2017 (see the full rundown here). With Flex Steel Hose, we have a durable, kink-free, heavy duty hose that is nearly impossible to puncture. It looks like a very long washer hose designed for outdoor use, and is probably more lightweight and thinner than you might expect based on the advertising.
The idea of a metal garden hose makes sense in that regular garden hoses are prone to degradation in the sun and elements. A metal hose, it would seem, should fare much better. And, in general, you should find that Flex Steel Hose does hold up remarkably well in the elements, easily handling sun exposure rough use.
Where Flex Steel Hose, and even strong "regular" garden hoses, may fail is at the connectors. The gaskets and seals on Flex Steel Hose won't be much better than what you find in standard hoses, meaning these areas are where the hose will probably fail first.
Overall, Flex Steel Hose is an improvement over standard hoses – and most of the retractable hoses that hit the airwaves in recent years. It's still a very new product, and how well it will hold up over time remains to be seen.
Alternatives
As typical in the As Seen on TV universe, there is a competing metal hose that began advertising around the same time as Flex Steel Hose. You can read our review of Metal Garden Hose here. Of all the steel hoses that have been released in recent years, Bionic Steel appears to be the most widely used.
Watch a review of the very similar Metal Garden Hose below.
Television Commercial
Your Flex Steel Hose Reviews
Have you used Flex Steel Hose? Let us know what you think by leaving a comment below and a star rating above.