Gotham Steel Pasta Pot is a nonstick pasta pot with a glass lid and built-in strainer. Does it actually work? Read our Gotham Steel Pasta Pot review.
Sponsored Links
About Gotham Steel Pasta Pot
Gotham Steel Pasta Pot is a pot designed for cooking and straining pasta. The official product website is gothamsteelpot.com, which was registered in December 2016. The screen shot below was taken of the product website in January 2017.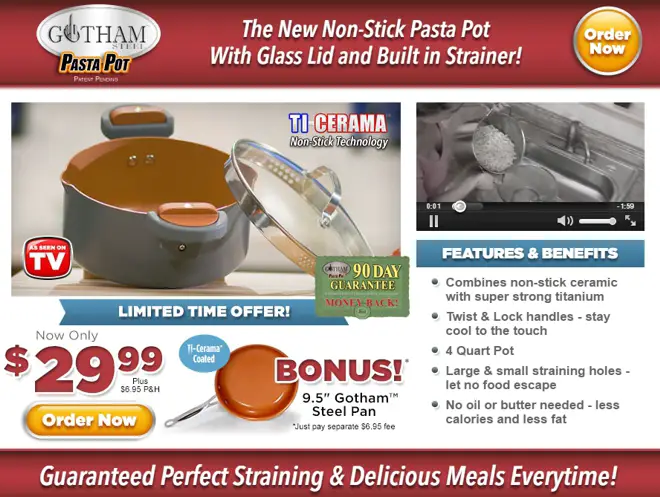 Claims & Features
Made of nonstick ceramic and titanium
Twist and lock handles
Stays cool to the touch
4 and 5 quart capacities available
Large and small straining holes
No oil or butter needed
Cost
You can get Gotham Steel Pasta Pot for $29.99 + $6.95 P&H. You can add a 9.5″ Gotham Steel pan for another $6.95 fee. This brings your total to $36.94 for just the pot, or $43.89 if you add the pan. I found the 5-quart model at a local Bed Bath & Beyond in June 2017 for $39.99, and used a 20% coupon to reduce that to about $32.
Gotham Steel Pasta Pot Review
The Gotham Steel brand has inundated airwaves in recent years, and now it is back with Gotham Steel Pasta Pot, a nonstick pot designed for easy straining. The commercial and website show a 4-quart capacity, yet the version I found here in Las Vegas is a 5-quart model.
Perhaps the two primary reasons why Gotham Steel has released so many products over the past year is because they have sold well (due to slick advertising) and consumer reviews have been generally favorable. The key features of Gotham Steel Pasta Pot are the "Ti-Cerama" surface (comprised of ceramic and titanium), and its twist-and-lock handles that allow for easier straining.
The ti-cerama surface has been Gotham Steel's primary selling point in all of its products. Upon first use, virtually everyone agrees that these nonstick surfaces are stellar and live up to the advertising. Some consumers have said that the nonstick property degrades quickly over time, but this seems to depend on how it is used. I've found that "babying" the surface of this, and any next-gen nonstick surface, is the best way to ensure its longevity.
Thus, you may want to forego mimicking some of the rigorous demonstrations shown in the commercials. I've found, for example, that steel utensils can pit and scratch Gotham Steel surfaces, despite their claims otherwise. I recommend that you not use a blender in the pot, as could very likely lead to a degraded surface over time.
The 5-quart capacity is a bit smaller that I am used to using (my go-to pot is 6 quarts), and you can readily find pasta pots even larger. I am not sure if I would like the slightly smaller 4-quart model.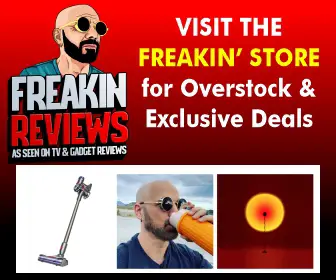 The locking handles are probably the most clever feature of Gotham Steel Pasta Pot. These semi-circle locks rotate onto the edge of the lid, keeping it in place while you pour through the straining holes. When not in use, they rotate out of the way and into the handles. It's a useful design that I expect to see in more pots like this. It's worth noting that you can find an old QVC video from 2016 for "Gotham Steel Pasta Pot" which does not look like this model. It appears they re-designed it for re-release in 2017 with different handles.
There are large and small straining holes to allow for straining of different types of food. In both cases, it does seem to take longer for liquid to drain than normal, but that is probably offset by the convenience of straining within the same pot.
Overall, I think Gotham Steel Pasta Pot is a worthy entry in the Gotham Steel lineup, especially if you have realistic expectations. The only claim in the commercial that I found fault with was the "stay cool" handles, which I didn't find to stay very cool. It's a minor complaint, however, and I wouldn't let that dissuade you from considering this product.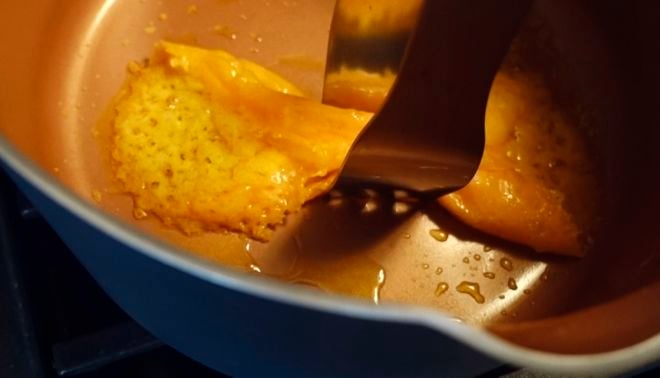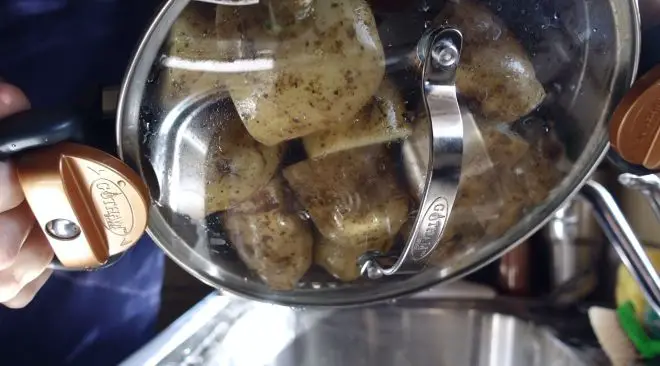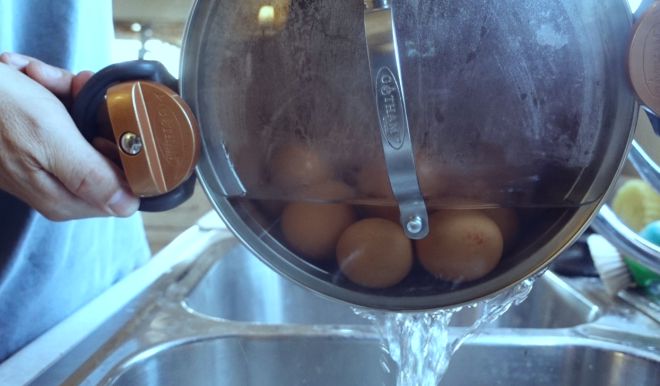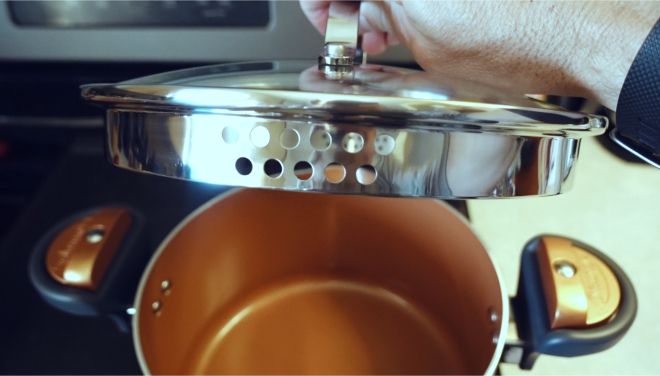 Alternatives
You can find numerous pasta pots with strainer lids, ranging in price from about $20 to $50 or more. This 8-quart model by Faberware is quite popular and highly-rated, and costs about $40. One of Gotham Steel's competitors, Red Copper, has come out with a similar pot, which you can read more about here.
Video Review
Below is my full video review of Gotham Steel Pasta Pot.
Your Gotham Steel Pasta Pot Reviews
Have you used Gotham Steel Pasta Pot? Let us know what you think by leaving a comment below and a star rating above.
Updated June 2017.