Groomaroo is a pet grooming tool with a safe and gentle 360-degree cutting design. Does it work? Here is my Groomaroo review.
Sponsored Links
About Groomaroo
Groomaroo is a cordless pet groomer that features a compartment that collects trimmings and an adjustable blade that never touches your pet's skin. The official product website is getgroomaroo.com, which was registered in October 2015. The screenshot below shows how the product website looked in February 2018.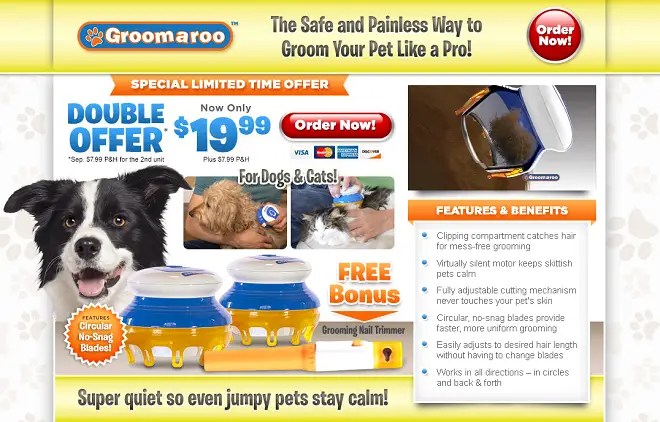 Claims & Features
Compartment collects clipped pet fur
Motor runs quietly to keep pets calm
Adjustable blade does not touch pet skin
Provides consistent grooming (no-snag blades)
Rotate to choose desired length of hair (changing blades is not required)
Trim in any direction
Cost
Groomaroo costs $19.99 + $7.99 P&H for a total of $27.98. There is an optional double offer for a separate fee of $7.99 which would raise the total to $35.97. The double offer also includes a cordless nail trimmer for pets.
Groomaroo Review
Groomaroo is an older As Seen on TV pet grooming product that appears to be engaged in a new marketing campaign in 2018. This circular electronic device allows you to clip your pet's hair, while also collecting it for easy disposal. It features an adjustable ring that lets you choose the desired hair length. The advertising points out that its quiet motor and the ability to use it in any direction are ways in which this can prevent your pet from being afraid while being trimmed.
Sponsored Links
After inserting two AA batteries and turning the switch on, the 360-degree blades will move back and forth (they don't spin as you might expect). We are told that it will be more like a massage for your dog than a stressful grooming session.
I'm a little surprised that Groomaroo has come back for another round of advertising because the reviews for it have been mostly negative. Consider two different listings on Amazon (here and here) that are both a dismal one star, while a third listing has a 1.3 star mark.
From what users have said, and from my own experience, the biggest problem with Groomaroo is that it simply does not cut hair in many cases. This seems to depend on the length, coarseness, and thickness of hair, but the majority of users (including myself) just found no clipped hair after running this device along their dogs' fur. There is a minority of users who have said that Groomaroo worked for them, but they seem to be outnumbered by those of us who had no luck with it at all.
Groomaroo seems to be a good idea in theory, and I wonder if the impressive results shown in the commercial came from a more efficient prototype. It is common to see prototypes used in advertising, only to have a lesser product end up on the shelves. I can't say for sure that's the case here, but it does seem to be a possibility.
Alternatives
I've found that by far the best grooming tool for home use is something like this $10 deshedding tool and grooming brush. My pets seem to enjoy being brushed with this type of tool and its astonishingly high user ratings seem to confirm my own experience with it.
Below is another As Seen on TV pet grooming product for which I have posted a video on YouTube. I still don't think it's better than a deshedding brush, but it's a pretty nice supplement that allows you to pick up extra hair while "petting" your dog or cat.
Television Commercial
Your Groomaroo Reviews
Have you used Groomaroo or something like it? Leave a comment below and a star rating above to let us know your thoughts.