Grout Runner is an electric appliance for cleaning grout that is attached to a pole with a handle. Does it work? Read our Grout Runner review.
Sponsored Links
About Grout Runner
Grout Runner is a battery operated grout cleaner that is connected to a 4 foot telescoping pole. The pulsating brush head can be detached and used by hand for more meticulous cleaning. The product website is groutrunner.com, which was first registered in September 2016. The screen shot below shows how the product website looked in February 2017.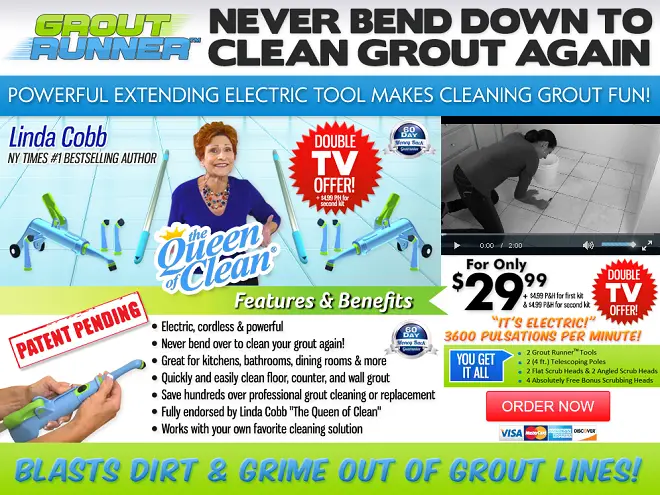 Claims & Features
Effective electric cleaner with no cords (battery operated)
Can clean grout without bending over
Convenient for bathrooms and kitchens
Fast and simple cleaning
Cheaper than professional grout cleaning
Endorsed by Linda Cobb ("The Queen of Clean")
Usable alongside any cleaning solution
Uses 4 AA batteries, not included
Cut grout cleaning time by 80%
Cost
Grout Runner costs $29.99 + $4.99 P&H. There is a mandatory bonus Grout Runner added to your order for an additional P&H charge of $4.99. This brings your total to $39.97 for two units.
Grout Runner Review
Today I ran across a new product pitched by Linda Cobb, the self-described "Queen of Clean," called Grout Runner. This device is advertised as a way to easily clean grout without bending over and without the need for wires.
This appears to be a very new product and I am attempting to secure a sample for a first-hand evaluation. Until then, I will give you the information I do have, along with my thoughts on the product sight-unseen.
Sponsored Links
The design of Grout Runner includes two wheels in the back, and a detachable handle/head that points downward. This head is said to deliver "3600 pulsations per minute" as it moves along the grout. Brushes with both flat and angled bristles are included, as well as a 4-foot extension pole. Although the advertising seems to indicate that the device can move along the floor on its own, I'm not sure if allowing the product to run by itself will deliver the same results as when it is guided manually. It would seem that pressure used to guide it would offer a better cleaning experience, but that is something I'll test when I see it first-hand.
An interesting feature is that the cleaning handle (referred to as the "pulsating tool") can be removed and used on smaller areas such as sinks or around hard to reach places. When removed, this handle somewhat resembles an electric toothbrush.
Grout Runner is powered by four AA batteries, which are not included. It's a pet peeve of mine to purchase a product and not be able to use it right out of the box without having to dig out batteries, or have to go to the store to buy some. I'm also not sure how much power a few AA batteries can consistently deliver. It seems like a powerful rechargeable battery would have been a better fit for this device, and perhaps they'll release a "deluxe" model that has that option. I will be curious to see how much cleaning four AA batteries provide before they expire.
As with many other As Seen on TV products, consumers are forced to purchase a second unit for additional processing and handling costs. This isn't the type of product most people would purchase in pairs, so the double offer really feels like a way to get the customer to pony up more non-refundable costs.
Another feature I will be looking at closely is the extension pole. It has been my experience that As Seen on TV handles for cleaning products are notoriously flimsy. Hopefully that is not the case here.
Grout Runner is not like any other grout cleaning device I have seen, so I am quite interested to use this to see how well it actually works. Can it live up to the advertising hype? I am very curious to see how this will work on my tile floors.
When I see Grout Runner myself, I'll update this page with additional information.
Alternatives
There are seemingly endless solutions available designed to tackle the problem of cleaning grout, although I haven't seen anything like Grout Runner. I've had pretty good luck cleaning my grout with devices like the Turbo Scrub, which is a completely different type of product, but it also has a handle and can be used to clean grout.
Your Grout Runner Reviews
What do you think of Grout Runner? Tell us what you think by leaving a comment below and a star rating above.