Wonder Hanger Max is an updated version of the classic Wonder Hanger. Is it better than the original? Read my full review to find out.
Sponsored Links
About Wonder Hanger Max
Wonder Hanger Max allows you to increase your existing closet space by hanging clothes vertically. The official product website is wonderhanger.com, which was registered back in March 2008. A few months ago, we briefly saw "Wonder Hanger Pro" and it appears that product has been re-worked into Wonder Hanger Max. You can compare screen shots of the now-offline Wonder Hanger Pro website versus the current Wonder Hanger Max.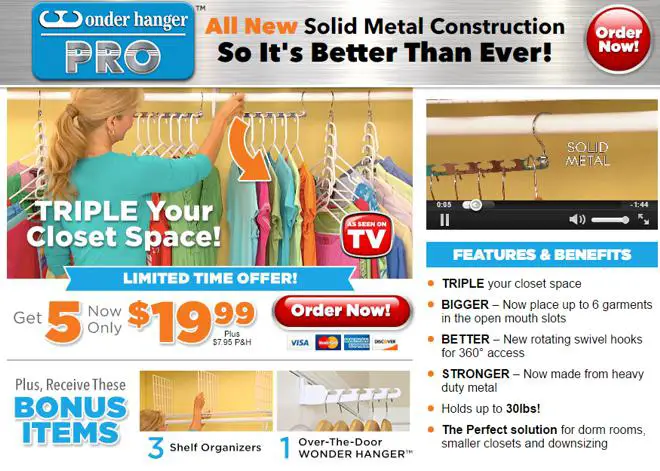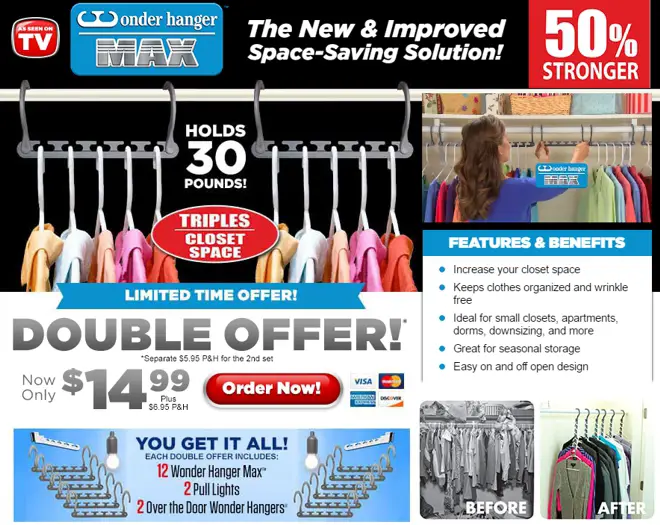 Claims & Features
Increase your closet space
50% stronger than the original design
Keeps clothes organized and wrinkle-free
Holds up to 30 pounds
Ideal for dorms or small closets.
Cost
Wonder Hanger Max costs $14.99 + $6.95 P&H. There is a mandatory "Double Offer" for another $5.95 P&H, which means you'll get 12 hangers, 2 pull lights, and 2 over the door wonder hangers for a total of $27.98. Keep in mind that $12.90 of that total cost is non-refundable P&H.
You can find this product in stores for about $15 for a pack of 10.
Wonder Hanger Max Review
If the name "Wonder Hanger" sounds familiar, you may recall television ads years ago for the original Wonder Hanger, which is a device that allows you to expand your closet space with a collapsible hanger. The design was clever, but the original Wonder Hanger was quickly vilified by consumers who lambasted it for flimsy construction. Thus, it was yet another As Seen on TV product that failed to live up to its promise.
Sponsored Links
Now with Wonder Hanger Max, we have an updated version that highlights its heavier construction, said to be 50% stronger than the original. It also doesn't require assembly, unlike the original, which came disassembled.
To use Wonder Hanger Max, you simply place the two hooks over your clothes rod, then hang clothes onto the unit. You can then unhook one side, allowing you to collapse it and lay your clothes vertically. This is said to increase closet space dramatically. When you want to remove an item, you simply lift the lower side, hang it over the rod, then take your garment.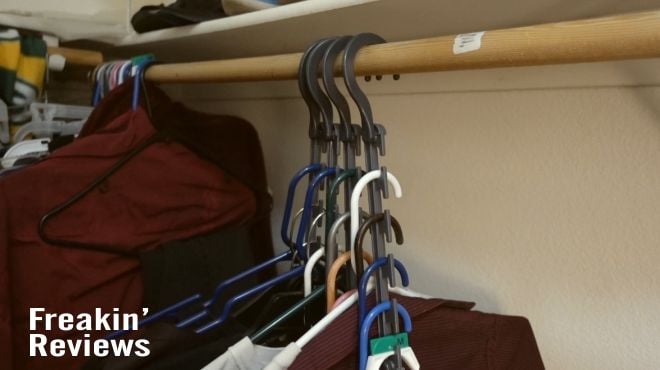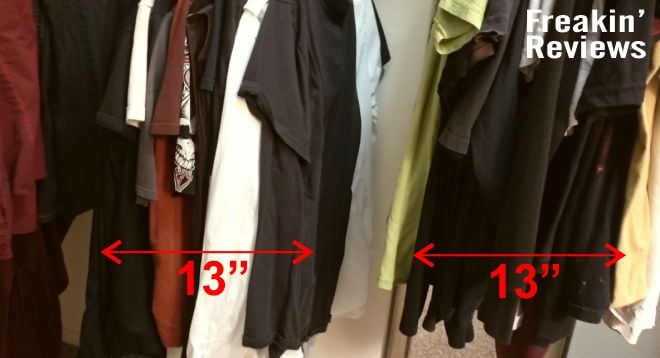 How much space it saves is probably a matter for debate. In my tests you can see below, 20 and 40 shirts used with 4 hangers took up roughly the same amount of space at its widest part as they did when on the rod. There is more space on the rod when Wonder Hanger Max is used, however. As you can see in the image above, 20 shirts on Wonder Hanger Max and 20 shirts on the closet rod both took up 13 inches horizontally.
You'll want to make sure that the rod in your closet can handle the extra weight if you're using Wonder Hanger Max to fit more clothes into a smaller space.
The original Wonder Hanger was a great design that was poorly implemented, which is unfortunately common for As Seen on TV products. The new version, however, seems to have been designed with consumer input in mind, as it fixes the majority of problems that plagued the original. Does it actually save space? That may depend on your expectations, and how tightly you normally pack your clothes together in the closet.
I think consumers will like this version far more than the original Wonder Hanger.
Alternatives
Although Wonder Hanger Max adds new features to the original Wonder Hanger, there was another "stronger" version that came out several years ago called Wonder Hanger Platinum. That item addressed durability concerns and saw a much higher consumer satisfaction rating. You can get a 4-pack of those for about $11.
There are other space-saving hangers, such as this $10 two-pack that sports a slightly different design. It sports a high consumer rating.
Video Review
Check out my full video review below.
Your Wonder Hanger Max Review
Have you used this product? Let me know what you think by leaving a comment below and a star rating above.