Grow Genie is an automatic plant watering system that works up to 30 days. Does it work? Read our Grow Genie review.
Sponsored Links
About Grow Genie
Grow Genie is a watering system that using wicking technology to keep plants watered for up to 30 days. The product website is getgrowgenie.com, which was registered in May 2016. The screen shot below shows the official website as it appeared in July 2016.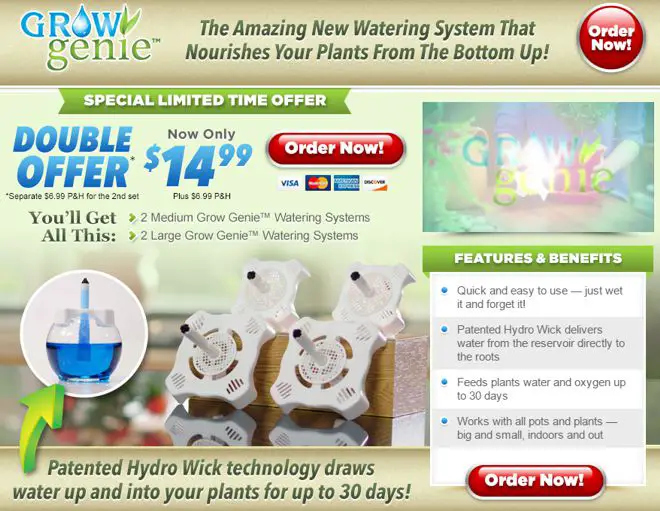 Claims & Features
Plant watering system
Just wet and forget
Hydro Wick brings water from reservoir to roots
Feeds plants up to 30 days
Works with all types of pots, indoors or out
Cost
A set of 1 medium and 1 large Grow Genies costs $14.99 + $6.99 P&H. A second set is included for another $6.99, and you can't opt out of this double offer. Be careful while ordering, as there is no confirmation screen, and the drop-down asks you how many double offer sets you want to order. Choosing "1" means you are getting 2 sets. This can be confusing for some consumers.
As of this writing, Grow Genie isn't available in stores.
Sponsored Links
Grow Genie Review
Grow Genie is an automatic plant watering system which uses moisture wicking to keep plants watered for up to 30 days. Unlike some other popular automatic watering systems, Grow Genie delivers water from below, rather than from above.
Grow Genie is a simple plastic device which is inserted through the bottom of a pot via the drainage hole. You then add water to the base of the pot, and Grow Genie will deliver water to the plant via moisture wicking. A wick extends from the bottom of Grow Genie (in order to capture moisture) up through the spike which is inserted into the pot.
Our product researchers feel that Grow Genie will be sufficient for the majority of common pots. The two provided sizes should be versatile enough to work with the most common potted plant sizes.
Although the website for Grow Genie states that plants can be fed for "up to 30 days" using this device, the average pot doesn't have a base that holds 30 days worth of water. This, of course, depends on the type of plant, soil, and the size of the pot. 30 days is probably not a realistic number for most situations.
The majority of pots will have drainage holes, and thus Grow Genie should work with them. If you have a pot without a drainage hole, Grow Genie will not work.
The DIY types here have pointed out that you can make your own plant wicking system rather easily, which begs the question as to whether you need a $20 investment to achieve this.
Alternatives
We recently reviewed a similar As Seen on TV product called Aqua Globes, which can still be found online, although the official product website appears to be offline as of this writing.
A similar product on Amazon is called Planted Perfect. This automatic vacation watering device has a 4.5 star rating among dozens of consumers.
Your Grow Genie Reviews
Have you used Grow Genie? Give us your thoughts by leaving a comment below and a star rating above.