Bacon Boss is a microwave bacon cooker which is said to make flat and crispy restaurant quality bacon. Read our Bacon Boss review.
Sponsored Links
About Bacon Boss
Bacon Boss is a microwave bacon press which is advertised as a way to get restaurant style bacon easily at home. The official product website is buybaconboss.com, which was registered in May 2015. The screen capture below shows the how the official website looked in July 2016.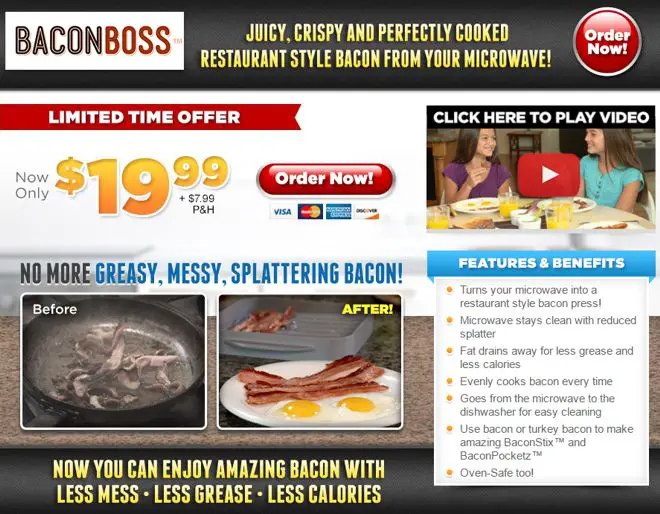 Claims and Features
Restaurant style bacon press
Keeps microwave clean
Fat drains away
Cooks bacon evenly
Dishwasher safe and oven safe
Cost
Bacon Boss costs $19.99 + $7.99 P&H. This includes the cooker plus a bonus bacon cutter. A Deluxe model can be obtained for an additional $10, which includes upgraded silicone handles. A free magazine subscription is also included with each purchase.
You can now find Bacon Boss in stores such as Bed Bath and Beyond for about $20.
Bacon Boss Review
As Seen on TV products for the kitchen are a mainstay of late-night television advertising. When you throw bacon in the mix, it would seem that such products would practically sell themselves. That hasn't been the case, however, as a number of bacon-related As Seen on TV products have come and gone in recent years. Most of those were devices which allowed you to cook bacon in the microwave – and most disappeared without a trace. So what makes Bacon Boss different?
Bacon Boss (often stylized as one word "BaconBoss") is the first microwave bacon press we've encountered, so that alone does make it stand out from the crowd. You use Bacon Boss by placing your bacon on the square tray (it holds 5 to 6 pieces), then placing the glass lid and turning the handle. This locks the lid in place, which works in the same manner as a traditional bacon press to keep bacon flat and prevent splatter.
Sponsored Links
The end result is bacon which is cooked evenly and that is not shriveled. This flat "restaurant style" bacon is crunchy and has a pleasant texture. You don't have to worry about greasy paper towels with the design of Bacon Boss. It took some trial and error in order to achieve the desired consistency of bacon in our tests. For example, our 900 watt microwave took about 9 minutes to get 5 pieces of somewhat crispy bacon.
You can use Bacon Boss in the oven, at 350 degrees for about 35 minutes. We found that the bacon cooked in the oven was crispy, but it tended to stick to the bottom of the cooker. A spatula was used to remove the bacon stuck to the bottom.
We found that Bacon Boss did not get hot while using in the microwave, but it did require oven mitts or potholders to handle it after removing it from the oven.
The good news it that our product researchers feel that Bacon Boss does a pretty good job of living up to the advertising hype of delivering flat, crisp bacon once the proper microwave times are established. It may not be the same as a true bacon press, but the results are close enough for most consumers.
The bad news is that Bacon Boss only makes about 5 or 6 pieces of bacon at a time, which means a family of four will require quite a few rounds of cooking to feed everyone. And at a price of about $27 (when shipping is included) or $20 in stores, it seems to be quite expensive for the size. Compare that to the $12 Bacon Wave, which can make 14 pieces at a time – and also delivers flat, crisp bacon.
Overall, it's not a bad product, but its size-to-price ratio seems somewhat expensive, and the time it takes to make 5 or 6 pieces of bacon could be deal-breaker for some consumers..
Video Review
Watch an extensive hands-on review of Bacon Boss in the video below.
Alternatives
Microwave bacon cookers have been a staple of As Seen on TV advertising for years. In 2015 a product called Better Bacon Press was marketed, which also supposedly provided restaurant-style bacon. That item disappeared by 2016. Currently, a popular bacon-related As Seen on TV item is Bacon Blast.
While you can find a number of bacon press products, or microwave bacon devices, BaconBoss appears to be the only one which combines the two. Is that enough to make BaconBoss consumer favorite? Only time will tell.
Your Bacon Boss Reviews
If you've used Bacon Boss, please give us your opinion by leaving a comment below and a star rating above.
Updated: November 2016