Handi Holder is a magnetic mount for phones and tablets. Does it work? Read our Handi Holder review.
Sponsored Links:
About Handi Holder
Handi Holder is a magnetic holder that easily mounts phones and tablets. The official product website is buyhandiholder.com, with a registration date of August 2016. Below is a screen shot of the official website taken in November 2016.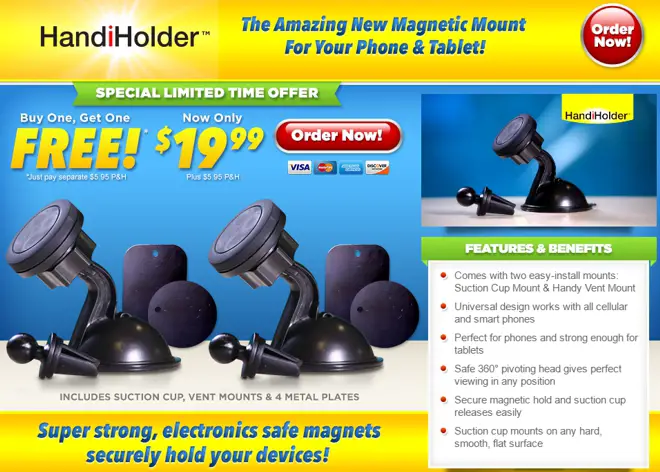 Claims & Features
Two ways to mount: suction cup and vent mounting
Works with all cellular phones and smart phones
Strong enough to hold tablets
360-degree pivoting head
Magnetic hold and suction cup release easily
Suction cup mounts on any smooth, hard, flat surface
Cost
You can get Handi Holder from the official website for $19.99 + $5.95 P&H. You can't opt out of the double offer, which adds a second unit for another $5.95 P&H. This brings your total order to $31.89 for two units.
Sponsored Links:
This item isn't available in stores as of this writing.
Handi Holder Review
Handi Holder (stylized as "HandiHolder") is a mount for smart phones and tablets. Featuring a magnetic head, it can work with almost any cell phone, smart phone, or tablet. There are two mounting options: suction cup and vent mounts. The magnetic head features a 360-degree pivot, so you can turn your device upright or on its side without worrying about it falling over.
You've probably seen older As Seen on TV phone holders, such as GripGo, which were met with lukewarm consumer reviews. The makers of Handi Holder appear to have fixed some of the issues that have plagued previous phone holders advertised on TV, such as that of a long, weak arm. The locking suction cup should hold in most cases, especially if the surface is smooth, flat, and hard, while the magnet should keep your device in place. That said, you may want to experiment with the product's ability to hold your device before hanging your expensive tablet over a bathtub as shown in the advertising. The magnet may not grip your device as well as a common spring-loaded holder, but it offers more convenience when placing it or removing it from Handi Holder.
We like that you can use it as a suction or a vent mount, and this is a feature that most competitors do not offer. The magnetic holder isn't necessarily a positive or a negative. Some consumers prefer more secure spring-loaded holders, while others like the ability to quickly attach or remove a device to a magnet.
Overall, Handi Holder should get the job done for the vast majority of customers who use it. Whether or not it can compete with established (and less expensive) items on the market remains to be seen.
Alternatives
If you're primarily looking for a vent mount, you may want to consider the $8 WizGear Air Vent Mount, which has a 4.4 star rating among over 10,000 reviews.
One of the highest rated and top selling suction car mounts is the iOttie Easy One Touch 2, which costs about $20 and has a 4.3 star rating among over 23,000 reviews.
Your Handi Holder Reviews
Have you used Handi Holder? Give us your thoughts by leaving a comment below and a star rating above.