Instant 20/20 Reviews (Dec. 2014)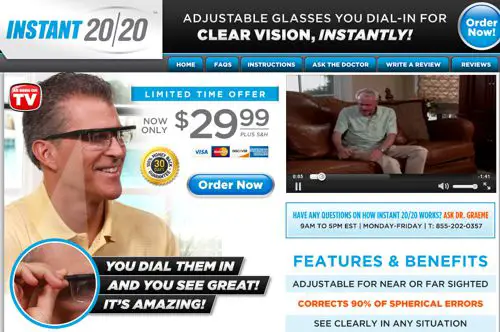 Instant 20/20 is advertised as a quick and easy way to achieve "perfect vision" without prescription glasses.
Sponsored Links
The product is promoted as a way to keep a backup pair of prescription-strength glasses on hand for situations where glasses may have been broken, lost, or left at home. The website is careful to point out that this product is not intended to replace prescription glasses.
The glasses are adjustable via a small dial which allows you to focus them to your own vision. Although the website states that the product corrects "90% of spherical errors," it does not correct astigmatism.
At some point in 2014, the Instant 20/20 website began offering questions for optometrist Graeme MacKenzie.
Regarding the look of the product, even the commercial admits, "They're not fashion, but they work really well." Because these are not prescription glasses, you may still be ticketed if pulled over while wearing these.
The amount of correction available with Instant 20/20 glasses ranges from -6.0D to +3.0D. Those who require very high correction may not be able to achieve proper focus.
Overall, the product is pretty good if you have realistic expectations and are not trying to correct extreme vision.
Sponsored Links
Official Website
getinstant2020.com
Registered January 2013
Contact
Claims/Features
Tagline: Adjustable glasses you dial-in for clear vision, instantly!
World's first eyeglass adjustable for each eye
Corrects 90% of spherical errors.
See clearly in every situation
Adjustable for near or far sighted
30- Day Money Back Guarantee less S&H.
Only available in black
Cost
$19.99 plus $7.99 S&H = $27.98
The price has been reduced from 2013, when it was $29.99
The product can be found in stores, typically in the As Seen on TV section
Screenshots
Below are screen shots from 2013 and 2014.
Television Commercial
This is a TV commercial for Instant 20/20:
Instant 20/20 Reviews
Have you tried Instant 20/20? Please give us your review in the comments below and give it a star rating above.
First published December 2013
Updated December 11, 2014