Lift & Shape Bra features a unique front notch system, allowing the wearer complete control of lifting and shaping. Does it work? Read our Lift & Shape Bra review.
Sponsored Links
About Lift & Shape Bra
Lift & Shape Bra is a lifting bra with front adjustment straps, allowing you to create a custom lift and shape in seconds. The official product website is liftnshape.com, which was first registered in October 2016. Below is a screen capture of the official website from October 2016.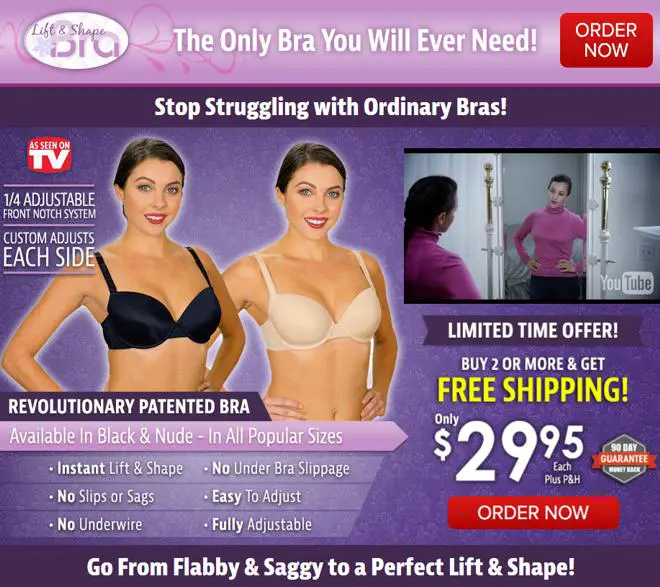 Sponsored Links
Claims & Features
Instantly lifts and shapes
Doesn't slip or sag
No underwire
Fully adjustable, 1/4″ front notch system
Available in black or nude
Sizes from 34B to 40DD
Cost
Lift & Shape Bra costs $29.95 with free shipping. As of this writing, Lift & Shape Bra isn't available in stores.
Lift & Shape Bra Review
At first glance, Lift & Shape Bra appears to be an ordinary bra that supposedly offers the elusive lift so many others fail to deliver. If you've tried other lifting bras, however, the design of Lift & Shape Bra may be something you haven't seen before.
Featuring a rather non-descriptive "adjustable front notch system," Lift & Shape Bra allows you to quickly adjust your fit by using a second hidden strap in the front. To adjust the bra, you pull the front adjustment strap upward and attach it to the notches on the underside of the main strap.
Whereas standard bras can be difficult to adjust, and sometimes must be removed before properly adjusting, Lift & Shape Bra can be fine-tuned on the fly in seconds.
Most customers should find Lift & Shape Bra to be comfortable, and the range of sizes should accommodate the majority of women (34B through 40DD).
Lift & Shape Bra offers an elegant and simple solution to bra adjustment. Although this product is not yet available in stores, we feel that it will garner enough positive online reviews to make it to shelves, and will certainly receive high marks once consumer reviews trickle in.
Alternatives
To its credit, Lift & Shape Bra offers a rather unique design that isn't readily found in other bras. The dizzying number of adjustable lift bras available is so vast that is is a daunting task to even sift through them all.
Television Commercial
Your Lift & Shape Bra Reviews
If you've used Lift & Shape Bra, let us know what you think by leaving a comment below and a star rating above.