Luminess Air Reviews: Airbrushed Makeup System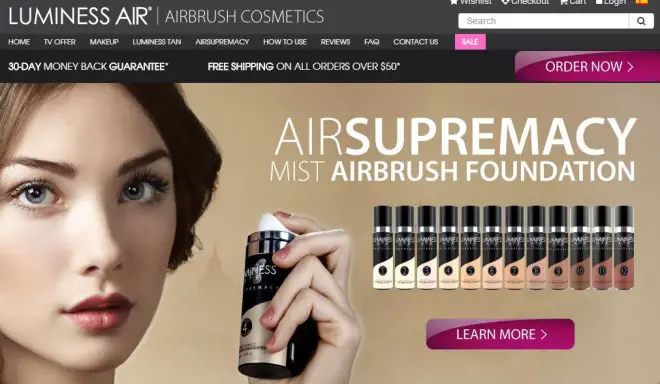 Luminess Air is an "airbrush" foundation system that is claimed to give the consumer a more natural look than ordinary foundation.
Sponsored Links
Luminess Air
This product has been a mainstay of weekend and overnight infomercials for several years. Sporting the usual impressive before and after photos, the product is advertised as a "magical" foundation that gives you that "airbrushed look."
Reviews for the product are mixed, including particularly scathing reviews of customer service and complaints of excessive charges and deceptive advertising (see Ripoff Report for more). In general, the consensus seems to be that the makeup is average to slightly above average, but customer service and billing are substandard. If you order, keep a close eye on your bank statements.
As an example of how divided are, take a look at the comments on Amazon, which reaches 3.6 stars, but 20% of ratings are 1 star.
It would appear that the product's overall star rating online would rise significantly if the company would simply offer the product for a one-time standalone price, without a free trial or additional products to sell. This, plus the cost of the product, which tops $300, have left some consumers with a negative impression of the product. Those concerns aside, airbrushed makeup is superior to traditional makeup in many ways, and Luminess Air in general delivers a solid airbrush experience.
Official Website
luminessair.com
Registered July 5, 2007
Contact:
Sponsored Links
Claims/Features:
Airbrush makeup leaves a light, seamless blend of color over the skin
Creates illusion of a "perfect face."
Natural, mineral and water based and completely oil-free.
Easy to learn
Looks like skin, not makeup
18-hour wear performance
Cost:
Starts at $19.95 for the free trial, although the full price is over $300.
30 day money back guarantee, although shipping of about $20 is non-refundable
Said to be available in select stores, although both the Sephora and Ulta locations we asked did not carry it.
Screenshots
Below are screenshots of the official website, taken in November 2013 and November 2015:
Television Commercial:
Below is a television commercial for Luminess Air
Your Luminess Air reviews:
Have you tried Luminess Air, or have you seen it in stores? Please give us your review in the comments below and give it a star rating above.
This review has been updated from the first version which appeared in November 2013.
Tags: