Magic Stacks are multicolored building blocks that light up when connected to each other. Do they really work? Here is my Magic Stacks review.
Sponsored Links
About Magic Stacks
Magic Stacks are colored LED building blocks that illuminate when attached to a portable power station or other blocks linked to the base. The official product website is buymagicstacks.com, which was registered in June 2017. The screenshot below shows how the product website looked in November 2017.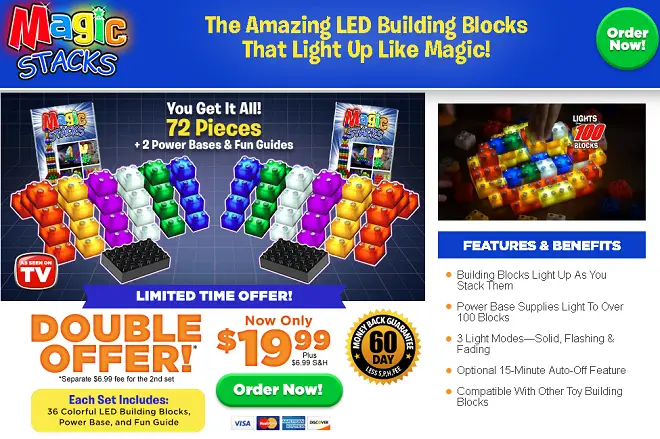 Claims & Features
Building blocks light up as you build
Power base has the capacity to supply over 100 blocks with light
3 light modes (solid, flashing, or fading)
Lights automatically shut off after 15 minutes (optional feature)
Can be used with other building blocks
Cost
A set of Magic Stacks costs $19.99 + $6.99 shipping + $1 web service fee for a total of  $27.98. There is an optional double offer for a separate fee of $6.99 which would bring the total to $34.97. Each set includes 36 LED blocks, a power base, and a building guide. At the time of this writing, Magic Stacks are not available in stores.
Sponsored Links
Magic Stacks Review
Kids love light-up toys and they also love building blocks, so Magic Stacks doubles down with a toy that incorporates both. Perhaps the easiest description would be "light up Legos" which wouldn't be far from accurate.
To use Magic Stacks, you simply insert batteries into the base, and begin attaching the blocks to it as you would with any building block set. You can then select from three light modes: solid, flashing, or fading. I'm not always a fan of battery-powered toys, as I usually prefer something that is rechargeable. In this case, however, the batteries make sense because kids will usually want to pick up, play with, and move their creations. Waiting for it to recharge could ruin the moment. It's a pretty simple design, and one that I'm confident most kids will love.
Magic Stacks is said to be "compatible with other toy building blocks" meaning Legos and Mega Bloks. Like its more popular counterparts, Magic Stacks includes a "fun guide" to give kids ideas of different projects they can build.
I'm not usually a fan of double offers, but in this case the extra $7 could be worth another 36 pieces and base (although you certainly don't need two of the same guides).
Magic Tracks is a pretty new item, and I'm not sure if it has made it out of the test marketing phase just yet. If it is still being test marketed (which there's no way to know), I wouldn't expect this to arrive in your mailbox quickly. Test marketed items are notoriously slow to ship, because marketers often advertise the product before going into production with them. If you do want to order it, I'd suggest patience in the shipping process. Or you could consider a similar alternative that would arrive much faster, as I'll discuss below.
Alternatives
It probably isn't a stretch to say that Magic Stacks was inspired by Light Stax, a set of illuminated building blocks that functions essentially the same. That product is more expensive, at about $80 for a 102-piece set, although consumer reviews are very strong. If that's out of your price range, you could get their $34 set with 36 pieces.
If you're looking for some holiday or gift ideas, check out the collection below of my most popular As Seen on TV reviews for kids' products.
Your Magic Stacks Reviews
Have you used Magic Stacks or something like it? Leave a comment below and a star rating above to let us know your thoughts.