MagnaFlex are magnetic building strips for children that can be merged in a number of ways. Do they work? Read our MagnaFlex review.
Sponsored Links
About MagnaFlex
MagnaFlex are kits of pliable magnetic strips that can be combined in various ways in order to build imaginative structures. Two websites have been used in advertising: buymagnaflex.com and getmagnaflex.com, which were both registered in December 2016. The screen capture below shows the official product website in February 2017.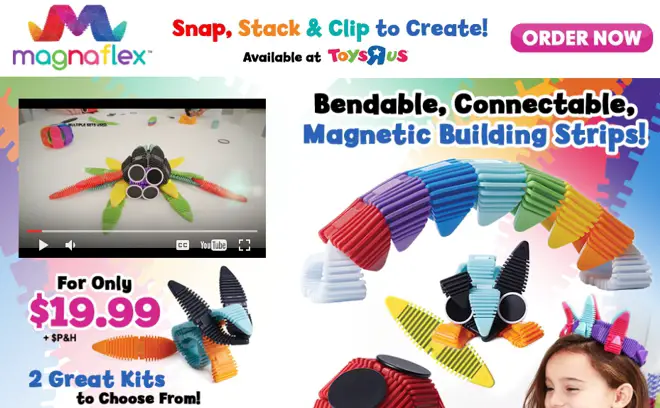 Claims & Features
Magnetic and connectable building strips
Blocks are flexible and will not break
Two available kits: Animals or Fashion
Stimulates creativeness and imagination
Safe for kids
Cost
A kit of MagnaFlex blocks costs $19.99 + $8.99 P&H for a total of $28.98. There is a special offer where a 10% discount is applied to any additional kits that are ordered.
Several different MagnaFlex sets are available at Toys R Us, ranging in price from $20-$50.
Sponsored Links
MagnaFlex Review
MagnaFlex is a constructor set for kids which features bendable oblong strips which include magnets. It shares many of the same concepts found with other constructor sets, with the added feature of magnetism. The unusual oblong ridged design actually works well to allow the pieces to be stuck together in different ways. Pieces can be "zipped" together, bent, or connected magnetically.
The fact that each piece contains magnets may also allow kids to create different designs on a fridge or other metal surface, rather than simply on a table. As you can see from the images in the advertising, the final result is considerably different than you'll find with other constructor sets.
There are different sets available, each offering different color schemes and character creation options. A starter booklet includes directions how to achieve results shown on the packaging. Extra eyes and wheels are included with some sets to enhance the final character creation.
If your kid has enjoyed other constructor sets like Legos or Tinker Toys, this will almost certainly find a welcome place among their toys. It is a slightly different experience than Legos because the shape is so different, and the fact that you can bend or stick pieces together. I wouldn't go so far as to say it's better or worse, but it's definitely unique.
Different sets include specific character options, but I think most kids will eventually turn to their imaginations and make creations that aren't featured on the box, which is really where such toys shine.
Although there is a television offer for MagnaFlex, I would suggest checking them out in person at your local Toys R Us, where you can evaluate them closer. You'll also be able to peruse the different sets there and decide which one is a best fit for your child.
Overall, MagnaFlex is a winner, and the fact that Toys R Us has picked it up as an exclusive tells me that the powers behind that retailer tend to agree.
Alternatives
You've probably seen other constructor sets advertised over the past year, such as Bendaroos 3D or Znapeez. There are also numerous magnetic constructor sets, such as Magformers or Newisland magnetic blocks.
Television Commercial
Your MagnaFlex Reviews
Tell us what you think about MagnaFlex by leaving a comment below and a star rating above.