Melt Belt is an adjustable slimming garment that wraps around the waist to slim your figure. Does it work? Read our Melt Belt review.
Sponsored Links
About Melt Belt
Melt Belt is a comfortable and discreet slimming belt that accommodates waists ranging from 22 to 50 inches. The product website is getmeltbelt.com, which was first registered in December 2016. The screen shot below shows how the product website looked in April 2017.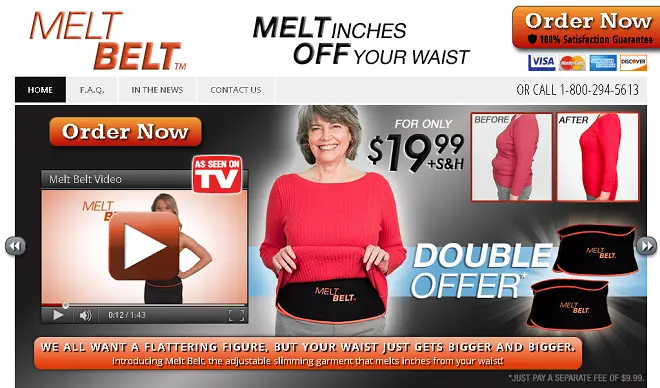 Claims & Features
Adjustable slimming belt
Slims your figure so clothing fits better
Shed water weight quicker due to sealing in body heat
Provides comfortable back support
Can be discreetly worn
Cost
Melt Belt costs $19.99 + $7.99 shipping for a total of $27.98. There is an optional double offer for a second Melt Belt for a separate fee of $9.99. Choosing the double offer brings the total to $37.97. Fits waists ranging from 22 to 50 inches.
Melt Belt Review
When I ran across advertising for Melt Belt, I couldn't help but think of the dizzying number of shaping belts and similar garments I've seen over the past few years. Consider the choices consumers have seen in recent years, with such offerings as Genie Hourglass, Xtreme Power Belt, Miss Belt, V-Shape Trainer, Tummy Tuck Belt, Sweat Belt, The Flex Belt, Hot Shapers Hot Belt, Finally Fit, and Simply Contour.
Sponsored Links
Each of those products advertised similarly to Melt Belt. Those in the "slimming belt" category are generally described as waist trainers, which rode enormous popularity back in 2015 after some high-profile celebrities promoted the practice. Waist trainers fell out of favor to some extent after health experts warned of concerns regarding long-term uses of such garments.
Melt Belt advertises two ways to slim your waist. There are the immediate results of simply strapping it on and compressing belly fat. The other promoted benefit is that it supposedly elevates perspiration in your midsection, which helps you "shed water weight faster."
As far as the first claim, that wearing it will provide an immediate "slimming" look, that is probably true. Compressing belly fat with a belt or corset will in fact give your midsection a smaller appearance. Whether or not it will show through your clothing may depend on what you are wearing. Keep in mind, of course that once you remove it, the compressed fat cells will bounce back to their normal size.
The other claim is that wearing this belt can lead to increased perspiration in your midsection, which will reduce water weight and supposedly "melt" fat in that area. Claims like this are still a matter for debate. Livestrong points out that "the fluid to produce additional sweat will not necessarily come from your waistline." Additionally, it is not possible to target fat loss, nor will sweating alone cause you to lose weight. Shedding water weight is temporary, and any weight you lose while sweating will be regained once you re-hydrate.
If you plan to wear Melt Belt, or any waist shaping garment, to compress belly fat for an instant slimming look, you'll probably find that it does the job. If, however, your expectations are that a belt will remove fat from your midsection, you will probably be disappointed. Can the advertising for Melt Belt provide consumers a compelling reason to choose that shaping belt over the numerous other options on the market? Only time will tell.
The only proven ways to lose fat in your midsection are from exercise and nutrition, or liposuction.
Alternatives
There are so many slimming belts available, choosing one can be difficult. The TNT Pro Series Waist Trimmer is probably the highest rated wrap/trainer I've seen.
Your Melt Belt Reviews
What do you think of Melt Belt? Tell us what you think by leaving a comment below and a star rating above.