Today I'm taking a look at a microwave s'mores maker by Prep Solutions to see if it really works. This is a supplement to my video review posted on YouTube.
Sponsored Links
Where to Purchase
You can pick up the Microwave S'mores maker on Amazon for about $18.
The giveaway mentioned in my YouTube review of this product ended on July 1, 2020.
About the Microwave S'mores Maker
The Progressive Prep Solutions Microwave S'mores Maker makes two s'mores at a time, and there are a variety of other concoctions that can be created with this device. There does not appear to be a dedicated website, although some additional information can be found here.
Claims & Features
Heats graham crackers, marshmallow, and chocolate evenly
Makes s'mores in 30 seconds
BPA free
Water reservoir ensures even heating
"Arms" prevent s'mores from falling over
Prep Solutions Microwave S'mores Maker Review
Products typically come across my radar via advertisements, viewer request, or from a vendor asking me to check out their offerings. This microwave s'mores maker, however, was merely discovered while browsing for gifts on Amazon. One look at this odd-looking device, and I knew I had to try it out for myself.
After unpackaging the item I found a relatively simple plastic housing that consists of a platform, two "arms", and a water reservoir. The instructions state to first fill up the water reservoir with 7 ounces of cold water up to the fill line. Next, one or two graham crackers (or other items, discussed below) are to be placed on the platform, which will serve as the bottom of your s'mores concoction. This is followed by chocolate (I used a single row of a Hershey's, then a single marshmallow, followed by the final graham cracker on top. The "arms" are lowered onto the stack in order to keep everything in place while cooking.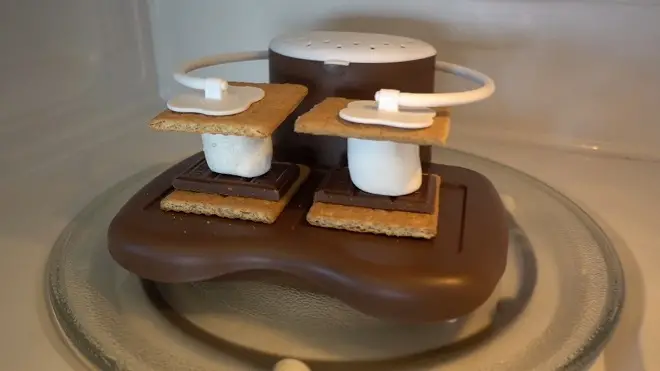 The next step is to simply place the device in the microwave and cook for 30 seconds. My years of testing iffy microwave gadgets led to a slight sense of nervousness as I awaited the final results. Fortunately, opening the microwave revealed a rather ordinary-looking s'mores creation. The instructions state to press down for a moment before consuming your s'mores, which allows the chocolate to cool slightly.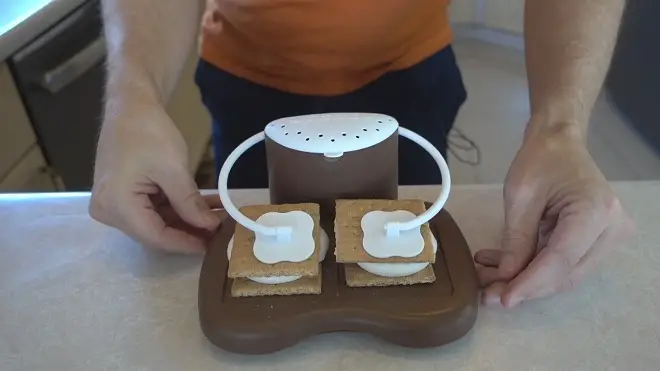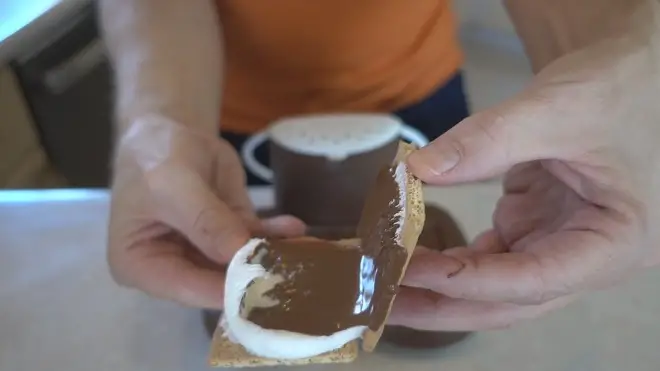 My first attempt went without a hitch and the s'mores turned out perfectly. My daughter and I ate that first batch and we agreed that they tasted exactly how a s'mores should taste. After that, I decided to try a couple of other recipes listed in the instructions.
Sponsored Links
The next recipe included Ritz crackers, cheese, and peanut butter. Some might assume they meant peanut butter Ritz crackers, but the recipe reads, "Ritz cracker, cheese, 1 tsp peanut butter, Ritz cracker." Although this is certainly not something I would have created, it was an interesting idea. The instructions state to empty out the water after every other use, so I didn't empty the water during this second attempt. After 30 seconds, the cheese had mostly melted all over the platform, although it was salvageable. The taste was interesting, but probably not something I'd eat again. For my final test, I tried out chocolate graham cracker, banana, and marshmallow. This was another interesting flavor, but the purist in me still prefers the original s'mores recipe.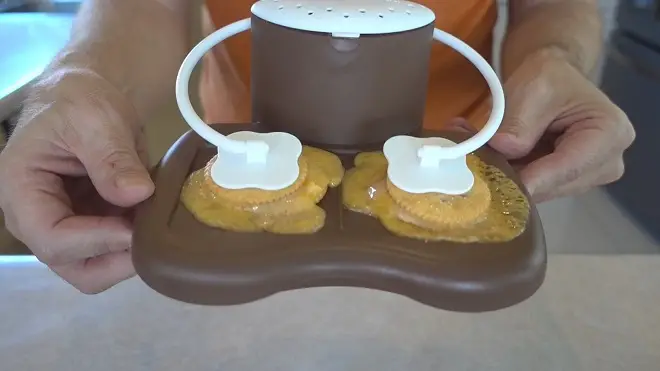 Overall, this simple device worked to quickly create s'mores in the microwave, and I have no major complaints about it. It worked as expected and cleaned up easily. I wouldn't say it's made of high quality materials, but that should not be an issue with proper care.
I suggest perusing the numerous comments on Amazon to get a feel for the general consensus regarding this product.
Alternatives
I can't say I've seen anything quite like this s'mores maker, although Sharper Image and Nostalgia both put out another interesting take on the idea. Theirs are a bit more expensive but also can be used as a standalone units.
Your S'mores Maker Reviews
Have you used something like this? Tell me what you think in the comments below.